MC Open registration deadline 6-30-15!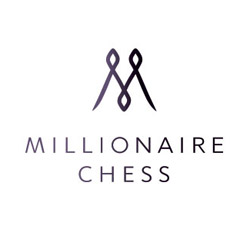 The commemoration of the successful Millionaire Chess Open is currently available at Amazon books. This handsome edition bring back the wonderful series of events that makes of the MC mystique. Filled with incredible photos and annotated games, it is a wonderful addition to coffee tables and bookshelves. The organization is getting ready for the second edition of the tournament and is poised to make this event as memorable as the first.
There have been a series of deadlines and some additional incentives to enter including the "Millionaire Square Prize" giving all entrants a chance to win $1,000,000 in addition to the $1,000,000 prize fund. There have been satellite events in Africa (Kenya, Nigeria), worldwide coverage, weekend discounts and the $1,000, $1,250 entry progression. Now the entry fee is going up to $1,500 on July 1st. With less than two weeks left, all players around the world are encouraged to be a part of history and register for this event!
CONTACT: MILLIONAIRE CHESS
email address: contact@millionairechess.com
official website: https://millionairechess.com/
Twitter: https://twitter.com/HighStakesChess
Facebook: https://www.facebook.com/millionairechess
YouTube: https://www.youtube.com/MillionaireChess
Drum Coverage: https://www.thechessdrum.net/