Millionaire Chess #1 book shines!
Maurice Ashley and Amy Lee capped off a memorable Millionaire Chess Open as an event that will be treasured for years to come. One of the ways this these memories were captured was through the infectious excitement, fantastic photography of Billy Johnson and the melange of expressions captured throughout the tournament. Johnson's photography, as well as shots taken by Nia Ashley and others were the foundation of a handsome 318-page tribute to the Millionaire Chess Open. The book was written by Ashley, designed by his daughter Nia with editing assistance from Teresa Parr.
Here's the official book preview…
What began as two friends catching up by a lake quickly turned into a bold plan to stage the richest Open chess tournament of all time. Learn about how a shared vision to elevate the visibility and popularity of the world's most prestigious board game became the Millionaire Chess Open. Get the inside story behind the difficult decision to hold the event, the raging controversies against it, and the million dollar bet that assured its survival. Filled with exciting games, grandmaster analysis, player bios, photos, interviews of the winners and more, the book gives the definitive account of an event designed to leave its mark on the history of chess.
Amy Lee and Maurice Ashley present a triumphant Wesley So with the winner's check. Photo by Paul Truong.
There is a behind-the-scenes aspect of the book that makes you realize the amount of work that Maurice and Amy put into the event. It is a wonderful keepsake that will immortalize the event and provide pleasant memories for all who participated in the event. It is clear from looking at the book, that the vision put together is more encompassing than simply another chess event.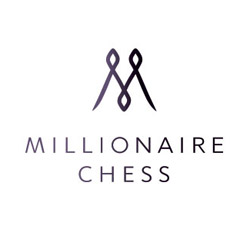 In the view of many, MC #1 was a rousing success and anticipation is building up for the second edition. Currently, the tournament has 434 players have registered and while the event will remain at Planet Hollywood, this one will prove to be bigger and better.
If you were not at the first Millionaire Open, don't miss the second so you can also be immortalized in what will soon be known as a premier event worldwide. The book will soon be available on Amazon and at Millionaire Open #2! The action begins October 8th… be there!
CONTACT: MILLIONAIRE CHESS
email address: contact@millionairechess.com
official website: https://millionairechess.com/
Twitter: https://twitter.com/HighStakesChess
Facebook: https://www.facebook.com/millionairechess
YouTube: https://www.youtube.com/MillionaireChess
Drum Coverage: https://www.thechessdrum.net/
* * *