FIDE 2014: The Scramble for Africa

The history of Africa is one of intrigue and mystery. It is sometimes called "The Dark Continent" and is typically forgotten when important matters are at hand. There is one time that Africa is not forgotten and that is every four years during the FIDE election. FIDE is the international chess body of more than 150 federations all having one vote on important chess matters such as elections. Why is this important? Africa carries 40 crucial votes and perhaps a margin of victory in a close race for FIDE President.
Delegates of 2008 FIDE General Assembly in Dresden, Germany.
Photo by Daaim Shabazz.
At the 2012 assembly in Istanbul, notice African federations clumped together in the back of the hall. Often viewed as one entity, they are expected to deliver the votes in the upcoming election for FIDE President. Photo by Daaim Shabazz.
Over the past couple of decades, candidates come to Africa with gifts in hand to woo the chess officials into supporting their campaigns. What has become interesting is the importance that campaigns are placing on the African vote. Why Africa? Perhaps this is where the campaign is won.
The perception is that African votes are up for grab and that one must tout Chess-in-Schools, bring some gifts or pay for Olympiad expenses as if this is enough to sway opinion. Sometimes it is. Africa does not vote as a bloc and this is why there is such a battle. There is no other region where the competition for votes is as fierce and there is no region who could benefit more from incremental improvements.
During the last several months, both incumbent FIDE President Kirsan Ilyumzhinov (fidefirst.com) and former World Champion Garry Kasparov (kasparov2014.com) have criss-crossed the vast continent from east to west, from north to south trying to carry the vote. Of course Ilyumzhinov won the last two elections quite handily, but faces a formidable opponent in Kasparov. Unlike the previous candidates, Kasparov has a combination of skills, charisma and energy to carry the day. However, one thing that must be asked of both candidates is the notion of democracy.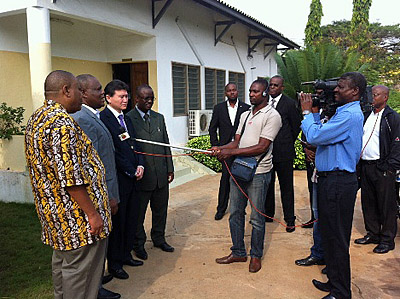 Ilyumzhinov answered the journalists' questions in Togo.
Photo by fide.com.

Kasparov welcomed in the Ivory Coast.
Photo by kasparov2014.com.
While Africa's vote is deemed important, does FIDE plan to keep the "one-nation, one-vote" theme? Last campaign there was candidate Anatoly Karpov who implied that regions like African nations do not deserve voting parity with more powerful chess nations. The Chess Drum carried a story, "Africa: Too Much Voting Power in FIDE?" discussing these issues. Karpov, another former World Champion, stated that his comments were taken out of context.
It is uncertain whether Kasparov has addressed this issue directly, but African nations must ask the candidates this question. Does FIDE plan to have a "Security Council" as Karpov suggested? If so it would be a tragedy and the condoning of elitism. If Africa is to stay relevant, there must be an adherence to democratic principles. Here is what the aforementioned article raised four years ago,
Nations, big and small, are divided, suing each other and there is tremendous internal discord. When nations within Africa become scapegoats for what is deemed a flawed system, then chess has failed in championing the virtues of democracy. When Africa is neglected until the FIDE elections every four years, they are then considered corrupt or gullible for accepting services that should have been rendered all along. This is unfair.
IM Robert Gwaze scored 9/9 in 2002 Olympiad and follows players like IM Watu Kobese who had not been afforded many opportunities to improve. Photo by Cathy Rogers.
We are hearing the same comments today about Africa, a continent with fledgling federations, fragile chess cultures and inconsistent funding. Are these weaknesses made into attractive targets by campaigns who bring money, the promise of Chess-in-Schools, or a cache of sets, clocks and DGT boards? Of course these resources are solely needed in Africa, but when they are accepted it appears as if they are currying flavor with one campaign or another. This is unfortunate because it makes Africa appear gullible.
Why does Africa have to wait every four years to get any attention? Where is the sustained effort in Africa to make it a viable chess region? While other regions are seeing healthy growth and producing new Grandmasters, Africa struggles to hold a continental championship. In the 2013 African Championship in Tunisia, only eight nations participated.
There has been a paucity of major tournaments held in Africa since the FIDE Knockout in Libya in 2004. There have been bright spots such as the 2013 Tanzania Open and the Cuca Opens in Angola. Visits by Judit Polgar, Viswanathan Anand and Nigel Short are welcome, but will Africa see such luminaries visit Africa on a regular basis? Africa deserves better.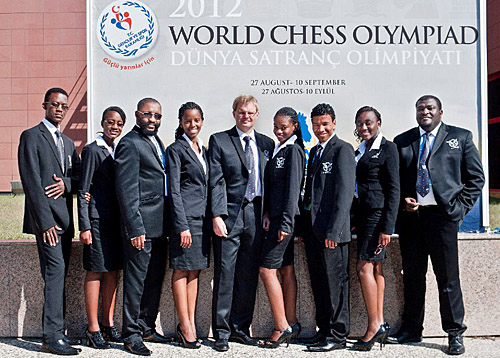 Make no mistake…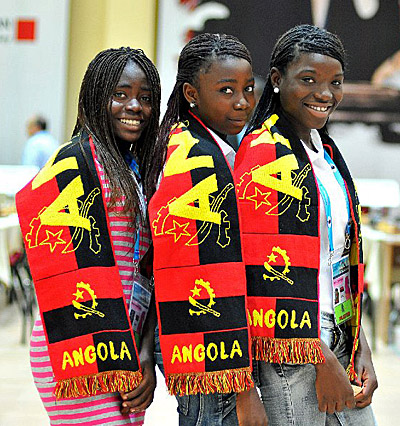 …African nations…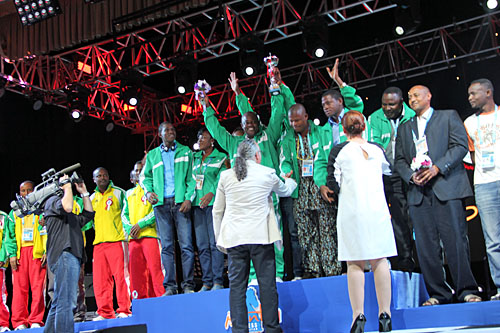 …are passionate and capable!!
Photos by David Lada, Arman Karakhayan and Daaim Shabazz.
Daaim Shabazz, "Africa: Too Much Voting Power in FIDE?" 17 September 2010.