Africa: Too Much Voting Power in FIDE?

In the upcoming election for FIDE President, there has been a lot of talk about the voting structure of one-nation, one vote. This idea is in line with the democratic ideals of general bodies, but seems to have met the ire of chess pundits and commentators. For the past two campaigns there has been the question of whether smaller federations should have an equal number of votes as larger federations.
A controversy unfolded when the Kirsan Ilyumzhinov camp went back to 2006 and found these words by Anatoly Karpov:
"According to FIDE regulations, only FIDE delegates representing the National federations can officially participate in the elections and take decisions of other precise issues at the FIDE General Assembly. One country-one vote, despite the number and level (I mean Grandmasters) of the chess players. I always thought it would be good to set up a "security council" Those federations whose best chess players are more likely related to the fight for the World Champion title should be given greater importance." (see article)
The 2010 Karpov campaign asserted that these words were taken out of context. It appears as if Karpov is saying there should be some regard for more influential federations and professional chess. Most will agree that more attention needs to be paid to sponsorship of professional events and raising the public profile of chess.
Perhaps he is suggesting a separate entity in addition to the General Assembly. There certainly will not be an agreement for a "Security Council" to replace the General Assembly of chess nations. The lack of focus on the interest of professional players is what brought about the founding of the Association of Chess Professionals.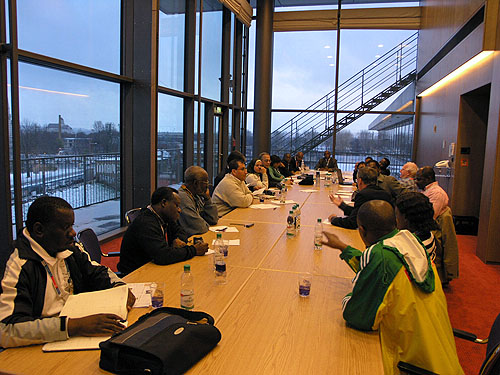 African Continental Meeting at the 2008 Olympiad in Dresden, Germany.
Photo by Daaim Shabazz
What exists now is a system where the majority consists of smaller federations giving them a "bloc advantage." This is assuming that all of these federations (primarily in Asia, Africa, Middle East, Latin America and the Caribbean) vote as one bloc. This rarely happens in any orchestrated fashion. Nonetheless, African federations are viewed as undeserving of their fundamental right despite being full dues-paying members.
---
"When Africa is neglected until the FIDE elections every four years, they are then considered corrupt or gullible for accepting services that should have been rendered all along. This is unfair."
---
In New in Chess (2010/5), there was a piece in Nic's Cafe about the FIDE voting structure.
At the elections in Khanty-Mansiysk the vote of the United States will carry the same weight as Zambia's.
In a essay by Arne Moll,
A vote from a country like Gabon counts as strongly as the vote from the USA, so the big question is what all other countries will do at the FIDE congress? (see article)
The implication is that Zambia and Gabon should not have as much voting power as the USA. There are countless other African examples on blogs and discussion groups. It appears to be an "insert African country" format. Why is there always the tendency to use African nations in these examples? In fact, large chess federations are no shining examples to follow. In recent memory, we have had turmoil and corrupt practices among a great number of strong chess federations not to mention the recent internal divisions created during the FIDE elections.
Nations, big and small, are divided, suing each other and there is tremendous internal discord. When nations within Africa become scapegoats for what is deemed a flawed system, then chess has failed in championing the virtues of democracy. When Africa is neglected until the FIDE elections every four years, they are then considered corrupt or gullible for accepting services that should have been rendered all along. This is unfair.
FIDE Delegates at 2004 Olympiad in Calvia, Spain:
(L-R) Enoch Barumba (Uganda), Rugema Ngarambe (Rwanda), Lyndon Bouah (South Africa).
What shall their votes be worth??
Photo by Daaim Shabazz
There was the essay written by Niels Lauritsen, a Danish chess organizer based in Malawi. The essay aimed to bring accountability to the FIDE voting structure. It was motivated by his experiences in Africa so he felt compelled to bring light to these issues. He proposes an account of legitimacy within a set of criteria. There is the implication that developing regions (especially Africa) are the main ones violating the sanctity of the vote.
Lauritsen states,
I know several chess federations who cannot currently fulfill even one of the above-listed criteria or bullets. And there are some who can only scrape through on one or two of the bullets only. Yet these federations, without recorded members, without accountability, without vision, trod to the FIDE assembly and vote every four years, almost en block, to the increasing anguish of many big federations who wish for higher standards. (see article)
Notice Lauritsen's point, "…big federations who wish for higher standards." Yet we have a chess world at various levels of turmoil since 1972… and it is essentially run by big federations! What is not realized is that only a small percentage of federations would meet the criteria of what Lauritsen deems a "proper chess federation". It does not mean his proposal is a bad one and may be constructive, but to continue to single out destitute federations as unworthy of voting power is unfair. Who are we to blame when FIDE only pays attention to Africa every four years? Therein lies the conundrum. It is clear that the voting structure is not the main problem in this issue.
---
GM Amon Simutowe who developed with few resources and is a national hero. In fact, with his title, Zambia has as many Grandmasters as Ireland and Venezuela and more than several well-organized federations.
IM Robert Gwaze celebrates his 9-0 gold medal run at the 2002 Olympiad in Bled, Slovenia. Copyright © 2002 Barbados Chess Federation.
IM Robert Gwaze's gold medal in the 2002 Bled Olympiad stands as a crowning achievement for Zimbabwean chess. GM Ahmed Adly winning of the 2007 World Junior Championship was another first for Africa. These accolades are what African federations what to see.
Yes… developing federations need to get their house in order as do the larger federations. More than promises and favors, they want to see progress. Let us hope that the next administration will honor this wish and not wait until another four years before knocking on Africa's door. African federations have every right to make their voices heard with their votes… and they shall.