Is James Black the 2nd Stephen Muhammad?
There are times when you notice the style of a player and then see similarities with another player. For the past few years, I have been covering James Black, Jr. and he reminds me of another player… in temperament, style of play and even some of his personality traits.
There are always caveats when comparing two players, but after some consideration, young James appears to be a younger version of IM Stephen Muhammad. Of course, Black has been able to accomplish many things in such a short time whereas Muhammad played in an era where strong tournaments and norms opportunities were very scarce. Muhammad's peak USCF rating was 2468.
Here are some basic similarities besides their lanky frames… 🙂

Both are tremendous blitz players (Muhammad once had a 3000+ blitz rating on the ICC);
Both prefer 1.d4 with a positional mindset, but sharp tactically;
Both have similar board demeanors;
Both are generally confident against all opposition;
Both like to joke (although Muhammad has stoic side);
Both have the propensity to work hard at chess.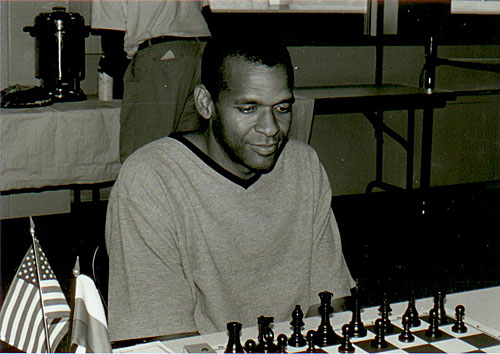 IM Stephen Muhammad
While James' story is much different from Muhammad's relatively late foray into competitive chess, both have similarities that may eventually turn into an alliance of some sort. There are rumblings that Muhammad may be coming out of his hiatus, but nothing concrete has been stated.
Muhammad has not played competitively in six years, but during his successful pursuit for the International Master title from 2001 to 2003, he set a standard of play that made him successful against very strong players. His style was more positional as he employed the London System with white and King's Indian with black.
The key to Muhammad's game was his slow buildup, but his sharp eye for tactics meant that you had to be very alert. Muhammad last played in 2007. He earned his 3rd IM norm at the 2003 U.S. Championship capping off his run of strong results. That evening he and GM Maurice Ashley engaged in a bruising blitz battle of 28 games… played to a 14-14 tie. An amazing battle!
Here are a few examples of Muhammad's play:
At this point, James is still trying to find his game and has been dipping back and forth over 2300 (career high of 2339) He continues to play at the Marshall Chess Club, but of course his studies at Edward Morrow High are taking a priority. As a freshman, he is an alumnus of the famed I.S. 318 dynasty which was the Middle School team that made history by winning the National High School championship.
James was featured in the documentary "Brooklyn Castle". In "Brooklyn Castle" Elizabeth Spiegel stated that young James "sees everything" and has shown some flashes by upsetting a number of strong players including Grandmasters. Here is a show of Black's blitz prowess against GM Gregory Kaidanov. Video was taken by Spiegel.
James' speed and lightening reflexes are also something Muhammad was famous for.
Certainly, if it is within James' desire, he can certainly vie for the IM title at a young age. Players like Ashley and Muhammad paid their dues in Open Swiss tournaments and had to scrape by with a small selection of tournaments in the U.S. for norms. The young stars now have so many more opportunities, in the U.S. and abroad. It would be good to see the veteran Masters of the Black community (even if retired) provide mentorship for the up-and-coming scholastic stars. The idea of seeing someone similar to you can make a difference in your confidence and ability to envision success.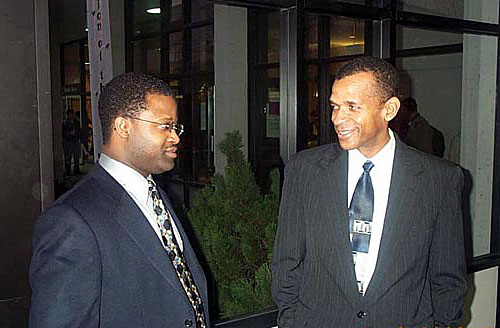 GM Maurice Ashley and IM Stephen Muhammad conversing after having successfully completed the 2003 U.S. Chess Championship. Copyright © 2003, Daaim Shabazz.