I.S. 318 are H.S. Champs!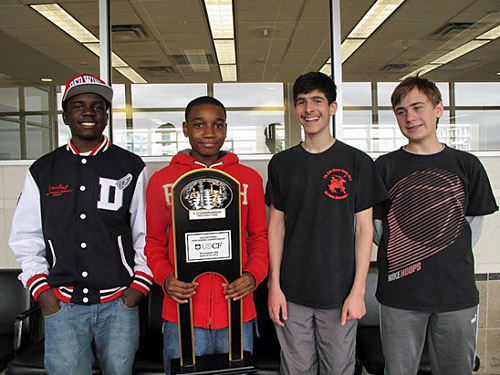 I.S. 318 – National Champions
(L-R) Justus Williams, James Black, Isaac Barayev and Matthew Kluska.
Photo by I.S. 318 (Brooklyn, NY)
The hardware just keep piling up for I.S. 318. As the screening for the movie "Brooklyn Castle" continues, the middle school has perhaps added another saga to its spectacular run of success. Led by Justus Williams, the school bested New York's Hunter College to win the K-12 School Championship.
Williams (2307) was the leading scorer with 5.5/7 with Issac Barayev (2141) and Matthew Kluska (1844) with 5/7 and , teamed with James Black Jr. (2312) with 4.5/7. The team won the Jr. High championship a couple of years back. It is presumably the first time a middle school has won the high school championship.
Results: https://www.uschess.org/tournaments/2012/hs/?page=RESULTS