Rare Chess Images in Black History
Over the 12 years of its existence (February 12, 2001), The Chess Drum has brought many stories Black History Month. There have been many essays and even quizzes! This year we will provide more imagery than words. The history of Black Chess is replete with so many interesting stories, many yet untold. In the coming years, more history will be made on these pages, but we always have understand those upon whose shoulders we stand.
Walter Harris (left), the first Black National Master in the U.S.
Part of the mission of The Chess Drum is to show the contributions made by players of the African Diaspora and show the universality of chess. As we have seen in the fascinating stories of "The Queen of Katwe" and "Brooklyn Castle" there are many stories that would not otherwise see the light of day. This is why it is important to give players well-deserved recognition for their contributions.
A rare photo of Emory Tate at the 1988 New York Open.
Photo by Jerry Bibuld.
In the history of chess, we have to take pride in knowing that the game has gained a following in many countries, but particularly those in places where a chess tradition does not exist. Many players were influenced by the "Fischer Boom" of the 70s. Bobby Fischer single-handedly popularized chess and made it appealing to millions around the globe. The wave hit the Black community as many of the National Masters emerged in the 80s, within a few years after taking up the game. However, you have a few trailblazers.
One happened to have been a Fischer contemporary and he would become the first Black National Master. Walter Harris (pictured at the top and below) was a sensation in the turbulent 1960s. A former Air Force Airman, Harris created a stir after surging at the top of the charts in the 1959 U.S. Junior Open. He ultimately placed 5th with 6/9. He would go off to UCLA to study and later embarked on a career in physics. Today he lives in Virginia.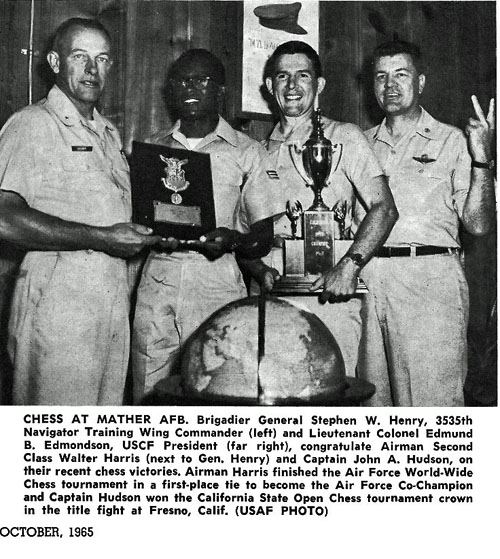 In an interview conducted by The Chess Drum in 2005, Harris recounted the following story.
During our conversation about the 1959 U.S. Open, Harris mentioned a story about not being able to rent a room at a hotel because he was Black. He could not remember if this incident occurred at the same hotel where the tournament was being held (Sheraton- Fontenelle Hotel). In those days, segregation ruled the day and Blacks were not allowed access to public facilities. The managers had pulled Anthony Saidy (now an IM) aside and told him that Harris was not welcome. Saidy protested, but the hotel managers were adamant. They went to another hotel where they were able to find accommodations.
It was this tense environment that he had to endure and he recounted the loneliness of Black players in those days. However, the 60s would produce the likes of Frank Street and Kenneth Clayton, the 2nd and 3rd National Masters. Players such as GM Maurice Ashley and IM Emory Tate stand on the shoulders of these three men.
While history was being made in the U.S., it was also made in other countries. The seed of chess enthusiasm began to sprout in Jamaica. According to Ian Wilkinson, the Jamaican Chess Federation was officially founded on 22nd February, 1969 by the late Enos Ayrton Grant, a prominent lawyer and chess visionary who was elected the first President and the late John Powell. The JCF was officially recognized by FIDE in 1972.
Jamaica's team at the opening ceremony of the 23rd World Students' Chess Olympiad in Caracas, Venezuela, 7-22 August, 1976. From left: Bob Wheeler, John Powell (deceased), Peter Mundell, David Hunt (deceased), Enos Grant (Captain/delegate, deceased), Orrin Tonsingh (deceased), and Sheldon Wong. Photo from Jamaica Ambassadors Chess Academy.
Of course Africa certainly had its own renaissance as countries in the English-speaking countries began to take up chess after draughts had taken hold in the French-speaking countries. One of the countries having collected rare images of their historic moments is Kenya. Some time ago, Kim Bhari made rare images and newsletters available for public viewing.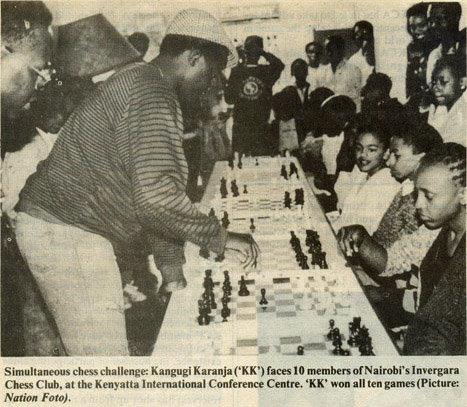 The photo below is actually of an New York-born prodigy of Kenyan parents named Kangugi "KK" Karanja. KK was known as a child prodigy having achieved success at an early age in U.S. scholastic tournaments. Holding dual citizenship, he would on occasion visit his ancestral land and give exhibitions. While there are many today who were not present to see the rise of KK Karanja and Baraka Shabazz, their short bursts into prominence provides instructive examples of how hard work is rewarded.
Baraka Shabazz's charm and angelic face belied her ferocity over the board. Read more about her story as the "Black Queen of Chess".
While there are many rare images, there are some that will not be deemed important until many years later. One thing is for sure is the emergence of new talent and thus new history being made. The Chess Drum commends chess players for their contributions to the chess community and to those experiences that are unique to those of African descent. The aforementioned "The Queen of Katwe" and "Brooklyn Castle" provide us with an inkling of how such chess experiences can unfold and how they can have such a big impact for generations to come!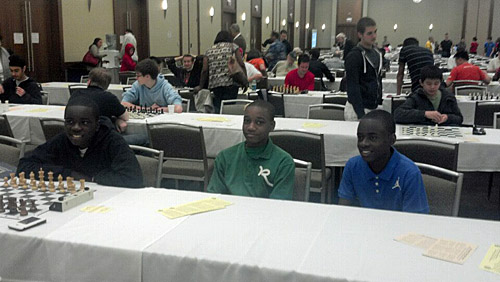 National Masters Justus Williams, James Black, Jr. and Josh Colas represent the next generation of history makers. Photo by Guy Colas.