"Brooklyn Castle" at NAACP Image Awards
Rochelle Ballantyne, Justus Williams and Pobo Efekoro on the red carpet at the NAACP Image Awards in Los Angeles, California. Photo by Brian Schulz (@brianJschulz).
"Brooklyn Castle" has been a sensation and has already received numerous accolades from the movie industry. It was recently nominated for Best Documentary (Theatrical or Television) at the NAACP Image Awards. While it was not selected as the winner, the movie has had widespread acceptance as an example of how chess can serve as a successful complement to the educational process.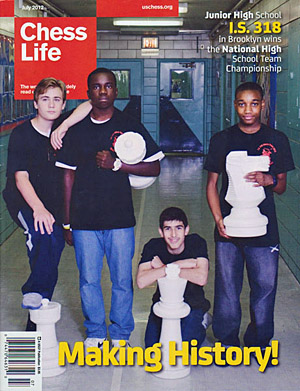 The documentary has been viewed internationally and was viewed during the 2012 London Chess Classic as a way to show the effectiveness of "Chess-in-Schools" programs. International Master Malcolm Pein has launched his own version with great enthusiasm.
The documentary was even mentioned in a letter to President Barack Obama by film critic Roger Ebert who gave the film rave reviews. All of the main characters in the movie have moved on to other schools, but the success of the program may become a model for other schools to emulate. Such programs would be the subject of a intellectual discourse to revamp the failing American educational curriculum.
Preview of "Brooklyn Castle"
(For more information, go to BrooklynCastle.com.)