Philip Corbin's bio, "Calypso Chess"



Dr. Philip Corbin has had a very venerable career in Barbadian or "Bajan" chess. He is perhaps known most for his swashbuckling attacking style and affinity for the Elephant Gambit (seen in the photo).
For the past several years Corbin has been working on a compilation of his games and a autobiography of his 40-year chess exploration. It is aptly called, "Calypso Chess" given the lively nature of Corbin's play.
What has resulted is a prodigious collection of games, photos and history. The handsome book is divided into five parts with more than 400 pages in well-presented format. I was asked to a short review and this is what I wrote:
The pulsating sound of the calypso beat resonates in Dr. Corbin's well-written tome of his worldly chess experiences covering four decades. This volume is a must-read for those interested in history of Caribbean chess, Olympiad festivals and innovative chess ideas in a way befitting the man known as "Caribbean Tal". The narrative is a personal account of one of the most colorful chess players of our time and is a testament of the contributions made by the smallest of chess nations. Buckle your seat belts for an exciting ride!!

Dr. Daaim Shabazz, The Chess Drum
Dr. Corbin will have a launch of "Calypso Chess" on Saturday, July 23rd at the Bridgetown Chess Centre, Cavans Lane, Bridgetown, Barbados from 4pm to 6pm. He will be signing copies of the book at the event and the cost for local players re $50 Bajan Dollars (US$25). The book will be priced at $60 Bajan Dollars (US$30). Players from throughout the Caribbean and other regions are expected to be on hand for the celebration. The book should also be available online for persons overseas from sometime in August from Amazon.com.
Barbados Airport Photo (1986) of the first Barbados Chess Olympiad squad. Back row, left to right: Othneil Harewood (First Reserve; also Board 3, 1998 Olympiad), David Dawson (board 4, 1986 & 1994 Olympiads), Andrew Chapman (Board 3), and manager Lindsay Bellhouse. Front row, left to right: Anthony Rolston (Second Reserve), Peter Dawson (Board 2, 1990 Olympiad), and Philip Corbin (Board 1).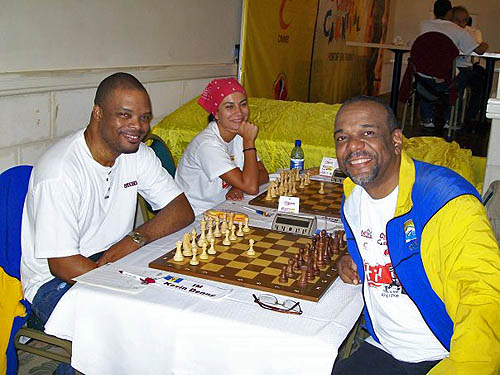 Classic Photo: IM Kevin Denny battles FM Philip Corbin in the last round of the 2009 Caribbean Chess Carnival in Trinidad. WGM Ilaha Kadimova of Azerbaijan delights in the moment. Photo by FM Philip Corbin.
Dr. Philip Corbin with Dr. Daaim Shabazz
after the 2008 Olympiad Closing Ceremonies in Dresden, Germany.
Photo courtesy of Philip Corbin.
Fascinating collection! Below is a nice sampler… one of my favorites!
Dr. Philip Corbin-Peter Chubinsky
1985 World Open, Philadelphia, USA