Vanita Young triumphs with Chess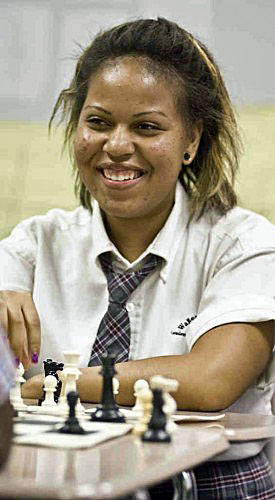 During the World Open, I was given a June 17th article about a young lady and was told that she was walking around the tournament hall. I missed the story while in Ghana, but was fortunate to learn of it in time to publicize her story. It is yet another one of the success stories of why chess can have a reformative impact in the face of adversity.
Vanita Young is a 17-year old who is finding her way after a series of setbacks early in like. Abandoned by her mother at age two and losing her father to diabetes at 13, she was raised by grandparents she was still vulnerable. After surviving an attempted rape assault, she found a refuge in chess when a 6th-grade middle school teacher saw her sitting by herself and invited her inside for a game of chess.
From that moment she began to become absorbed in an age-old pastime and ultimately became one of the top females in the city. She earned the right to compete in the Susan Polgar Girls Invitational, but did not have thescheduled to compete in the funds ($2000 in expenses) to travel. Seeing the situation is worthy of attention, Congressman Bob Brady place a few calls to send Vanita to Lubbock, Texas where the tournament is being held. There had been an outpouring of support for her plight with several articles soliciting support.
The tournament will take place July 24-29 at Texas Tech University. More details can be found at the 8th Annual Susan Polgar Girl's Invitational. Send donations in Vanita's name to 1520 Locust St., Suite 1104, Philadelphia, PA 19102. For more information, call 215-545-2727. Read full article here.