2010 Chess Carnival: Sagalchik wins!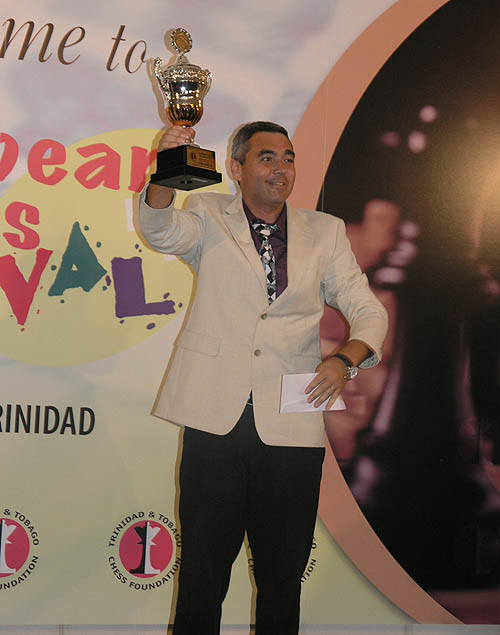 GM Gennadi Sagalchik of New York won the Caribbean Chess Carnival with a solid 7/9 score. Sagalchik hoists 1st place trophy at Closing Ceremonies. Photo by Daaim Shabazz.
In his winner's speech, Grandmaster Gennadi Sagalchik stated that he "begged" Edison Raphael to come to the Caribbean Chess Carnival. Perhaps he was overstating a bit, but as the only GM in the field, he had to live up to his status. He did not disappoint. Sagalchik was never in trouble in any of his games and coasted to an undefeated 7/9 score.
The Brooklyn-based coach teaches about 400 students in the Long Island, New York area on behalf of Long Island "Chessmates". In an interview with The Chess Drum, he stated that despite the high numbers in U.S. schools, it does not provide a support system for developing talent. He contends that the players are not well-treated. However, he was effusive in his praise in terms of how we was treated in this tournament. He brought along daughters Michelle and Caroline who both played in the under-20 section.
Round seven was perhaps the turning point of the tournament when Oladapo Adu fell trivially to Sagalchik, tossing a piece. The Latin Americans then seized the opportunity and took on strong positions with the "Bajans" in hot pursuit. Sagalchik was able to "draw out" and secure first place. IM Rafael Prasca came in second with 6.5/9.
---
REPORTS
| 3 August 2010 | 4 August 2010 | 5 August 2010 |
| 6 August 2010 | 7 August 2010 | 8 August 2010 |
RESULTS
| Open | Under-20 | Under-14 | Under-10 |
Drum Coverage and Tournament Photos
https://www.thechessdrum.net/blog/2010/06/04/2010-caribbean-chess-carnival/