2022 Capital City Chess Open (Tallahassee, FL)
On December 16, 2022 Tallahassee held its first tournament since COVID-19 virtually. The rapid tournament attracted 20 players with no player going unscathed. Five players ended with 3/4. Top-seed Dr. Steve Lenhert (2096) won the tournament over Richard Kennedy in a 3-minute blitz tiebreak. Organizer Jacob Sperber handed Lenhert his only defeat. Sperber, a young local talent, announced the tournament last month and served as the tournament director while also scoring 3/4.
Jacob Sperber (right) making the opening announcements of the 2022 Capital City Open. His mother Claudia Sperber looks on. All photos by Daaim Shabazz
Since restrictions were eased, Tallahassee players resumed the decades-long tradition of meeting at the Black Dog Cafe on Saturday afternoons. Tallahassee typically has sunshine all year round, but the chess scene has been rather cold in the past few years. There had been talk about tournaments in the capital city, but apart from the pockets of activity around the city, no one had organized a citywide event.
The 2019 Capital City Open was the last tournament won by Benjamin Chen, who has since moved to the west coast to study at the California Institute of Technology. Sperber is a scholastic player rated around 1700, but also volunteers for local wildlife conversation groups. The venue was the Dr. Benjamin Perry Library and proceeds from this tournament when to help the Orianne Center for Indigo Conservation.
Top-seed Steve Lenhert (right) ready to battle Liang Zhou (1834).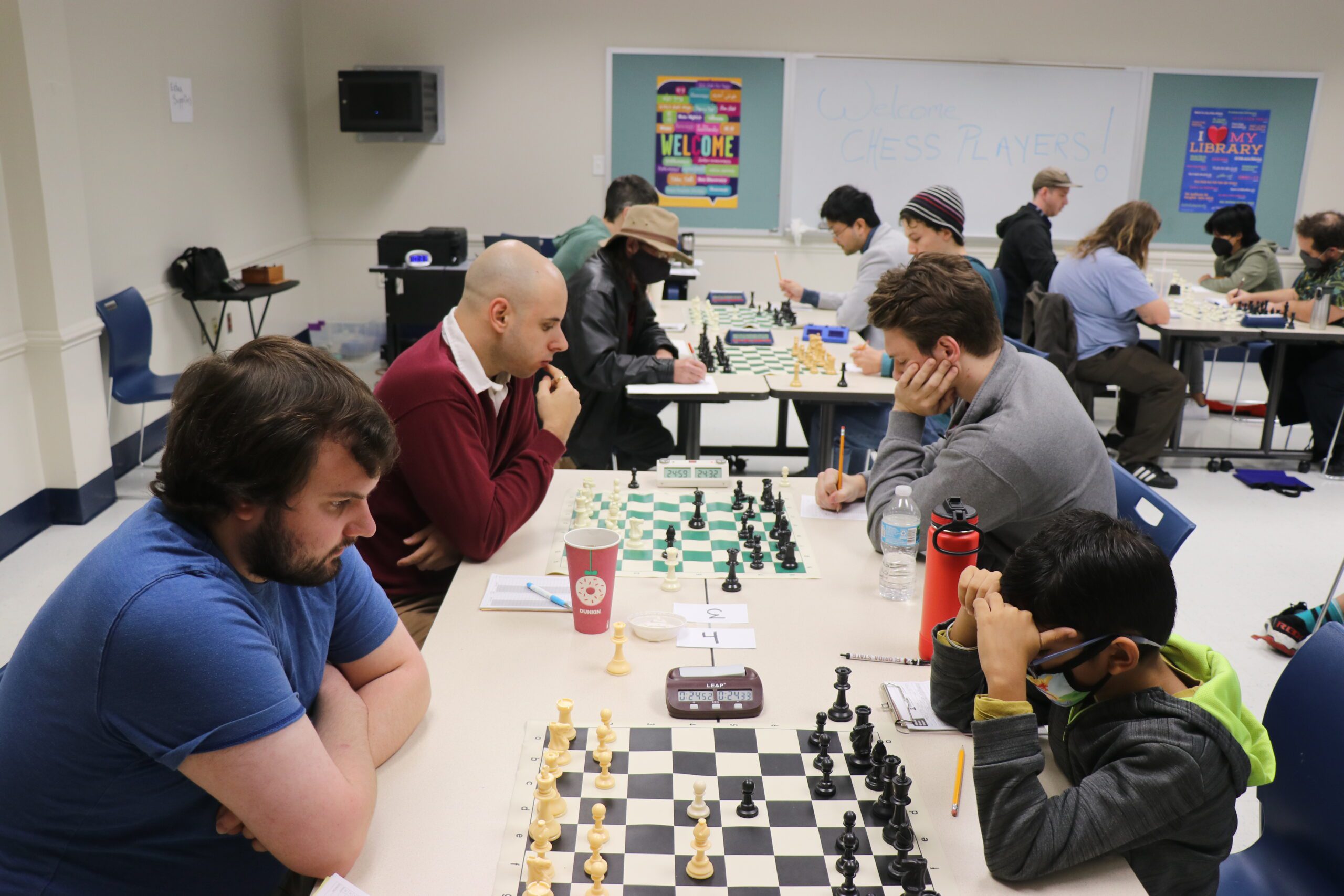 Jacob preparing pairings for the round.
All photos: https://photos.app.goo.gl/QwbeWw91X4Nr1Lkb7
There were a number of interesting faces in the crowd including players traveling from Milton, Florida. Shaun Blevins brought his son Kimahri Blevins from Milton to participate. Blevins told The Chess Drum that his father was a scholastic star in Moline, Illinois. Originally hailing from Rockford, Illinois, Blevins came to Pensacola because his father was in the military and he has been a resident since 1996.
Shaun Blevins vs. Jianni Lazaga
Kimahri Blevins vs. Caleb Parker
There were others from the Black Dog Cafe group and some students/alumni from Florida State University (FSU) and Florida A&M University (FAMU). Caleb Parker, a freshman at FAMU, played in his first rated tournament after serving as the President of the Rickards High School Chess Club where he met Sperber.
According to Claudia Sperber,
Caleb was very kind to Jacob and encouraging about joining the Rickard's chess club. Now Jacob in turn gave Caleb the information needed about how to join USCF, and provided a local tournament opportunity.
Caleb also ended with 3/4 (three straight wins), but not before taking a bye in the last round.
There were a number of upsets as all of the top players took losses. Richard Kennedy lost only to Lenhert and had to play him in a two-game blitz tiebreaker. Lenhert won 1½-½. Below is a video of both games… a King's Gambit and an exciting Sicilian Dragon.

Tiebreaks!
Photo by Claudia Sperber
Video by Daaim Shabazz (The Chess Drum)
There are plans for more frequent tournaments in the Tallahassee area and we are calling all players from the surrounding cities and states to come to the Capital City Chess Club events. The city has a number of strong players and some budding scholastic stars and hoping to be able to host statewide events.
Final Standings