Tallahassee's 2019 Capital City Open
2019 Capital City Open
Tallahassee's BBCC hosted the 1st Capital City Open on a beautiful spring weekend. The tournament was the first open tournament in Florida's capital since 2014 Froemke Memorial. More than 50 players came from Tampa, Jacksonville and Gainesville.
NM Todd Bryant trotting out the Dragon against Steve Lenhert.
The large majority of players were scholastic players with the highest-rated player being National Master Todd Bryant from Tampa. The 13 players in the Open section included four Experts and a cadre of promising scholastic players. In fact, two scholastic players would win the event!
As it happened the open section saw the top contenders taking points from each other. There were no upsets in the first round as all the rating favorites won. In the second round, Bryant (2216) and Steve Lenhert (2087) drew in a tactical slugfest in a Sicilian Dragon. Lenhert told The Chess Drum that both were under a minute in the end and he couldn't find a win, so they game ended in a three-fold repetition. Meanwhile Daaim Shabazz (2007) beat young upstart Erick Zhao (2113) with a prickly hedgehog.
While Benjamin Chen (2087) was held to a draw in the second round by David Liu (1677) of Gainesville, he beat the elder Liu brother, Jackie (1944). William Wu (1788) upset Erick Zhao (2113). Two professors battled it out as Florida State's Lenhert defeated FAMU's Shabazz in a very complicated game in the English. The game featured a pawn sacrifice resulting in tactical fireworks. The game was imbalanced and was the last to finish. Shabazz finally falling to time pressure mistakes.
Daaim Shabazz (FAMU) battling Steve Lenhert (FSU)
in 3rd round, 0-1 (link)
Going into penultimate round, Lenhert, Bryant and Chen were at 2.5/3, so the pairings were Lenhert-Chen and Shabazz-Bryant. Chen, who has been teetering around 2100, went into his game with Lenhert with aggressive intent. The game went into a theoretical Najdorf variation. Lenhert told The Chess Drum that he played the same line against Chen in a blitz game, but forgot the analysis. Chen two bishops and active play was able to win the day. "I was happy I survived as long as I did," said Lenhert.
Shabazz was the highest on 2/3 and paired against Bryant. The game was another Sicilian, but started out 1.e4 c5 2.Nf3 d6 3.d4 cxd4 4.Qxd4!? The game went into a main line until black's 12…Qb6. The game continued on with 16…Nh6 and after 17.g4 Bf3! 18.Rd6 Qc7.
At this point white was in danger of losing the thread and had to retreat with 19.Rd4. Now black can seize the initiative with 19…Qe5! but played 19…Bxg4?? instead (diagram).
In Shabazz-Bryant, black has just played 19…Bxg4. How did white respond?
White responded with 20.Qxh6! since 20…gxh6 gets mated after 21.Rxg4+ Kh8 22.Bf6. After 20…Qxe7 21.Rxg4 white nets a piece and went on to win the game.
With Benjamin Chen winning he was atop the field with 3.5/4 and Jason Shen moved into a tie for second on 3/4 along with Daaim Shabazz. Steve Lenhert, Jackie Liu and David Liu had 2.5/4. The final round would be Chen (3.5/4) against Shabazz (3/4) and Shen (3/4) against David.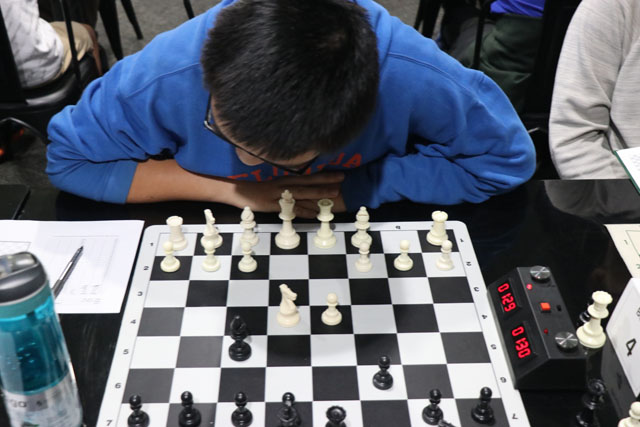 Jackie Liu and brother David Liu of Gainesville have been regular participants of Tallahassee tournaments. There are now two more Liu brothers!
Chen quickly drew with Shabazz clinching a tie for first with 4/5. Shen ended up defeating Liu and also finished with 4 points. There was a three-way tie for 3rd-5th with Bryant, Lenhert and Shabazz finishing on 3.5/5. The Liu brothers scored 50% with 2.5/5 and five players ended with 2/5. It was a very balanced field as the lower half of the field essentially beat each other.
In the under-1800 section, top-seed Jake McIntosh blitzed the field with 5-0. Dylan Yu and James Zhang tied for 2nd with 3/5. Zhang's only loss was to Yu. In the under-1400 section, Jolie Huang took top honors as she went undefeated with 4.5/5 and only gave up a draw to 3rd place finished Christopher Taylor (3.5/5).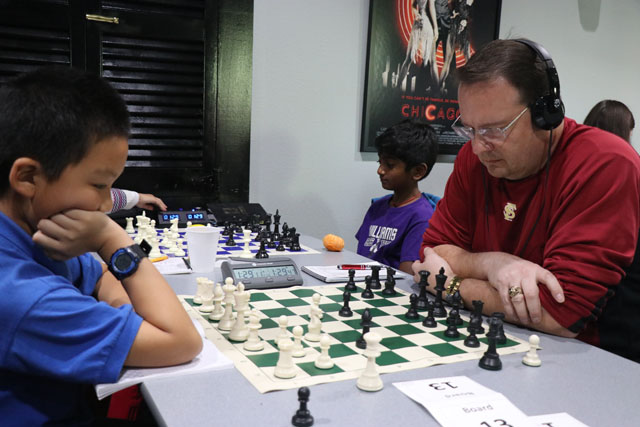 Paul Reynolds failed to catch Jolie Huang, but had a good showing.
Photos by Daaim Shabazz
Paul Reynolds took clear second with 4/5 losing to Huang, but beating all other opponents. A podiatrist by training, Reynolds told The Chess Drum that he feels better about his work schedule because it allows more focus on chess. The results were apparent. In the under-400, Liang Zhou took clear first in his first tournament with a perfect score of 5/5! Keep an eye out on him!
Final Standings: https://www.uschess.org/msa/XtblMain.php?201903311962.1