Justus Williams notches first GM norm!
International Master Justus Williams took a big step toward his goal of becoming an International Grandmaster by earning his first GM norm. Just over one year ago, he clinched his IM title, won a couple of tournaments, and wrote a nice article in Chess Life titled, "Getting My Reps In." Those reps are certainly paying off as He is now back over 2500 USCF. His highest posted FIDE rating is 2428 and he is on track to surpass that mark in the coming months.
IM Justus Williams holding his GM norm certificate
Photo by Charlotte Chess Center
The Charlotte Chess Center was the venue for GM/IM Norm Invitational, its 29th norm event. With three GM groups and three IM groups, CCC has slowly become the most popular place for aspiring masters to earn titles. This hosting of six groups is said to be the largest norm invitational in U.S. history! Justus played in the GM B group with the following field. To the left is what score is needed for a norm.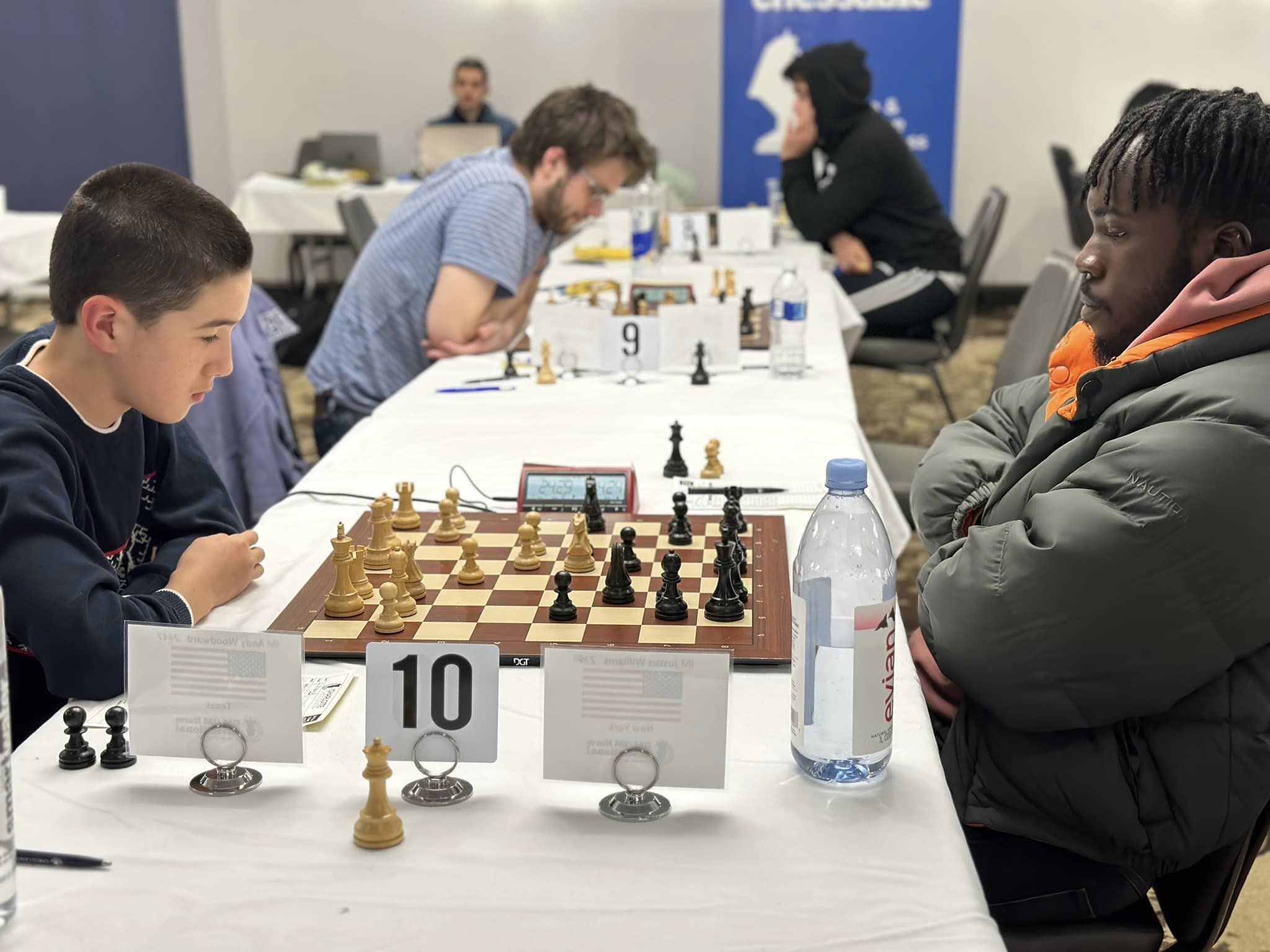 Justus Williams (right) playing IM Andy Woodward in Round 8, 1/2-1/2
Photo by Charlotte Chess Center
Justus was seeded 7th, he earned 6.5/9 losing only to IM Ekin Ozenir. He also defeated IM Kassa Korley, another GM hopeful that we have written about extensively. Justus is known for his laid-back demeanor, but came through in the clutch needing 2.5/3. He accomplished his task, winning a miniature against GM Cristhian Cruz in the last round.
The hard work seems to be paying off for the former icon from I.S. 318. We remember his appearance in "Brooklyn Castle" as the dreadlocked prodigy from the Bronx. Now a 24-year-old, Justus founded "Black Squares" initiative and is now seeking to make chess part of a social upliftment program among youth and the incarcerated. His social activism is a lesson for us all and he appears to be poised to etch his name in the annals of chess history.
Final Standings
Results & Games: https://chess.stream/Invitational/fall-2022-gm-im-norm-invitational/TournamentPairings.aspx?SectionID=4821