Justus Williams pens article in Chess Life
IM Justus Williams presented an article in Chess Life covering his participation in the Mid-American Open in St. Louis. While Williams is known more for his Grandmaster aspirations, he took the time to write a very interesting article. It included some of the random distractions you may face in between rounds. We've all been there.
IM Justus Williams
Photo by Charlotte Chess Center
It was an entertaining article and we got a chance to look at Williams' style of analysis. This is not the same player we all loved on "Brooklyn Castle." He's now an enterprising 24-year-old International Master who runs a socially-conscious Black Squares initiative and still has sights of becoming a Grandmaster. Now it appears he has added another skill to his portfolio.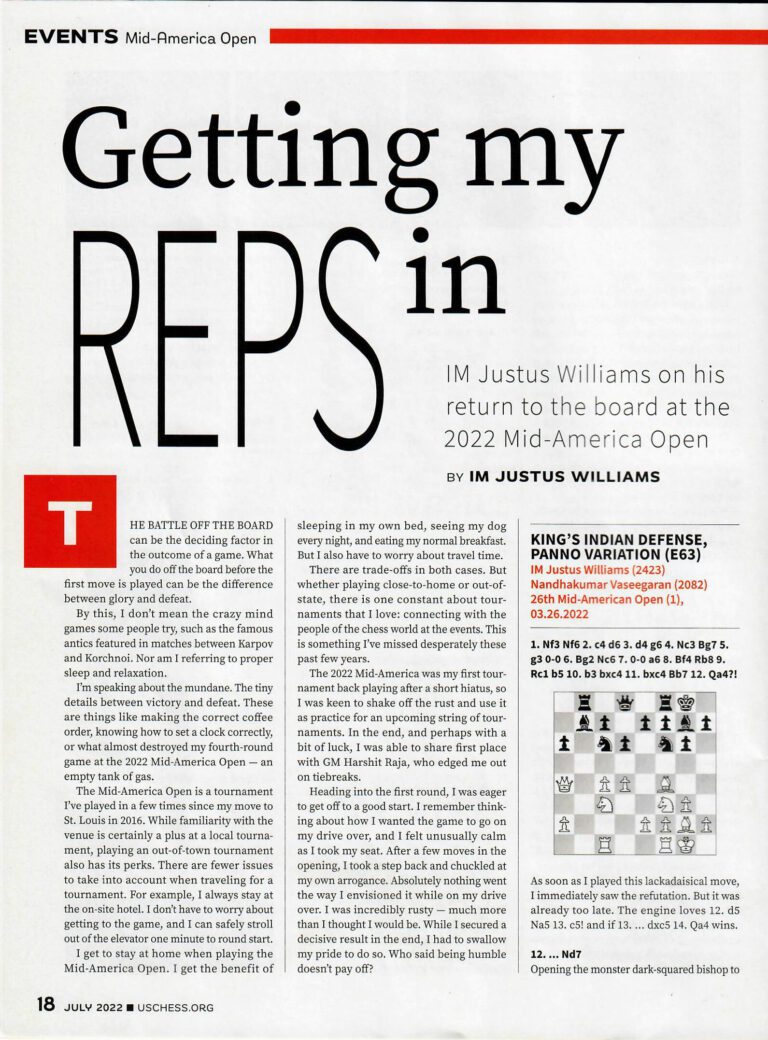 His article "Getting my Reps In," recounts his experiences on a personal level as he talked about fighting off the rust. Williams had a successful 2021 gaining rating points in every tournament and going from 2439 USCF to 2507. He clinched the IM title at the Illinois Open where he went 7/7. At the 2022 Mid-America Open, he ended the tournament with a career-high 2515 USCF. His article featured three of his annotated games. One game showed insights into his thought process in the ending. Instructive!
He also discussed his encounter with top-seed, GM Mikhail Antipov.
Round five saw my much-anticipated meeting with GM Mikhail Antipov. Going into the event, I hoped that I would get paired with him. In fact, his participation was one of the main reasons I played in the Mid-America. I haven't previously played Antipov, who is a strong GM, and I wanted the best practice I could find.
This article had a lot of nuggets of wisdom. Take the following excerpt:
To any players who have take some time away from the board, I hope you look at my result in this tournament as encouragement to make the leap back into rated play There's something therapeutic about playing in person.
Williams also talked about meeting Michael Abron during the tournament. Abron became part of the annals of history by playing a rated tournament in all 50 states. He recently released a book that has been featured here. He ended the article by talking about his Black Squares initiative which has expanded to prison outreach.
The Chess Drum recently featured an article on an inmate named Tony Ballard who is using chess as a rehabilitation tool. Williams' social awareness has a chance to make an impact on people like Ballard who have similar ideas about how chess can serve society.

Solid article.