IM Nestor Velez passes away
IM Nestor Tomas Velez Betancourt
May 5th, 1956 – June 28, 2022
It is with regret that The Chess Drum announces the passing of Cuban International Master Nestor Velez. According to social media sources, he passed away this afternoon. Correspondence International Master MI José Guillermo De La Rosa Solórzano sent the following message to The Chess Drum:

Falleció el MI Néstor Vélez. Fallece el Maestro Internacional Néstor Vélez. – Campeón de Cuba juvenil en 1972, celebrado en Puerto Padre, provincia de Las Tunas. – Campeón absoluto de Cuba en 1980, celebrado en Holguín, provincia de Holguín. – Ganó el torneo Abierto Radio Rebelde, organizado por la emisora cubana en 1980.
IM Nestor Velez was born May 5th, 1956. He was National Junior Champion of Cuba in 1972 (Puerto Padre) and National Senior Champion in 1980 (Holguin). He became an International Master in 1982 and was also a FIDE Trainer. Velez also enjoyed playing in tournaments throughout the Caribbean.
IM Nestor Velez (at right) playing Jamaica's Jomo Pitterson
at the 1999 Enos Grant Memorial in Kingston, Jamaica.
Photo by Jamaica Chess Federation
| | |
| --- | --- |
| Player name: | Velez, Nestor |
| Most recent federation: | Cuba |
| Date of birth: | 5 May 1956 |
| Most recent ID: | 3500462 |
Velez reached into the 2400s in FIDE Elo. Here is a bit of his style. Below he uncorks a nice combination. It is not enough to see the first move. Can you find the star move?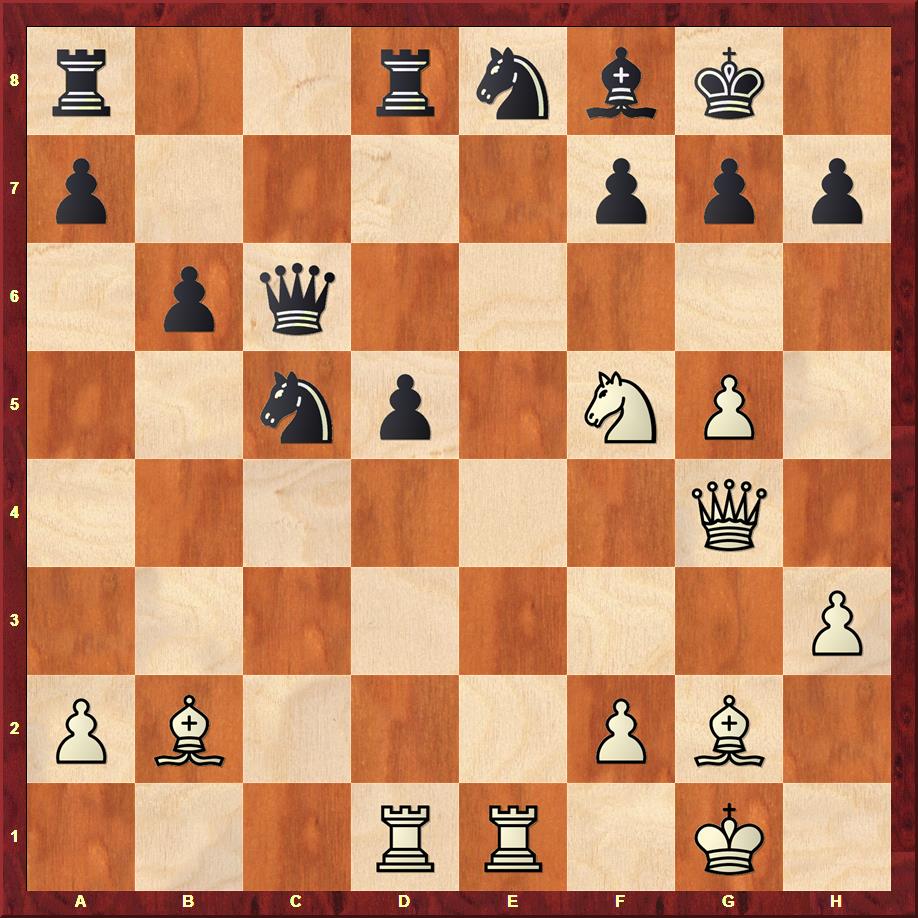 Néstor Vélez- Fernando Braga
Havana, CUBA – 1983
White to Move (after 25…Qc6)
There were a couple of other memories:
Osmani Pedraza Ledón left the following message
He was born on May 5, 1956, he was a Cuban, Junior and Senior champion. The youth won it in 1972, aged just 16, in Puerto Padre, Las Tunas, with an unbeaten performance of 7 wins and 4 boards. The Mayores in Holguín, in December 1980, a closed of 19 players, there they won 7, scored 10, and lost only to Ciro Angel Fernandez. We shared with him in Capablanca, in which the Senior played, he did not have many claims, he personally confessed to me, it was noticeable exhausted, "I no longer have energy to play 4 hours", he made 8 consecutive boards, and before the 9th round he told me in the c omida: "I will have to play, I have no confidence with the Brazilian, I don't know him", and he won finishing with 5 out of 9! Rest in Peace Chacho!
I am sad to learn about the passing of MI Néstor Vélez Betancourt, "Chachito", Cuban chess champion in 1980. pic.twitter.com/Soh7SND511

— David Llada ? (@davidllada) June 28, 2022
2010 Caribbean Chess Carnival (Trinidad)
This writer met Velez in Trinidad where he played in the 2010 Caribbean Chess Carnival. The Chess Drum was covering the event and I introduced myself at some point. He made an effort to speak to me every single day and it was very touching. He was familiar with my mission to cover players of African Diaspora. Seemed to be a very cordial person.
Velez playing in Port of Spain Trinidad at the Caribbean Chess Carnival in 2010.
Photo by Daaim Shabazz
Velez seen in action!
Video by Daaim Shabazz/The Chess Drum
Games against two legends
The Chess Drum salutes Nestor Velez!