KasparovChess.com is back!
KasparovChess.com is back! The first "Kasparov Chess" chess portal created in 1999 and included "KC magazine," current news from around the globe, interviews, an event calendar, a discussion board, and a wealth of resources. At that time, Kasparov's site was one of the leading content providers for chess as other sites begin to emerge. Garry Kasparov has decided to join the fray with the relaunch of an online platform. The new platform is a partnership with the French media conglomerate Vivendi.
PARIS, April 15, 2021 /PRNewswire/ — Former World Chess Champion Garry Kasparov and global media company Vivendi announced today the launch of Kasparovchess.com. The site is a new multimedia content platform for chess lovers of all skill levels launched by Vivendi, through its subsidiary Keysquare. Built to offer features for all players, whether they are enthusiasts or beginners, including thousands of chess puzzles, online matches, in-depth tutorials, articles, documentaries, and even an exclusive masterclass with Kasparov himself.
Back in the "dotcom era," chess websites were in their infancy as were chess servers. The Internet platform was rapidly growing into an attractive to place to do anything from buying hard-to-find books, to selling old personal items online to finding a game of chess. Of course, pioneers like the Internet Chess Club (ICC) and Free Internet Chess Server (FICS) were attempting to fulfill an increasing demand in this digital marketplace.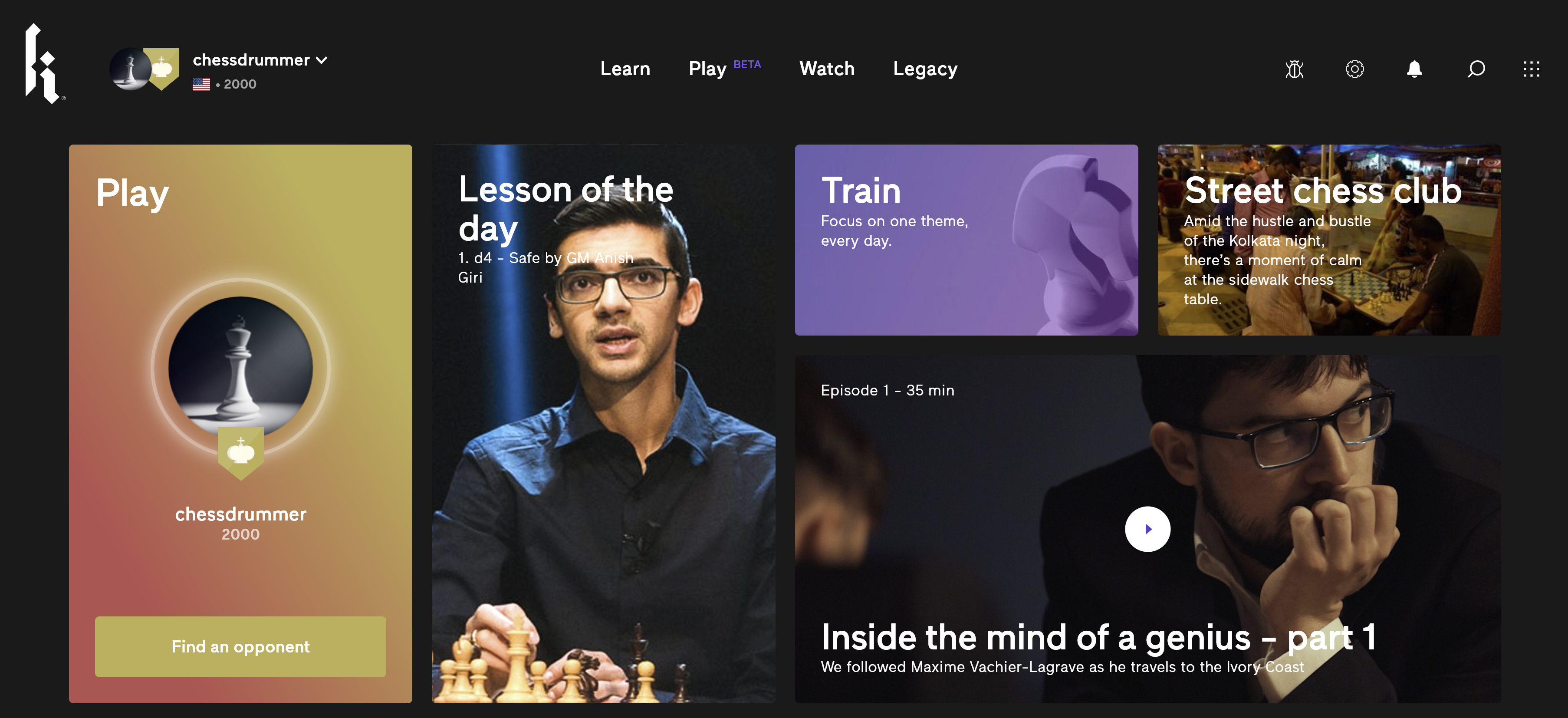 Fast forward to the 21st century, mainstays such as chess.com, chess24, lichess.org joined the ICC in offering online chess communities. The market has become highly-competitive (or perhaps complementary) with chess streaming via Twitch represented a so-called "boom" in chess activity. While the "Queen's Gambit" was a huge success, its impact built on the momentum that had been building up over the past decade. We may not be finished yet.
On April 15th, Kasparov announced his venture with Vivendi which has a membership structure of $13.99 monthly and a yearly subscription of $119.99. It is seeking to fill a unique niche in a competitive market with his own "Master Class" series and guest lectures by top-level Grandmasters. It also has coverage of news of diverse nations similar to his earlier initiatives in Kasparov Chess Foundation. In looking at a demo version of the site, it has a little of everything. The foundation centers on interviews, podcasts, puzzles, and instructional videos, but there is also a playing option.
Back in 2000, I had been searching for information on chess in Africa and the Caribbean for years and came across kasparovchess.net articles written by Mark Rubery. There were articles about Nigeria's Odion Aikhoje, South Africa's Watu Kobese and Zambia's Amon Simutowe. Aikhoje had bagged the gold medal at the Elista Olympiad in 1998. Two articles on Simutowe helped to start me on my search for the Zambian player. Kobese was interviewed and led to a profile on these pages.
As the site began to gain a steady viewership, there was an expansion of functions including a chess server. At the time, ICC was the leading chess server and ChessBase also had a fledgling platform. However, the site began to expand quickly and the momentum seemed to die along with many other dotcom experiments. An image of the first version was posted in December 2001. Twenty years later, the shift in the industry has moved to live streaming and video channel content. KasparovChess new initiative hopes to bring something new to the table.