Levon Aronian to play for U.S. after emigrating
Levon Aronian has completely started a new chapter in life.
He is with his new love, Ani Ayvazyan and dog "Ponchik".
Photo by Armenian Aravot
Shocking report out of Armenia today as the chess world is grappling with news that Levon Aronian, the country's top player will emigrate to the U.S. This is after political turmoil within the new administration has create an unstable situation. On his Facebook page, Aronian wrote an emotional letter. We are presenting the Armenian version (out of respect) and the English translation is below:
My darlings,

Last year was too hard for all of us: epidemic, war, in my case, also personal adversity and absolute indifference of the state towards Armenian chess. I was facing the choice to leave my life's job or move to where I was appreciated.

After more than a year of waiting for the fulfillment of current government promises, I realized that I had to make a breakthrough decision and leave my native country. Obviously, every year of expectation of change is a wasted year from my sports career. And I appreciate my family, especially my mother's sacrifices. as a chess player in my parking lot not to use my opportunity to make the most of it.

I'm sincerely proud of having had the honor of making a significant contribution to the greatest achievement of Armenian chess: three Olympic gold, gold in the world and European championships, two world cups, a number of individual and team victories. I think it's clear that it's impossible to achieve in chess World heights without long-term huge work and targeted support of the state. It is important to note that the third president of Armenia Serzh Sargsyan's personal attention and important support for years in our chess successes.
After the revolution in 2018, the new government promised to continue the line, but the promise was limited to only one year of partial assistance, after which it stopped.

Meanwhile, the chess arena was invaded by absolutely ignorant new sports state figures who rewritten our successes to themselves, began to self-proclaim even through blackmail. They managed to divide the chess solid family and sphere into chaos. I have tried many times to present the former minister of education, science, culture and sports Arayik Harutyunyan, other responsibilities of the sphere, as well as RA Prime Minister, with him these 3 At the only meeting in years, for which he strictly set 15 minutes.

All my attempts to suspend the devastating decisions in the chess sphere have been overthrown. I still failed to explain to the new government that chess is a great legacy in our country and that our successes in this sphere are perhaps one of the biggest achievements in our country. Personally, Armenian chess victories for me, independent Armenia the second pride is 1992-1994 Artsakh freedom after our victory.

I couldn't pass on the simple truth that I ask for state support not for me personally but for our successes to serve and bring glory to our homeland, which for decades may not have Armenia anymore.

The answer was, "Our experts find that Levon Aronyan has no more potential."

Immediately after this 'verdict' at Stavanger's prestigious tournament, I lost both the world champion and the number two players in the world.

I've received many attractive offers from different countries for years. Including great American philanthropist and chess lover Rex Sinkefeld who repeated his offer to move to the United States every year. I've been denying everything that was done It was priceless for chess development by my state and that no material value could compare to the respect that the chess player enjoyed in Armenia.

I would like to express my gratitude to the respected Rex Sinkefeld for still believing in me today. Thanks also to Fabiano Caruana, who is America's strongest player, supports me and shares my decision to be teammates. I am very grateful to my family, relatives, friends and all that people who know my principles and understand me.

My mother often repeats the Armenian saying. "God gives every man a test in his own way." There have been many trials in my life, and every new one I accept with humility and willingness to be better than yesterday. I hope I overcome this one with dignity.

I am sure that time will pass and chess will return to its status in Armenia. Instead of closing chess schools and departed devotees, we will see again respect for the sport where we, as a nation and country, had and I think we will still have our stable place
Until then, I want to assure you once again that I am connected with all the threads of my homeland and I will continue to do my best and impossible for my country from a distance.
Armenia men rejoicing over 2nd consecutive Olympiad gold in 2008.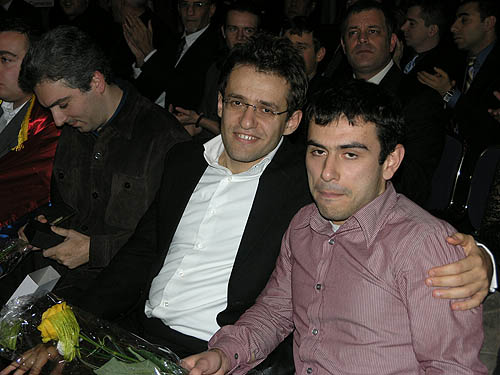 GMs Levon Aronian and Gabriel Sargissian
at 2008 Olympiad in Dresden, Germany after winning team gold.
Photos by Daaim Shabazz
So there you have it. In the past couple of years, Aronian has had to endure the
death of his beloved wife Arianna Caoli
, the derailment of his chess activity, and now political instability of his homeland. On the other hand, he has met a new love of his life in
Ani Ayvazyan
who has shown tremendous support during Aronian's darkest days.
I met Levon when we were running in the same group at Hamalir. He became one of the most important people in my life, and he changed my life. I believe that I also changed his life. Levon once told me that I brought him back to life and gave him a second chance at life. I am happy to have met Levon during the most difficult part of his life. I will always be by his side, and I will help him in any way I can. Perhaps that is all I have to say about us. But we have more important problems today. We have set our personal lives aside. Our personal lives and careers are now secondary. Now, we have a more important value: our homeland. Our whole nation has one dream: to live and win. We will do everything so we can live. And we will all do our part to make that dream come true. We will do everything so we can live. We will do everything so we can flourish. We will do everything so our nation can grow and so we can have lots of children who are like Aronian and other great Armenians. (link)
The two will chart a new course in life together, but away from their native Armenia.
The news traveled rather fast and the comments were both supportive and critical. Some simplified the situation to Rex Sinquefield offering a lot of incentives at the expense of other nations. Both Wesley So (2014) and Leinier Dominguez Perez (2018) have switched federations and Fabiano Caruana (2016) has returned to his native land.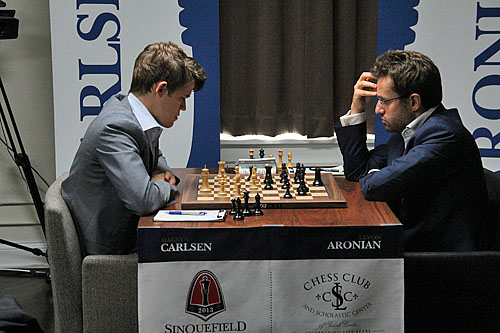 Levon Aronian (right) playing Magnus Carlsen in 2013 Sinquefield Cup
Photo by Daaim Shabazz
Some of the criticisms were based on the fact that America's team is certainly a United Nations General Assembly. Only Caruana is American-born, Hikaru Nakamura came from Japan at age two, but with Aronian, So and Dominguez, the U.S. looks to be a formidable team when the next Olympiad is finally rescheduled. Aronian is still a contender but will have to wait until the next cycle in quest of a world championship crown.
The rich have gotten richer. There is hardly a ripple when an FM, IM, or average 2600-GM switches federations, but when you have three top 20 players who had no previous ties to the U.S. switch in less than ten years, it is ground-breaking. Armenians have expressed sadness, but encouragement in the new chapter of Aronian's life. He is still a national hero and perhaps if the situation changes, he may change his mind, who knows? In the meantime, when he is eligible to play for the U.S. it will be a bit strange to see. However, he has always been open about his love for the U.S. particularly California and his new home St. Louis. He will join one of the strongest Olympiad teams in history.
Aronian is not only an elite chess player, but possesses a genial persona. He has always been genuinely curious of international cultures and has expressed support of The Chess Drum mission. Over the years, I have had a chance to interview the free-spirited GM Levon Aronian three times. Each time it was under victorious circumstances! Take a listen to these brief encounters… (2008, 2012 and 2017).
Daaim Shabazz interviewing Levon Aronian
after the closing ceremonies of 2017 Rapid & Blitz.
Photo by Peter Doggers