After 2017 World Cup win, Aronian gets his chance
Levon Aronian married the ravishing Arianne Caoili on Saturday, September 30th in a very quaint location at the Saghmosavank Monastery in the Aragatsotn Province of Armenia. The couple beamed brightly as shutters were clicking from all angles capturing the special moments. Just a few days earlier Aronian had won the World Cup for the second time, and Armenia was still celebrating. Now the native son was marrying a Filipina beauty with an equally beautiful name.
Levon Aronian and Arianne Caoili
married at the Saghmosavank Monastery
Photo by u1+
Aronian is considered a national hero in Armenia and having the country's President as your best man proves it. Serzh Sargsyan doubles as both the President of Armenia and the Armenian Chess Federation and has supported Aronian throughout his career. The 34-year old Aronian is three-time gold medalist with a growing base of admirers attracted to his easy-going personality and non-compromising playing style.
Now a newlywed, he has topped off a banner year and is coming off perhaps the biggest win of his career. In 2017, he won Grenke Classic, Norway Chess, St. Louis Rapid & Blitz, but his World Cup victory now puts him in the Candidates qualifier next spring to challenge Magnus Carlsen for the World Championship.
After winning the St. Louis Rapid and Blitz, The Chess Drum asked Aronian whether he felt a sense of urgency in winning the world title. He stated that he felt no pressure and liked his chances to qualify.5:14 minutes The Armenian ace certainly made good on his word by winning the World Cup in style over a rising talent Ding Liren. The real question now is whether he stands as the biggest threat to Carlsen's reign. He is currently the world's #2 player on the October FIDE rating list.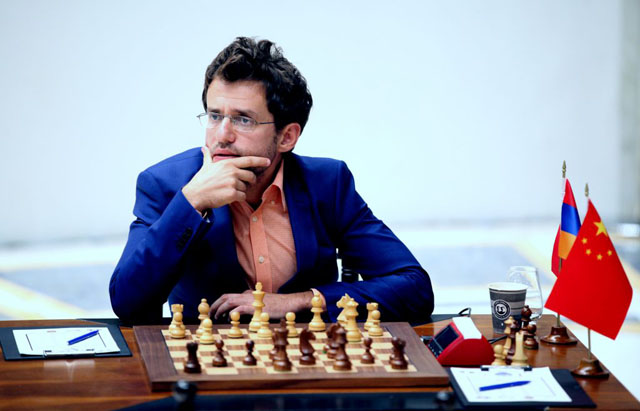 Aronian enroute to his World Cup victory.
Photo by Anastasia Kharlovich
If one is objective in this assessment, Aronian has the experience, ambition, and style to challenge Carlsen. While there are several slots to be determined for the Candidates, Aronian's successful campaign shows that he may have the form to make a valiant run. His past attempts have come up in disappointment. Let's take a look…
In 2007, Aronian qualified due to winning the 2005 World Cup in Khanty-Mansiysk, Russia. In the 2007 Candidates tournament, he played GM Magnus Carlsen, and they tied 3–3 in the initial six games. In the rapid tiebreak segment, they drew both games. Aronian took the match winning 2–0 at blitz chess. This tournament had a preliminary qualifier where Aronian defeated Alexi Shirov 3½–2½ to join other qualifiers.
Levon Aronian scored a rousing victory over a beleaguered Peter Leko
during the 2007 Candidates qualifier tournament.
Photo by Europe-Echecs.com
The championship tournament was an eight-player, double round-robin format and would be played in Mexico City. The new venue did not suit Aronian and he ended on 6/14 in a disappointing 6th-7th position. Viswanathan Anand won the overall championship finally uniting the crown and winning his 2nd championship.
In 2011, Aronian qualified on the count of his FIDE Grand Prix win with 500 points. While the world championship cycle was finding its way, there were major changes in the format. As a result, Carlsen bolted. During the tournament, Aronian lost his match to Alexander Grischuk in a 4½–3½ in a quarter final match. After a 2–2 split in classical games, the Russian won the rapid tiebreakers 2½–1½.
In 2013, Aronian qualified by rating for the eight-player, double round-robin Candidates tournament (no preliminary qualifier) in London. He finished 4th on +2 (+5-3=6) with Carlsen winning the right to challenge Anand. The Norwegian defeated Anand 6½–3½ to begin a new championship era. Aronian would have to wait again.
In 2015, Aronian failed to qualify for the Candidates, but was a wildcard selection by Armenian billionaire Samvel Karapetyan. Ranked 7th in the world, he was an acceptable entrant. The tournament took place in Moscow, Russia and featured the usual suspects. Anand got an automatic berth having lost to Carlsen in the championship match. This was a very close tournament with Sergey Karjakin winning by a point, but all but one player scoring at least 50%. Veselin Topalov got the wooden spoon with 4½/14. Aronian was 5th on an equal score.
In 2017, Aronian has qualified for the Candidates once again and is on an unprecedented roll. Next spring, he will seek to challenge Carlsen who seemed to be in somewhat of a slump before winning the Isle of Man last weekend. Aronian, who has been seen working out, seems to be a bit more driven than ever to get to the championship stage.
Interviewing Aronian after his St. Louis Rapid & Blitz victory
Photo by Peter Doggers
Aronian holding the Cup aloft after World Cup victory
Photo by Anastasia Kharlovich (fide.org)
His trainer traveled to Tbilisi, Georgia to train him between rounds and Aronian was in good form and high spirits. This may be exactly what he needs. The criticism on Aronian had been he was "too nice" and lacked the killer instinct. Not anymore. Even though he has stated no sense of urgency, this may be his opportune chance. Congratulations and all the best!