Pedro Aderito, Angolan IM, passes at 44



Pedro Adérito
, an International Master from Angola, has passed away at 44. This had been announced through various platforms including WhatsApp African chess group. According to the
Angola Press Agency
, he had apparently been dealing with an illness and a member of Angola's chess body had visited Adérito at his home in the afternoon before the tragic event occurred Monday evening, October 5th.
Adérito is the second Angolan to achieve the IM title after winning the 1993 African Junior Championship at 17 years old. He was one of a number of IMs that led Africa in terms of titled players. Angola boasting five IMs at the 1996 Chess Olympiad in Armenia.
Aderito receives his prize after winning the 1993 Africa Junior Chess Championship. Chairman of Kenya Chess Association Tom Sagwe presents the honors while Vice-Chairman Francis Rodrigues looks on. The event was held at the YMCA in Nairobi, Kenya and ran from 11th to 26th December 1993. Photo credit Kim Bhari.
The Chess Drum posted an interview of Aderito (conducted 29 October 2002 through Catarino Domingos), which read:
Known for its large diamond mines and rich cultural traditions, Angola's capital of Luanda is where young Pedro grew up. At age 15, a friend of his (now serving as a priest in Brazil) decided to teach him chess. Pedro was not immediately drawn to the game but was intrigued enough to take an interest. A couple of years later, he entered his first chess tournament. This science student from Puniv High School entered a regional qualifying tournament for the National Championship and took 3rd place was a 5-2 score! He was bested only by seasoned players Antonio Pedro and Eugénio Campos (now an IM). It was at this point that Pedro took a deeper interest in chess.

As is common in many African nations, chess materials are very hard to find, so Pedro most of his time working with friends… essentially learning by playing. While the friends of his youth still play, Pedro has broken from the pack and clearly established himself as one of the country's top players. He has won countless tournaments in Angola and has also won the African Junior Championship in 1993 (held in Kenya) which was how he earned the IM title. IM Manuel Mateus had earned his IM title at the 1987 African Championships while IM Eugénio Campos succeeded him as Junior Champion in 1994. Pedro honed his skills in the Karpov Chess School and currently works with Abilio Ribero, a fellow member on the National Team.
In the Elista tournament, he won a bronze medal for his 7-2 performance on board #4 (Nigeria's IM Odion Aikhoje had won a gold medal on board #2) and in the recently concluded Bled tournament, he scored a team-leading 8-3. Besides being a mainstay on Angolan Olympiad teams, he has played in other international tournaments including the prestigious Cappelle La Grande tournament in France and with cherished memories. He also played in Sweden where he toppled GM Lars Karlsson. Here a game from the 1996 Olympiad in Yerevan, Armenia.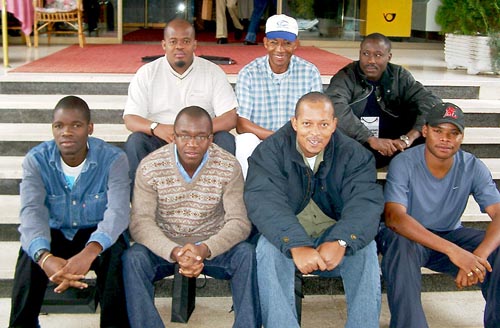 2002 Angola Olympiad team: (in front, from left to right) Catarino Domingos (Bd. 1), Amorin Agnelio (Bd. 2), IM Armindo Sousa (Bd. 3) and IM Pedro Aderito (Bd. 4); (in the rear, from left to right) Ediberto Domingos (Bd. 5) and Abilio Ribeiro (Bd. 6), and Manuel Andrade (captain). Photo taken by Jerry Bibuld.
Aderito blitzing with a Latin American player after 2004 Calvia Olympiad had ended. The three Angolans watching are Manuel Mateus (light shirt), Eugenio Campos (yellow shirt) and Catarino Domingos (blue jacket). Photo by Daaim Shabazz.
Angolans Pedro Aderito and Ediberto Domingos at 2011 African Individual Championships held in Maputo, Mozambique.
During his illustrious career, Aderiot won six national championships and represented Angola seven times for the Olympiad (1996, 1988, 2000, 2002, 2004, 2006, 2008). His Olympiad record was +36 (wins) -22 (losses) =11 (draws) winning a bronze medal in 1998 (Elista) with 7/9.
The Chess Drum salutes International Master Pedro Adérito!
See Tribute by Dr. Lyndon Bouah:
https://kenyachessmasala.com/2020/10/aderito-pedro-reflection.html