The Chess Drum's Highlights of 2019!
The year of 2019 was an important one for The Chess Drum. There was a historic Grand Chess Tour event that took place in Abidjan, Cote d'Ivoire. This tournament featured 10 of the world's top players. Magnus Carlsen won that tournament, but more importantly it gave the continent a stage to show that it is capable of organizing a high-level event.
Magnus Carlsen greeting Nigerian International Master Oladapo Adu (winner of ECOWAS blitz) at the closing ceremony while Maurice Ashley, Graham Jurgensen (Technical Director), François Cernejeski (Managing Director-Pullman Hotel), Claude Paulin Danho (Côte d'Ivoire Minster of Sport) and Dr. Essoh Essis (President, Fédération Ivoirienne Des Echecs) look on.
Ivorian Chess President Essoh Essis chatting with
Didier Drogba, international football legend (retired)
Photos by Daaim Shabazz
The following video is with GM Maurice Ashley who was commentator at the historic event in Africa…
Video by Daaim Shabazz/The Chess Drum
The participation of Egypt's Bassem Amin was also important because it will pave the way for other players from the African continent. Both Amin and Ahmed Adly just participated in the World Rapid and Blitz championships in Moscow and their presence brings greater credibility that talent can be successfully groomed in Africa. The process will be gradual, but this year The Chess Drum continued to highlight a number of events including the African Individual Championships and the All-Africa Games.
Moiseenko-Korley, Xtracon Open 2019
After 19.Rad1, Korley played 19…Re5!!!
Some relatively new federations arrived on the scene like Burkina Faso, Djibouti and St. Vincent and the Grenadines in the Caribbean. There were several other newsworthy items such as Kassa Korley's 2nd GM norm and his brilliancy game. No player is more deserving than Korley to play the game of such quality. As he enters the year 2020, he will continue his pursuit of his 2500 Elo rating along with his third GM norm to clinch the title.
Not far away we saw WGM Oleiny Linares with her third Cuban national title. Tani Adewumi's story went viral. Brewington Hardaway earned his National Master's title at age 10! There were others who made different types of chess accomplishments. Maya McGreen became a U.S. Chess Senior Tournament Director while 13-year old Bahamian Olga Roussos passed her FIDE Trainer's exam. There was an inspiring story about Uganda's Sharif Mbaziira, a chess player who suffers from a disability.
We also lost a couple of chess personalities in The Chess Drum community. Most recently National Master David Allen Sr. passed after a lengthy illness.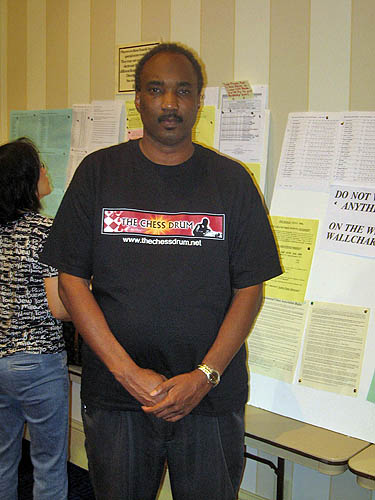 Dr. David Allen, Sr.
(January 31, 1960 – November 22, 2019)
Hope you enjoyed 2019! Look for some developments 2020. The Chess Drum will be updating its readership on the book project that will help to celebrate the site's 20th year!!
Here are some of the moments to revisit…
December
November
October
September
August
July
June
May
April
March
February
January
Index of Stories (2001-2019)
With Shakira Luster, Trechelle Williams and Imani Hill 🙂
The Chess Drum, LLC is a publisher of chess news content and literature. The organization's website has continued to demonstrate the universality of chess by covering a variety of topics through news stories, essays, interviews, and photos since 2001. Visit The Chess Drum at thechessdrum.net and follow the beat on Facebook and Twitter!