Firoujza miffed about Iran mandate, ponders switch
Rising Iranian star Alireza Firouzja has announced that he will consider switching his nationality due to the Iran Chess Federation withdrawing the players for the World Rapid and Blitz Championships. The controversy stemmed from two Iranian players violating national policy prohibiting Iranians from competing against Israeli players. The phenom's pronouncement rocks the chess world as there have been a number of situations surrounding Iran and their standing in international chess circles.
Iranian's stance against Israel has a long history and is complicated by the dynamics of the region. Iran professes to stand as part of a regional bulwark against Zionism going all the way back to the 1940s. After the Islamic revolution and the deposing the American-backed Shah, the government passed a policy banning athletes from competing against Israel opponents. The policy dates back to 1983 as a symbol of solidarity with the Palestinians. Looking at the laws, it is very clear that all diplomatic and trade relations with Israel have been abrogated, but the edict extend to sports competitions as well.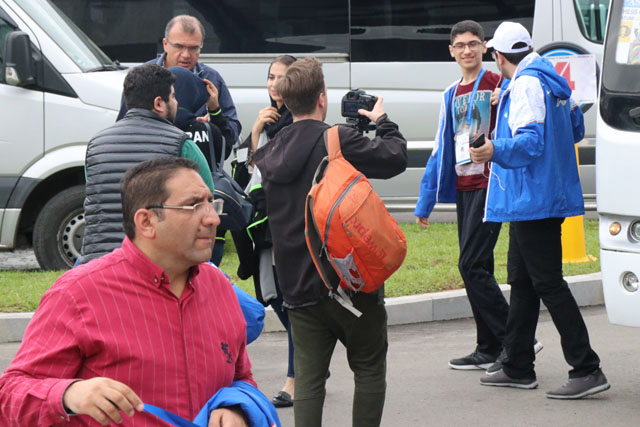 Happier times at 2018 Chess Olympiad in Batumi, Georgia
Photo by Daaim Shabazz
He is 15 years old, but finished joint second at the World Rapid 2018! He gained 157 Elo and beat Khismatullin, Grachev, Cheparinov, Artemiev, Anton Guijarro, Motylev, Svilder and Zhigalko. Players would do well to beat these players in their entire career. Alireza did it in 1! pic.twitter.com/1l1gfHTL9s

— ChessBase India (@ChessbaseIndia) December 29, 2018
This story unfolded when both Parham Maghsoodloo and Amin Tabatabaei played (an won) games against Israeli opponent Ido Gorshstein at the Sunway Stiges Chess tournament in Barcelona, Spain. After this infraction, the federation withdrew all of its players from the King Salman World Rapid & Blitz that is currently taking place in Moscow, Russia.
The young star informed his federation of his position and decided to register on his own and play under the FIDE flag. Maghadsoodloo and Tatatabaei were upset with the decision, but have not made similar pronouncements. They did not travel to Moscow from Tehran.
Firouzja is a huge talent and has improved rapidly over the past few years. He first represented Iran on a big stage as a 13-year old at the 2016 Chess Olympiad and was already national champion. Since then he has risen to the top of Iranian chess and was the first player in the nation's history to surpass the 2700 mark.
It is not clear if the matter is pertaining to Firouzja's belief in the policy or what he may see as a general lack of support. Israeli newspapers have advanced the narrative that the Iranian is doing it "to play Israelis." That may be a bit presumptuous. Nevertheless, politics and sports have always had an uneasy relationship, but typically have been able to keep a distance. However, many famous political statements have been made in athletic events, but unfortunately this controversy damages the trend of small chess federations competing at the highest levels.
Wesley So of the Philippines decided to join the U.S. Chess Federation after attending Webster University for a short time. There were some tensions with the Filipino Chess Federation during his transfer. Leinier Dominguez also transferred and while he left to advance his chess career, the Cuba-U.S. animus politicized his transfer. Russia's Sergey Karjakin also bolted the Ukraine with some political undertones and his statements surrounding Crimea.
Firouzja has stated that he may opt to play for France (where he lives) or the U.S. where other Iranian players have settled. The latter will have some additional controversy as he would be the third top-50 player (along with So and Dominguez) to join the U.S. national team. Fabiano Caruana, born and raised in the U.S., switched back to the U.S. after 10 years in Europe representing Italy. Firouzja would also challenge American phenom Jeffery Xiong for the final spot on the national team.
Firouzja with the gold-medal team at World under-16 Olympiad in Konta, Turkey
Photo by Iran Project
If Firouzja joins France, he would create a promising 1-2 punch with Maxime Vachier-Lagrave. If he decides to switch federations, he may have to sit out a year before playing for the national team. In the meantime, he will play under "FIDE" flag.
1. a transferred player can represent the New federation in FIDE events only after the necessary period of residency unless the appropriate transfer and/or compensation fees are paid.

2. a transferred player who did not represent the former federation 5 years prior to the notification date, is eligible to represent the New Federation in one year after the Notification date Without Fee. (link)