Vasif Dararbayli wins 2019 Chicago Open!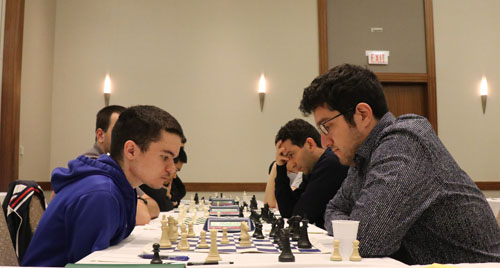 Illia Nyzhnyk and Vasif Dararbayli face off in round 7.
The game was drawn.
Aided by a strong 5.5/6 start Vasif Dararbayli held off a field of strong GMs to win the 2019 Chicago Open. Perhaps the key win was his 6th round win over then-co-leader Jeffery Xiong (2015 Chicago Open winner). He ended with three draws and top the charts with 7/9 for a $10,300 prize. The other contenders were primarily an All-Star cast of collegians from the chess powerhouses in Texas and Missouri.
Dararbayli, an Azerbaijani student at Webster University was joined in the hunt by teammates, Illia Nyzhnyk Alexander Shimanov (2018 Chicago Open winner) and Cuban GM duo Lazaro Bruzon and Yuniesky Quesada. They ended on 6.5/9 along with Dariusz Swiercz of St. Louis University, Hovhannes Gabuzyan (UTRGV) and Pavlo Vorontsov (Texas Tech). UTRGV's Vladimir Belous (2016 Chicago Open winner) ended on 6/9 along with Evgeny Shtembuliak (Texas Tech) and Cuba's Yasser Quesada. IM Qi Chen of China was an intrigue. Going undefeated in his U.S. debut he ended on +3, but unfortunately no GM norm.
Other notable results were IM Erik Santarius winning 1st under-2400 with 6/9 and joint 2nd under-2400 won by FM Edward Song, Deepak Aaron, FM Seth Homa, James Canty. Homa got an IM norm as did FM Aleksey Sorokin.
Jimmy Canty finished with 5.5/9 and 2nd under-2400
The 2019 Chicago Open drew 859 players from the U.S. and approximately 20 countries. As usual, the tournament was populated by a good percentage of scholastic players. Collegiate players dominated the upper echelon of the Open section. There were a good percentage of girls/women playing in the "under" sections and particularly prominent in the under-1000 section.
Shakira Luster, Trechelle Williams, Imani Hill from St. Ethelreda School
with their copies of Triple Exclam!!!
Photos by Daaim Shabazz
STANDINGS
Open: GM Vasif Dararbayli, 7/9
under-2300: Nicholas Matta, 7/7
under-2100: Dan Rade, Dane Zagar, Vladyslav Shevkunov, Ciprian Comsa, 6/7
under-1900: Ethan Pau, 6.5/7
under-1700: Donald Aman Uzoma, 6.5/7
under-1500: George Gonzalez-Napoles, Timothy Speight, 6/7
under-1300: David Paul Schmitz, 6.5/7
under-1000: Liam M Masse, 6.5/7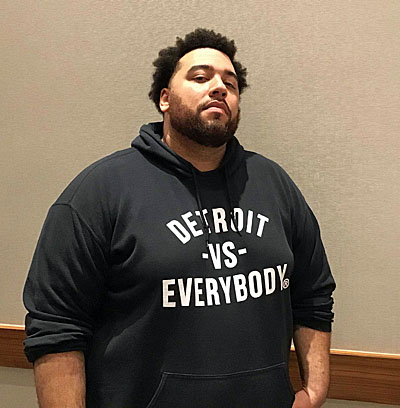 Tim Speight II (center) tied for 1st in the under-1500.
Photo by Nathan Kelly
Official Site: https://chessevents.com/chicagoopen/
Tournament Details: https://www.chesstour.com/chio19.htm
Drum Coverage: https://www.thechessdrum.net/blog/2019/05/25/2019-chicago-open-wheeling-illinois/