2019 Chicago Open (Wheeling, Illinois)
Summer is here and just outside of the "Windy City" in the suburb of Wheeling, the Chicago Open has begun. Aleksandr Shimanov is the defending champion, but Jeffery Xiong is the top seed and wants to repeat his 2015 win. Then only 14-years old, he has since evolved into a member of the U.S. national team and is approaching the 2700 class. He will be challenged by a cadre of other young upstarts looking to make the same type of impact he did four years ago.
While the Chicago Open $100,000 prize fund is not enough to attract the true elite, it is enough to attract norm seekers and those trying to get a "major" win. A number of foreign Grandmasters are affiliated with American universities and will be coming from all of the collegiate powerhouse teams. Webster University, St. Louis University, Texas Tech and University of Texas-Rio Grand Valley and a few others have sent several players.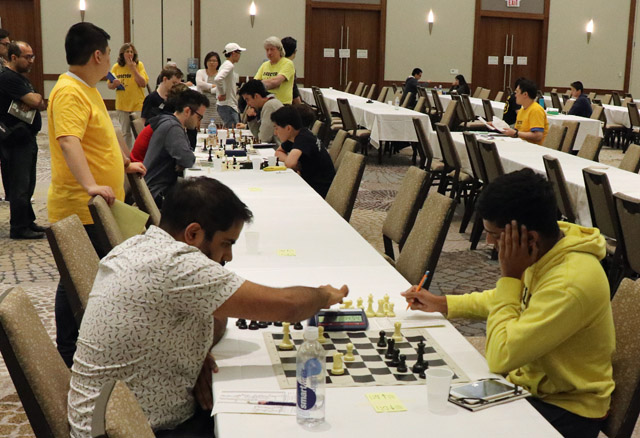 Blitz phenom Gopal Menon battles IM Atulya Shetty, 1/2
FM Justus Williams drew GM Alexander Shabalov. While Sandeep Sethuraman took down FM Jimmy Canty. The young lions are on the prowl!
WIM Megan Lee takes on FM Josh Posthuma, 1/2
Photos by Daaim Shabazz
The lower sections will be hotly contested with the unconventional section of under-2300, under-2100 and under-1900 which different from the 100-point increments seen at the World Open. Wheeling is just outside of downtown Chicago and fall during the busy Memorial Day weekend.
Official Site: https://chicagoopen.net/
Standings (Open): https://chessevents.com/chicagoopen/
Tournament Details: https://www.chesstour.com/chio19.htm
PGN Games: https://www.thechessdrum.net/games/chicagoopen2019.pgn