Carlsen-Caruana match only 11 days away!

Excitement will begin to build up for the World Chess Championship set to begin in Holborn, London on November 9th. While the media blitz has not yet begun, it will be interesting to see how the match is billed. Magnus Carlsen has been the World Champion for five years and this will be his third title defense. He faces Fabiano Caruana, a player who has had some success against Carlsen and will undoubtedly be the stiffest challenge yet. While Carlsen has an overall +5 score in classical games, +7 in blitz, even in rapid (per Tarjei Svensen), only two Elo points separate the players (2834.7 to 2832.3 LIVE).
An interesting exchange occurred at the 2018 Sinquefield Cup…
A sharp but delightful exchange between @MagnusCarlsen and @FabianoCaruana ahead of the 2018 edition of the Sinquefield Cup. pic.twitter.com/IUPqtI43ac

— Olimpiu G. Urcan (@olimpiuurcan) August 18, 2018
After this bit of pre-tournament banter, Caruana and Carlsen tied for first along with Levon Aronian. The American player has been in consistent form the past couple of years and is coming off of joint win of the 2018 Sinquefield Cup and a double silver medal performance at the Olympiad. Meanwhile, Carlsen seems to have lost some momentum and went through a stretch of almost a year (in 2016-2017) where he did not win a major classical event. His win of the 2017 Isle of Man silenced critics. He proceeded to win joint first with Anish Giri in the 2018 Tata Steel, but 2018 results have been far from dominant. However, Carlsen has proven that he can motivate himself when the spotlight is on.
2014 Chess Olympiad
Fabiano Caruana (Italy) – Magnus Carlsen (Norway), 0-1
The early stages of an official rivalry?
Photo David Llada.
2015 London Chess Classic
Magnus Carlsen (Norway) – Fabiano Caruana (USA), 1/2-1/2
Photo by Ray Morris-Hill.
There have been many polls assessing who will win the match and quite a number pundits have given Caruana a reasonable chance at victory. Caruana assesses his chances as 50-50. While Carlsen remains the popular favorite, this may be the first match where his perceived advantage is not overwhelming. Carlsen actually struggled against Sergey Karjakin and needed a late win to tie the match and take into tiebreaks. He dominated the quicker format and ended with a picturesque mate.
Recently, Carlsen was watching the Olympiad and was asked comments about Caruana. Here is what he had to say about his challenger (notably 8:47-10:27).
Magnus Carlsen on Fabiano Caruana
Video by chess24
One of the things that makes Carlsen such a competitor is that he is totally engaged in the happenings of chess and this appears to be a common trait of champions. The 90-minute commentary during the Olympiad was certainly a treat for the audience as well as a way to keep him engaged with the current ideas. In addition, to the champion's zeal for chess, he will have a powerful team supporting him.
With all types of Bobby Fischer comparisons in the air, Caruana will bring his trusted second in Rustam Kasimdzhanov. While there is little information about his official team, Grandmasters Cristian Chirila, Alejandro Ramirez and Leinier Dominguez helped with preparation for the Candidates. Certainly Rex Sinquefield will see to it that no quarter is spared to get him an able team.
---
If Caruana wins, we'll have a new champion,
and most likely, a new #1.
---
Carlsen will have Peter Heine Neilsen as his chief second. French Grandmaster Laurent Fressinet has worked with Carlsen in the past and it has been reported that Jan Gustaffson and Maxime Vachier-Lagrave may be with Team Carlsen, but this is unofficial.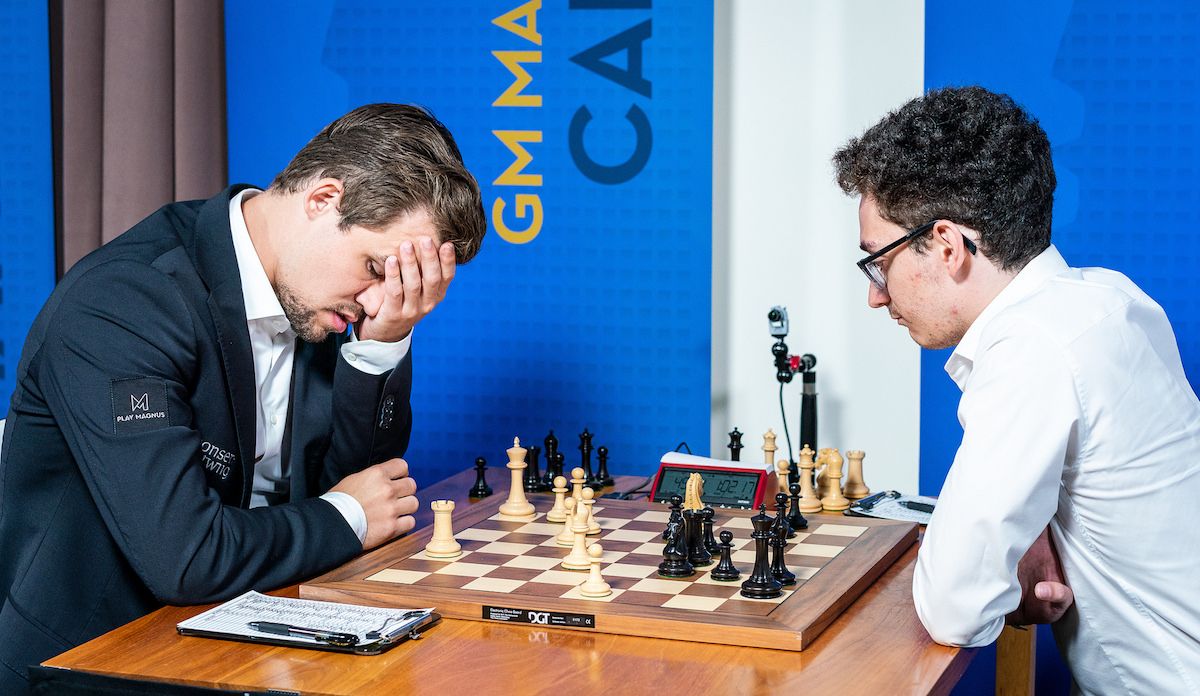 Carlsen-Caruana at 2018 Sinquefield Cup, 1/2-1/2
Photo by Lennart Ootes
The World Championship match will take place at The College, a 10,000 square foot Victorian Hall in Holburn (pronounced ho-burn). The highly-anticipated match begins November 9th after the opening ceremony the previous evening. New FIDE President Arkady Dvorkovich will be on hand to open the match.
The match will feature rest days every two games except for a rest day between the 11th and 12th game. Rounds will be at 15:00hrs. London GMT (10:00hrs New York, 16:00hrs Oslo, 17:00hrs Johannesburg, 18:00hrs Moscow, 23:00hrs Shanghai). If you are visiting in London, the daily passes start at £45 (US$57.75) at ticketmaster.com.
Venue: The College in Holburn, London
The closing ceremony (and tiebreak, if needed) is on the 28th. There will be a drawing of colors at the Opening Ceremony to determine the color allocation. After six games, the colors will actually reverse in the second six-game sequence. In other words, both players will play the same color in game 6 and 7. The time control is 40 moves to play in 100 minutes, the 20 moves be played in 50 minutes and the rest of the game will get a final 15 minutes.
Each move will gain an increment of 30 seconds per move. The match will last 12 games with the winner scoring 6.5 points. In the event of a 6-6 tie, there will be four 25-minute games to determine the winner. If the rapid games do not determine a winner, then up to five blitz mini-matches will be played until a winner is determined.
If the match is still drawn, one sudden-death "Armageddon" game will be played. The player who wins the drawing of lots may choose the color. The player with the white pieces shall receive 5 minutes, the player with the black pieces shall receive 4 minutes. The player with white must win the game to win the match.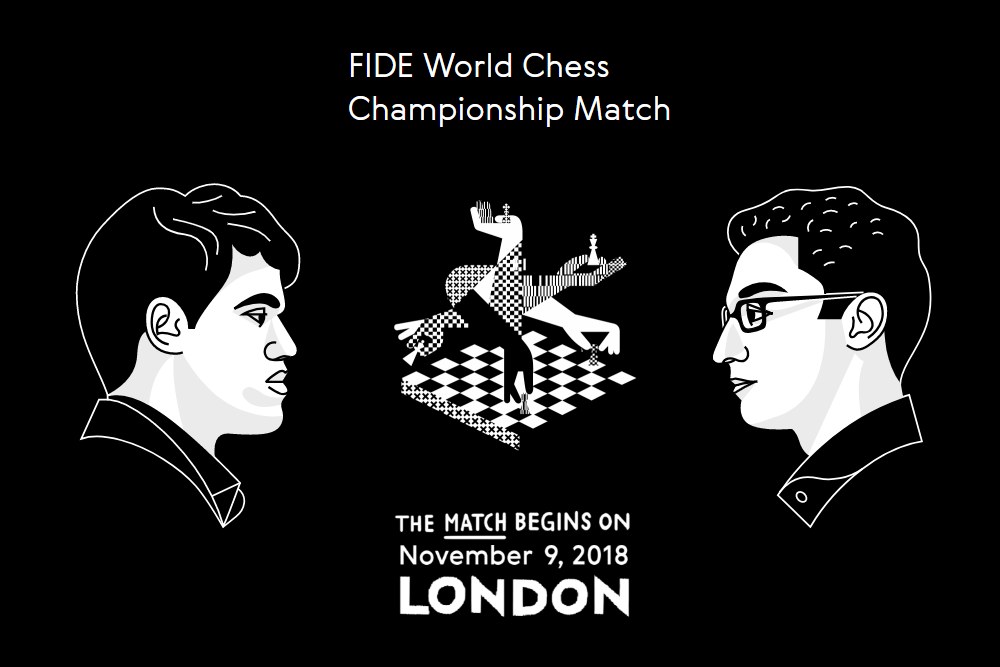 MATCH SCHEDULE
Press Conference & Opening Ceremony: Thursday, November 8th
Game 1: Friday, November 9th
Game 2: Saturday, November 10th
Rest Day: Sunday, November 11th
Game 3: Monday, November 12th
Game 4: Tuesday, November 13th
Rest Day: Wednesday, November 14th
Game 5: Thursday, November 15th
Game 6: Friday, November 16th
Rest Day: Saturday, November 17th
Game 7: Sunday, November 18th
Game 8: Monday, November 19th
Rest Day: Tuesday, November 20th
Game 9: Wednesday, November 21st
Game 10: Thursday, November 22nd
Rest Day: Friday, November 23rd
Game 11: Saturday, November 24th
Rest Day: Sunday, November 25th
Game 12: Monday, November 26th
Rest Day: Tuesday, November 27th
Tiebreaks/Closing Ceremony: Wednesday, November 28th
Regulations: https://www.thechessdrum.net/tournaments/WCC2018/documents/regulations_match_2018.pdf