Tom Murphy wins Chicago's 3rd Tate Memorial!
International Master Emory Tate is long gone, but certainly not forgotten. In one of his poems he mentioned the symbolism of the lion and the pride. While Tate's sons Andrew and Tristan channeled their energy into kickboxing instead of chess, he left behind another pride of admirers. One of them was Tom Murphy who used to lock horns with Tate during his days in Washington, DC. It would be poetic justice that Murphy would win this year's Tate Memorial.
Tom Murphy, Winner of the 2018 Emory Tate Memorial
Photo by Nathan Kelly
According to organizer Nathan Kelly, the event was a blitz tournament with a six-round double round-robin format. This year there were only ten players, but the event was broadcast on Facebook and would precede the Blitz match between Chicago and Detroit. IM Dejan Maksimovic (2364 blitz) was the top seed followed by Daniel X Jones (2273) and Aderemi Adekola (2246).
At 4th seed, Murphy (2074) split with the Maksimovic and Jones and won against the rest of the field. Adekola and Sam Ford (1962) were able to topple Maksimovic (10/14), who won both games against Jones (10/14). It was a brutal fight, but Murphy appeared to be the most consistent and ended only losing three games.
As you may have noticed, there was actually a 7th round played which made things a bit more tense. After Murphy and Jones split games, all that was left was to see the result of the Adekola-Maksimovic match. When the smoke cleared, that match was split and gave Murphy the win!
Intense Analysis!
Tom Murphy vs. Sam Ford
Andrulla Blanchette vs. Tom Murphy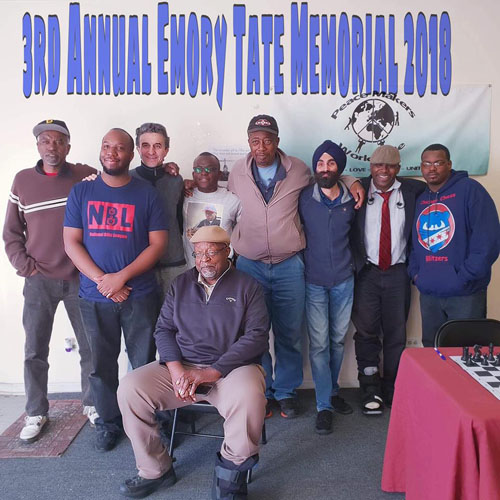 Participants of the 3rd Emory Tate Memorial
Photos by Nathan Kelly
Of course, the tournament was played in the memory of IM Emory Tate and there were many tributes. Here is a nice one by Sam Ford.
…and the winner, Tom Murphy!
Videos by Nathan Kelly