2018 Chess Olympiad: Round #11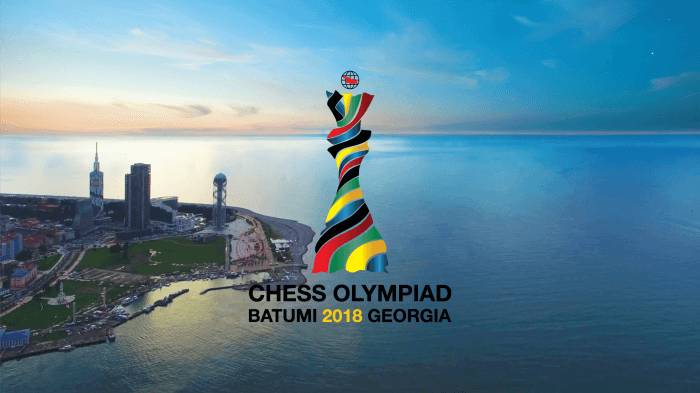 2018 Chess Olympiad: Round #11
Friday, 5 October 2018
Open Section
Dint Liren and Ju Wenjun (CHINA)

Photo: @davidllada #BatumiChess2018 pic.twitter.com/F32w5ek57f

— Batumi Chess Olympiad 2018 (@BatumiChess2018) October 5, 2018
China
has won Olympiad gold after beating medal contender
Poland
in a thrilling last-round battle. The medals were not decided until the final tiebreaks were calculated. Ironically, the result was not dependent on the medal contenders, but
Bangladesh-Panama
! It was already determined that the
USA
,
China
and
Russia
would medal, but that the encounter on board #64 would determine the strength of the tiebreaks and the medal order. Bangladesh won meaning that USA would get less favorable tiebreaks from having beaten Panama.
There is still no consensus on how tiebreaks should be determined. Years ago when China won Olympiad silver in 2006, there was a complaint because they had piled up huge scores against overachieving teams. So there was a switch to a different match-based system. Now that China wins on this count, there is another issue concerning the type of tiebreaks. Caruana said it best.
Last Olympiad we benefited from the tiebreak system; this time unfortunately, we didn't. Nevertheless, silver is a good result and I'd like to thank all my team members for their dedicated work. Congrats to China on gold in the Open and Women's sections!

— Fabiano Caruana (@FabianoCaruana) October 5, 2018
Russia was able to beat France and get onto the medal stand in a photo finish. Poland was unable to beat India and match the 18 points of the USA, China and Russia. The crushing loss to China was a big blow. It was disappointing because Poland had faced the top eight seeds and were certainly in line for the gold medal. However, India held on all four boards and finished 6th.
Germany-Armenia and Ukraine-Czech Republic ended in 2-2 draws, but England blasted Kazakhstan to finish 5th! Vietnam also ended on a high note beating the Philippines 3-1 and getting the 7th place. Besides Armenia, France and the Ukraine finishing 8th-10th you had Sweden finishing just out of the top 10. The best result for Sweden since 1935 when they won the silver medal.
Women Section
To make it a "double-gold" China got a miracle in the finale when China survived on the fourth board in a totally lost position and turned a draw into a win on the top board.
The two heroes celebrating after a miraculous comeback.
Photo by Maria Emelianova/Chess.com
The imposing black pawns looked certain
to promote!
Gut wrenching finale!
Olga Girya of Russia was unable to win a complete dominant position (+9) and allowed China's Lei Tingjie get a three-fold repetition. Girya was racing her a- and b- pawns toward their queening squares, but Lei was creating threats against the exposed black king. This game started as a bad experiment for white as black equalized rather easily. Girya then essayed 15…Ba3! with multiple threats.
The Russian held that threat throughout the middlegame. Fast forward to move 51…Qb4 when the end seemed to be near for the Chinese player. The evaluation was a +9.20. Russia must've have been confident. Not to mention that Alexandra Kosteniuk seemed to be clearly drawing. However, in a few moves it was clear black couldn't escape the checks!
One the top board, Kosteniuk and Ju Wenjun were gripped in a tight battle. The game looked to be equal, but black's position was a bit more active. In fact, white lost a pawn, but only had to set up a blockade and wait for black to run out of ideas. It's easy enough to see these ideas without the pressure, but a medal was on the line for Russia. In a tense moment, Kosteniuk claimed what she thought was a three-fold repetition. Upon a review it turned out to be only two and two minutes were added to Ju's clock.
A dejected Kosteniuk when she learned her claim was incorrect.
Photo by Maria Emelianova/Chess.com.
In an unbelievable turn of events, China had risen from the dead and won the gold! Russia was knocked off of the medal stand. Meanwhile the Ukraine was completing a 3-1 drubbing of the USA, who had played above their expectations without their national champion Nazi Paikidze. The only respectability was Tatev Abrahamyan delivering a picturesque checkmate on the board against Anna Ushenina. Jennifer Yu lost to Natalia Zhukova, but finished on 8/11, a bronze medal and an IM norm.
Ukraine took the silver since Russia failed to close out China and Georgia 1 won the bronze and was able to lift the flag on the medal stand as host nation. Russia was just out of the medals for 4th with Hungary, Armenia and the USA following. India, a pre-tournament contender, faltered against Hungary in round eight and had to settle 8th position. Humpy said out the last round, but had a credible showing in her return to Olympiad play.
Interview with Chinese National Teams
Video ChessBase India