2018 Chess Olympiad: Round #4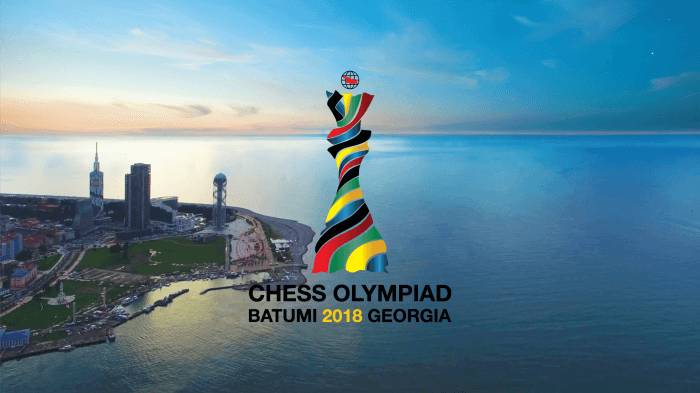 2018 Chess Olympiad: Round #4
Thursday, 27 September 2018
Open Section
The heavyweights were beginning to meet in round four and when the smoke cleared France and Israel remained above the fray with identical scores. Each have won the four matches for two points and have accumlated 14 board points. The USA defeated India on the strength of Fabiano Caruana's win over Viswanathan Anand. It was a key win for the defending champions to keep pace with the group of nine team on perfect scores.
USA-India shake hands before battle!
The heavyweight matchup on board #1…
Fabiano Caruana vs. Viswanathan Anand
Photos by Daaim Shabazz
Here is Caruana's win in the Catalan…
While the defending champions held their position, Russia suffered a tremendous setup in their medal aspirations by dropping their match to Poland. The young and ambitious Poles got two wins in dramatic fashion with former World Champion Vladimir Kramnik being checkmated on the board! This was not the Russian's finest moment as he was totally off form this game. The kingside attack crashed through while Kramnik was dithering on the queenside.
27.Qb4! is the deadly little move Kramnik must have totally overlooked, but his teammates will wonder why he couldn't just have gone for 18…Qd5! and playing "for 2 results" earlier… https://t.co/C99S4tebzd#BatumiChess2018 pic.twitter.com/jL4BS5XEO1

— chess24.com (@chess24com) September 27, 2018
There was also a bishop and knight versus king situation, but when Kamil Dragun showed he knew the technique, Dmitry Jakovenko resigned and Poland took the match. This loss matches that of the Russian women and now both teams will be forced to "win out" if they want to vie for medal contention. If the Russians do not medal in this Olympiad it will be only the second time in recent history that neither the men nor women will no approach the medal stand.
Azerbaijan, Armenia and China won big to remain perfect in the standings. Czech Republic and Ukraine are also sitting on 4/4. Germany with Liviu-Dieter Nisipeanu on board one beat Hungary who is without Richard Rapport this trip. Incidentally, Nisipeanu switched his affiliation from Romania to Germany. Romania is faring well.
Liviu-Dieter Nisipeanu (Germany)
In other news, host Georgia 1 is struggling and lost to Lithuania 3-1. The young Iranians fell to the Czech Republic despite them resting David Navara. We have not mentioned much about China, but they are gradually gain momentum and another win world put them in a firm position before the rest day.
So today there are intriguing matchups:
Armenia-Azerbaijan
France-Poland
China-Czech Republic
USA-Israel
Ukraine-Spain

Ding (2809.9, World #4) refreshes his highest live rating and stays unbeaten since 9 Aug 2017 in 81 games https://t.co/z4dIIwQK0k Photo: https://t.co/uhKwKfCDHO pic.twitter.com/b538tiYjXN

— 2700chess (@2700chess) September 27, 2018
Women Section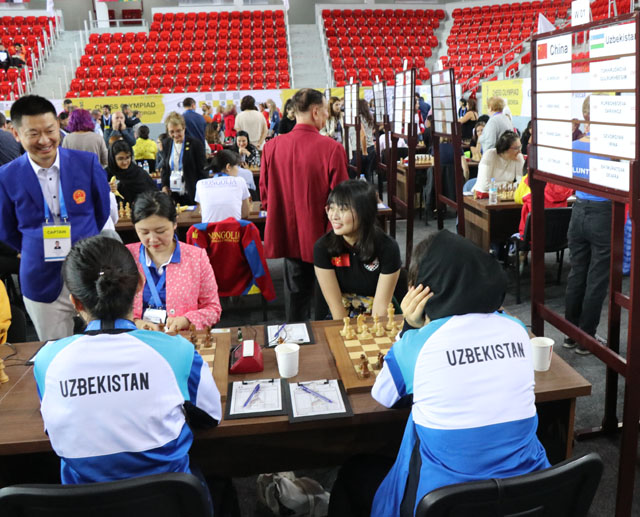 China in a good mood before facing giant-killer Uzbekistan.
Photo by Daaim Shabazz
China continues to show their class without Hou Yifan and remains atop the field after beating Uzbekistan, the team that famously beat Russia. Ju Wenjun and Shen Yang won for the margin of victory. Armenia, Mongolia and Georgia 1 joins China, the Ukraine and the USA with 4/4.
The USA is riding high after the win over Azerbaijan and the team is certainly playing well with rookie Jennifer Yu holding her own. Anna Zatonskih won a thrilling game and mentioned that time pressure was a factor. In fact, The Chess Drum sitting with the winner when chess.com asked her about the chances to win that R+N vs. R ending. She replied, "About 50%." This was due to her opponent's time pressure and the fact that her king was trapped at the edge of the board. Indeed Gunay Mammadzada walked into a mating net and the USA would get the win.
The role of a captain is to show the right way to his players when they are lost!

Captain of Jamaica team with one of his players.#batumichess2018

Photo: @amrutamokal pic.twitter.com/unl2roEZ5z

— ChessBase India (@ChessbaseIndia) September 28, 2018
The next key matches are:
Armenia-China
USA-Mongolia
Georgia-Ukraine
Argentina-India
Georgia-Turkey

Georgia-Ukraine should be interesting as you have two countries with a history of medals competing in the 5th round. India got back on track with a win in the last round, but has ground to make up. Since this is such a long tournament, top teams will have played each other and in the last few rounds there will be strange pairings with teams facing each other who are two points apart. This is when board points become very crucial. A contending team can pile up points toward the end and jump several positions onto the medal stand.
Video by Batumi Chess
BERMUDA PARTYhttps://t.co/uhpn97uiPf#Chess #BatumiChess2018

— Batumi Chess Olympiad 2018 (@BatumiChess2018) September 27, 2018