2018 Chess Olympiad: Round #3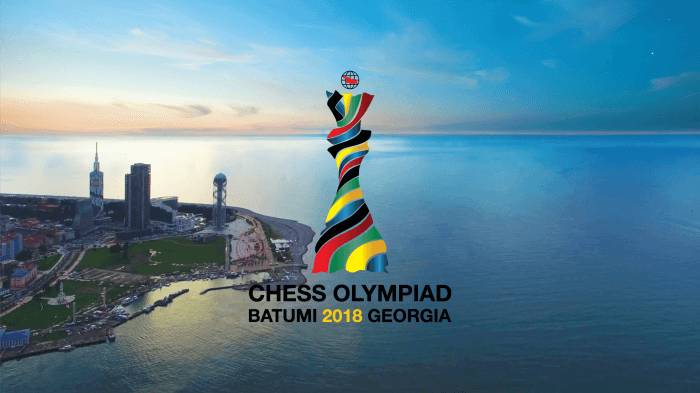 2018 Chess Olympiad: Round #3
Wednesday, 26 September 2018
Open Section
The calm before the storm. Round three had some interesting matchups, but the favorites are still holding sway in this 11-round marathon. France finally gave up a 1/2-point, but holds the lead on board points with 11.5 while Israel has 11 and four teams (India, Iran, Poland, Croatia) are on 10.5. Still no upset equivalent to the Russian women losing to Uzbekistan. So the heavyweights will meeting in the 4th round on schedule.
India's Viswanthan Anand taking a question from Susan Polgar
after his win over Canada's Eric Hansen.
Photo by Daaim Shabazz
France won its game over Algeria giving up its only draw thus far. Poland won over Portugal, but was upset on board 1 with Luis Galego toppling the young phenom Jan-Krzysztof Duda. Both USA and China won their matches by a 3-1 count over the Netherlands and Peru, respectively. Azerbaijan, England, Vietnam and Israel stayed in the early hunt with wins as well.
Out of the matches today, Iran beating Belarus was perhaps one we can note. The young team led by World Junior Champion Parham Maghdsoodloo representing the new guard of Iran after the era of 11-time Iranian champion Ehsan Ghaem-Maghami. The future seems bright and it appears that Iran may be medal contenders in the future.
Video by Batumi Chess
So today there are intriguing matchups:
Vietnam-France
Israel-Sweden
USA-India
Czech Republic-Iran
Azerbaijan-England
China-Croatia
Greece-Armenia
Argentina-Ukraine
Poland-Russia
Hungary-Germany
Top 5 Teams in Batumi Chess Olympiad 2018 after 3 Rounds
Who will be the Champion? pic.twitter.com/cAJjqRJbtl

— iChess.net (@OnlineChessLess) September 27, 2018
Women Section
Before getting into the women's competition, there was a very special moment in the press hall when Georgian legends Nona Gaprindashvili and Maia Chiburdanidze granted a press conference to Susan Polgar and while there was a loud buzz from the adjoining exhibition hall, there was intrigue in the press room. The two legends talked about their respective careers, challenges and answered questions. Gaprindashvili mentioned her pride of the Georgian teams at the Olympiad. You could see the pride she had as the matriarch of Georgian chess.
One of the questions was whether they still followed chess. Surprisingly, Gaprindashvili said she still looks at chess daily while the younger Chibrudanidze has not been as diligent in keeping up. This writer asked about the impact of computers in chess and it was apparent that a generation gap existed between Gaprindashvili's and Chiburdanidze's. The elder was adamant that one should not use computers incessantly because chess should come from the soul.
Chiburdanidze, who was in the middle of the technology revolution in chess, said she understood the value as a tool and the ability of computers to find interesting ideas. Paul Truong told me, "You've started a debate." Indeed… the two went back and forth for a few rounds before bringing the session to a close. Truly a delightful moment.
Susan Polgar with Georgian legends
Nona Gaprindashvili and Maia Chiburdanidze
Photos by Daaim Shabazz
Back to the games.
India has ambitions to medal in both competitions with their two legends playing. When the women drew their match Serbia, it was a bit of a setback. While Humpy Koneru and Dronavali Harika won, the two lower boards failed to hold a 1/2-point for the win. The draw drops them from a perfect score, puts them 1-1/2 behind on board points. Azerbaijan and Iran follow on 11 points. Iran got a gift when Slovakia's Eva Repkova hung a rook in one move against Sarasadat Khademalsharieh.
Repkova has a huge advantage and could perhaps play 35.f6 and crash through. No one knows what caused her to play 35.Rd7?? Iran still would've won, but to win that point must've been quite relief.
Azerbaijan, Vietnam, Ukraine, China all cruised to 3rd round wins and will be battling in the next round. At this point, all the top players of each team have played at least a game and hopefully have found a groove. If not, the next few rounds can decide whether a team will be a team contender or merely playing for individual accolades (medals, Elo points or titles). The next key matches are:
China-Uzbekistan
Italy-Armenia
Iran-Mongolia
Vietnam-Georgia 1
Azerbaijan-USA
Ukraine-Slovenia
Hungary-Georgia 2
India-Poland
Turkey-Serbia
Georgia 3-Australia
The Georgian women will need a victory to assert themselves as contenders. The USA has had a good result thus far without their national champion Nazi Paikidze, who ironically is from Georgia. They will get the perennial contender Azerbaijan. India-Poland will be the 5th and 2nd place finishers in the Baku Olympiad. Key matchup!