Sammy of NYC blitz fame dead at 55
Samuel "Sammy" Barton, an icon of street chess, passed away after battling serious health challenges. He was 55. Sammy was known as a mainstay in the greater New York scene and is considered to be a legendary figure. Called "Bubba" by his sisters, he attended Lincoln High School in Coney Island and played football as a youth. He learned chess at community center events in Coney Island.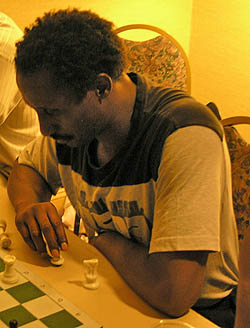 Samuel "Sammy" Barton
Photo by Daaim Shabazz
Chess is a world unto itself each country having its own chess character and culture. With each nations there are a number of communities, but one of the most eclectic is the street chess community. Sometimes seen on the streets and in the parks, they make a commanding presence by their charisma, trashtalk and playful banter. One of the most visible players in the New York street chess scene was Sammy.
Watch him in Miro Reverby's "Men Who Would Be Kings" playing a hapless Tony Springer.
Video by Miro Reverby
New York is the chess hub of the U.S. with so many legendary players that have trolled the parks and streets of the Big Apple. One of the most accessible platforms for chess is the form played on the streets. Unfortunately, chess tournaments are hidden away in posh hotels, community centers or churches. The contribution of street chess is that it shows the game's true grit up close and personal.
Sammy had many challenges in life, but like so many others he found a refuge in chess. You could find him around the many parks of New York holding court and being at his best. There is something intriguing about players who have spent their entire lives loyal to the pursuit of a personal goal. At one point, it is said that he actually received chess training in Russia.
Some assert that chess is a way to take a daily introspection of one's well-being. Others say that chess offers a cathartic release of daily stresses. For Sammy and players like him, it appeared to be the spirit of competition… and the thrill of winning with something on the line!
Sammy blitzes with GM Amon Simutowe
at 2010 World Open (Valley Forge, PA)

2015 World Open (under-2200)
Photos by Daaim Shabazz
The late James "Black Knight" Taylor told me before he died that street chess should be chronicled. While it would be difficult to focus on their results, it's not always the rating or the games they played. Who can forget Sammy after seeing the video above?
What becomes important to us is the spirit they conveyed and the memories they have left to inspire us. Even when he was ill, Sammy wanted to be at the chess board. Even when he was not in the best of health, he wanted to do battle. We can all agree that Sammy, also know as "Sandman," made his own contribution to chess. He will be especially missed in the New York scene.
He is survived by three sisters (Maureen, Regina, Julia), one nephew (Josef), four nieces (Sierra, Chelsey, Elizabeth, Paris), one uncle (Thomas) and a host of other family and friends.
Memorial for "Sammy" will be held at
St. Nicholas Chess Club
Saturday, June 30th @ 3:00 PM
91 EDGECOMBE AVE New York, NY

Contact: Al Pertilla (212-234-1114)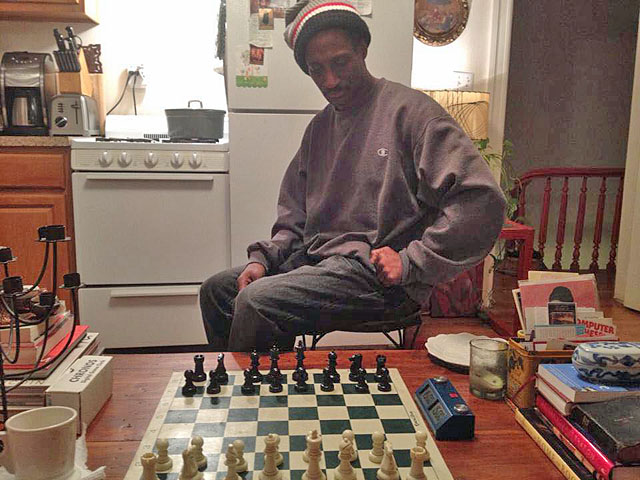 Sammy Barton
(March 5, 1963 – June 9th, 2018)