James "Black Knight" Taylor: 1946-2014
James "Black Knight" Taylor was soldier of fortune. A four-time Bronze Star winner for valor in Vietnam, he saw war in its ugliest form. After being discharged from the Marine Corps, he saw war in its most beautiful form. That form of war was the game of chess. For more than thirty years, he lived vicariously through chess and it became his way of sharing his passion.
I had a chance to speak to him practically every day for the last two weeks of his life. Below are some of the thoughts from our conversation on July 26th. In his final days, he continued to share his story with fellow players and while in the hospital, he was thrilled to play and win his last game of chess. Unfortunately, he was unable to defeat the effects on his cancer-ravaged body. He died at age 67 on August 8, 2014.
"Black Knight" at African-American Civil War Memorial
"THE SPIRIT OF FREEDOM"
Washington, DC.
Born October 27, 1946 in Roanoke, Virginia, Taylor's life is not a life of rags to riches or riches to rags. It is a story of a man who gave a good fight and triumphed over difficult circumstances. Even in his last days he was imparting pearls of wisdom about the battles he waged in life. One of these battles led him to chess. During a time in which he was "put under restriction" for a short 30-day period, he was taught chess by college students from Charlottesville Community College.
Charles Smith, one of Black Knight's early confidantes. Photo by Daaim Shabazz.
It is the quality of chess that attracts to many different types of people to the game. While the game's reputation has a certain amount of panache, it has an allure to everyone from the erudite scholars to doting school children to the "hustlers". It is the latter group that represents the underworld of chess. This world is dotted by colorful personalities found in many parks and streets of large cities and are known as "Street Masters". Taylor was proud to be a part of this world.
If anyone has seen these hustlers at work, it is certainly evident that in "street chess" represents a different neighborhood in the world of chess. Over-the-board chess, correspondence chess, prison chess, park chess all represent different personalities in the chess community . "Black Knight" was a well-known personality in Dupont Circle, the popular arena where chess hustlers lurk. He told The Chess Drum that he spent the better part of 15 years out in the park hustling.
Dupont Circle is where the "Black Knight" fame was born.
Many of these hustlers or "street masters" have very creative nicknames gained from their alter ego… "Firebreather," "Exterminator," "Black Dragon," "Black Angel," "The Sandman," "Sun God," and Master Don ("Never Castle, Never Will"). Black Knight got his moniker when he found no Black chess players in any of the books he was reading. He became that metaphorical knight in shining armor and took pride in selling the virtues of chess.
Perhaps, chess saved James Edwin Taylor. Having served in Vietnam, Taylor had his struggles like many veterans who returned from the war with frazzled minds and wrecked bodies from debilitating injuries. However, Taylor had chess. After returning from Vietnam, he decided to settle in the DC area in 1981, but that is where his struggles began. Taylor fell into despair. He lived on the streets, sometimes slept in cars and relied on the generosity of friends. One of the first friends he mentions is Charles Smith, who became a confidante, defender and a friend who helped him through his hard times.
Taylor had begun hustling chess in Dupont Circle when his "Black Knight" star had risen. He mentioned that he was first fascinated at the fast pace and the trash-talking. However, he met a man who would show him chess in its most beautiful form… that would be the dashing tactician Emory Tate. Black Knight mentioned the day he met Tate in Dupont Circle. Not knowing who the tactical wizard was, they played some games and started a long friendship after Tate shared chess philosophy which included the book The Art of Attack in Chess by Vladimir Vukovic. He would often recite games played by Tate as a form of reverence without idolatry.
Black Knight reveled in talking about the virtue of street chess saying that it was more fun because you could talk trash and learn faster. He also talked about the importance of knowing the openings well since it is difficult to improvise over the board in five minutes. He referred to respected players such as Roman Dzindzichashvili (once a top five player). "Dzindzi" is known in the New York parks and is famous for giving master-level players five minutes to his thirty seconds.
---
Young Black chess players need to seek out veteran
Black masters to gain some insight as to how to win.
James "Black Knight" Taylor
---
It is this rush and thrill that attracted Black Knight and you could hear the excitement in his voice as he described such players. One of his favorite subjects was Tate. He would recall Tate's game from memory recalling the pivotal moments that led to a dashing finish in typical Tate style. He recalled the game featuring a queen sacrifice against Larry Kaufman. However, Knight had another view of chess as an activity that would help the youth in the inner cities focus on a mind-building activity. He founded the Chess University International as an initiative to share his passion with the youth.
James "Black Knight" Taylor teaching his passion in the DC inner city.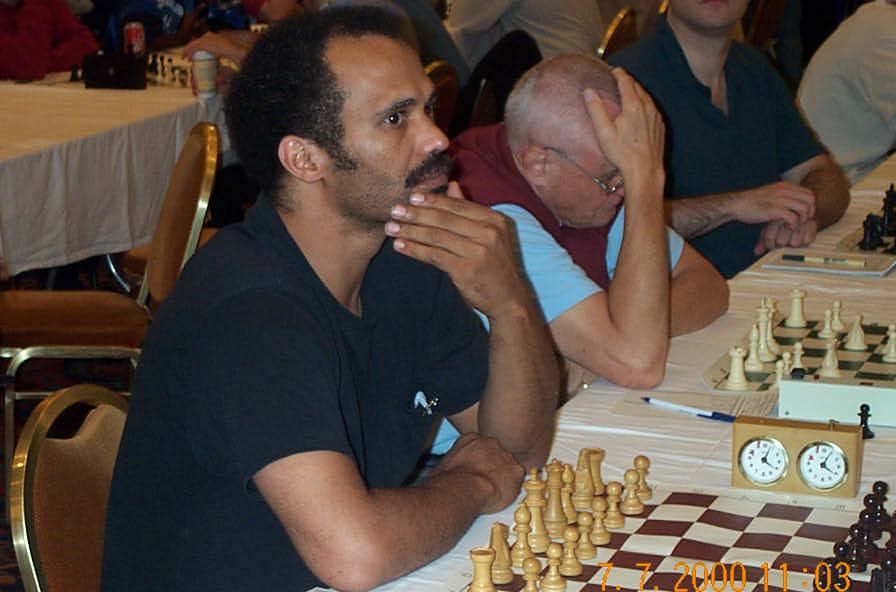 Black Knight said that this is Tate's favorite chess photo…
the look of a predator gazing at his prey. Tate made a tremendous impression on Taylor.
Photo by Daaim Shabazz.
Black Knight was very generous despite his own circumstances. He donated to Botswana player Tuduetso Sabure after she had become the first Black woman to earn the WGM title. He had a genuine interest in the rising stars. When asked what advice he had, he said that young Black chess players to seek out veteran Black masters (i.e., Maurice Ashley, Tate and William "The Exterminator" Morrison) to give them some insight as to how to win. Many of the young brothers have a disconnect with the historical relevance of the masters that came before them.
In the last weeks of his life, Knight tried to ensure that his legacy would be remembered. The last chess player to have interaction with him was Nate Speight, an attorney in Richmond who read an article about Knight on The Chess Drum and decided to visit him. Knight enjoyed the fellowship and the phone calls. While at the U.S. Open, Charles Smith and I sometimes called him to wish him well.
From day to day, it became more difficult for him to speak clearly, but he was able to give well-wishes. At the end of our conversation, he stated, "Much success… I pray for much success with The Chess Drum." It was also fitting that in our very last conversation on August 5th, the last words he said to me were, "Thank you. Thank you." It was all the energy he had left that day. Black Knight was laid to rest on Wednesday, August 27th, but his legacy will live.