On yesterday I received the unfortunate news that Herminio Baez, Jr. passed away on Wednesday morning May 2nd. He was 63. The proud chess-playing father left was survived by his loving soul mate of 38 years Daniella Baez, four children including his three sons Antonio, Steven, Chris and daughter Maya. He also had 14 grandchildren.
Antonio affectionately called him "Pop" and told me of his fondest moments of his father. This included the time he asked his father for money to buy a new car tire. Herminio told him, "Buy a used tire until you can buy a new one." Upset at the response, Antonio stormed off, but his father was teaching him a very instructive lesson about responsibility. It's one we learn (or teach) at some point.
Herminio was born July 3, 1954 in Brooklyn and was the son of Puerto Rican parents and had five siblings. Harry preceded him in death. He loved playing the percussion instruments such as the congos and maracas was immensely proud of his heritage and was enthusiastic about Latin music.
---
"My dad passed away peacefully in his sleep, May 2nd, 2018. My dad was the most generous, caring, loving man you'll meet. He was a Chess Master as well. Not only was it his passion it was also his job, his business. He loved all his students and couldn't wait to show them new things everyday."
~Maya Baez (daughter)
---
Latin music was a great passion of his.
Photos courtesy of Antonio Baez
Antonio has last spoken to his father the Saturday before his passing. He said he got a special feeling from that last talk. He mentioned that he told his father the name for his yet to be born son, "Malachi". Herminio said, "I'm going to call him Arsenio." Why Arsenio? We will never know.
Of course chess was his passion and he taught in the Dallas area for decades. Herminio was a part of the "Black Bear School of Chess," a serious chess group organized to challenge members to be the absolute best. This school produced luminaries such as George Golden, Maurice Ashley, William Morrison, Ron Simpson and Ernest Colding. He was also a part of the Kingsmen Chess Club which competed in the Industrial League.
Kingsman Chess Club
Kneeling (L-R): Jerald Times, Ernest Colding, Ronald Simpson, Maurice Ashley
Standing (L-R): Robert Ali, David Diamond, Jerry Bibuld, Herminio Baez, John Evans
Photo courtesy of Jerry Bibuld
Herminio in action!
He left New York to try his teaching craft in Texas. In his discussion with me about Alfred Carlin, he told me how he ended up in Dallas. After being in the vibrant chess scene of New York, he decided to take heed to a referral and move south. His initial impression was one of racial intolerance and bigoted views. However, he was able to navigate these social barriers successfully.
Antonio & Herminio Baez, Jr.
Photo courtesy of Antonio Baez
I first encountered Herminio through casual email exchanges. I knew about him through FM William Morrison. I later contacted him when Alfred Carlin fled Hurricane Katrina in New Orleans to live with his brother in Dallas. Needing sustenance to survive the aftermath of losing everything, I put him in contact with Herminio. Alfred taught for him since 2005 until the time he passed away just one month ago. Baez had set Carlin up with a steady line of students. Unfortunately, Carlin's health began to fail him earlier this year. Herminio had been battling his own issues.
While there has been no official cause, Herminio had been suffering from chest pains and told me he had suffered a previous heart attack in his 30s. In the early 2000s, he began to suffer recurrent chest pains and moved to improve his health. On Tuesday May 1st he mentioned feeling unwell and Wednesday morning he did not wake up apparently dying peacefully in his sleep. We owe a debt of gratitude for his services and mentorship.
Funeral Arrangements for Herminio Baez Jr.
Thursday May 10th 2pm / 4pm and 7pm / 9pm,
Friday May 11th 2pm / 4pm and 7pm / 9pm
He will be interred at St Michael's Cemetery Saturday May 12th. Anyone wishing to attend the Burial must be at the Funeral Parlor by 9am. Please make sure you have enough gas in your vehicles. You can also meet the procession at the Cemetery.
St. Michaels Cemetery
7202 Astoria Blvd, East Elmhurst, NY 11370
Guarino Funeral Home of Carnarsie
9222 Flatlands Ave,
Brooklyn, NY 11236
Phone: (718) 257-2890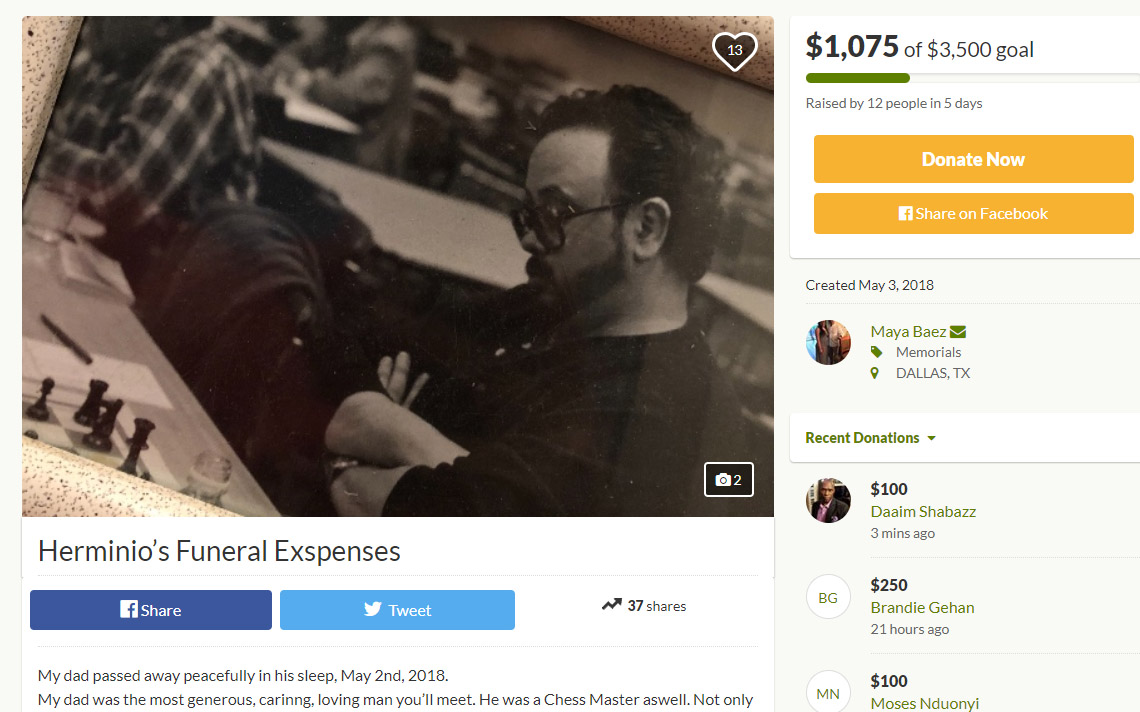 3 Responses to "Homegoing for Herminio Baez Jr. (1954-2018)"
on 09 May 2018 at 10:33 pm

1

Pop Johnson

Wow ! One of the Giants in the Black Bear School !
Real fighter back in the 70's , in the school.
Trash talker and could back it up and bet money, if necessary to prove his point. Opening theory was impressive in the early days of the Black Bear School. Minio and Chris Welcome ( first chess master in the school) would study endgames in the morning religiously.
He loved his family ! They meant the world to him.
Minio was a big fan of William Morrison and Ronald Simpson, and never afraid to bet money on them !
He will be missed ! Memories of Minio are unforgettable.
Daaim, thank you so much for sharing about Minio passing.
Peace,
Pop Johnson

on 12 May 2018 at 10:00 pm

2

William Morrison

Minio left an indelible imprint on the history of chess in Brooklyn. Minio loved to break down positions to the basic elements. It was rare to see
young chess players analyzing endgames, Minio took joy and pride in his endgame knowledge. Minio was a leading figure in the Black Bear School of Chess. The Black Bear School of Chess was one of the strongest groups of chess players on the east coast. Many of its members would become internationally rated masters and experts.

Minio was jovial and fun loving. Whenever members played matches and won, Minio and I would sing the song " Happy Days Are Here Again."

Minio's death comes as a huge shock to all of us. I will miss my friend deeply. My prayers go out to his family and all of his friends.

I will always remember you Minio. I will miss you my friend.

William Morrison

on 11 Dec 2021 at 9:32 am

3

Daniella Baez

I WANT TO THANK EVERYONE FOR THE KIND WORDS AND BEAUTIFUL MEMORIES OF MY HUSBAND HERMINIO. ONCE AGAIN THANK YOU N GOD BLESS U ALL.
Leave a Reply!