5-time Louisiana champ Alfred Carlin passes away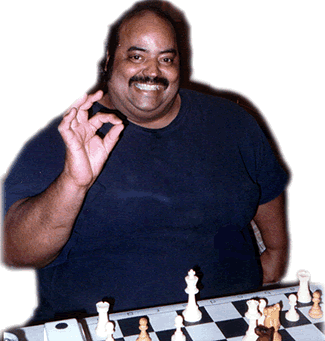 Alfred Carlin
Photo by Ted Lampkin
On April 2nd, Selby Anderson of San Antonio, Texas informed the chess community that Alfred "Big Al" Carlin passed away at Presbyterian Hospital on April 1st (Easter Sunday). He had been suffering from the effects of congestive heart failure. Herminio Baez stated that the five-time Louisiana state champion had worked for him as a coach since 2005. Baez visited him in the intensive care in his last days. Today would have been his 66th birthday.
Carlin ended up in Dallas in 2005 after Hurricane Katrina swept through the Gulf and wreaked havoc on New Orleans, also known as "The Big Easy." He resided in the 9th ward which was devastated by water surges of up to 15-20 feet. I had called to check on Rene Phillips and Carlin. Phillips was stuck in a hotel with his family in Sulphur, Louisiana.
When I tracked down Carlin, he told me a harrowing story. The hurricane woke him up at 3:00am. With the strong winds bearing down on him and water rising, he fled just ahead of the devastation. He mentioned as he was fleeing the water was waist-deep in some areas. He was able to find refuge in Dallas, Texas at the home of his brother, Blanchard Carlin.
Looking for work after losing most of his belongings, I put him in contact with Baez, a New York transplant. They connected and Carlin taught in his organization until his death. Baez reflected that when Carlin went into the hospital on March 20th, he instructed the nurse to contact him to ensure he wouldn't lose his job! In fact, Carlin spoke kindly of Baez in a blog post:
January 16th, 2014 at 1:54 pm
Hi Daaim,
I know I,m a little late (LOL) sending this reply. I want you to know I,m still in Dallas teaching chess. I,m working hard and enjoying teaching all the fantastic little kids here. Still trying to get where I want to be but far better than right after Katrina! One of the main things I think you for is helping me connect with Herminio Baez! He has proven to be one of the best friends I have here in Dallas. I think of him as more than just a person I work for. He has been there for me many times when I needed help. Also he,s a great chess instructor and all around great guy. Thank you for mentioning him to me and also for you being he guy you are! Keep up the good work Daaim!
Born in New Orleans on April 3, 1952, Carlin was a mainstay in Louisiana chess winning the state championship five times (1981, 1983, 1990, 1991, 1996). He also played in major tournaments such as New York Open, World Open, Chicago Open and North American Open and reached a peak rating 2439 in 1988. For decades, he was one of the strongest African-American players in the country. The youngest of four Carlin boys, he was preceded in death by Blanchard and survived by Eddie and David.
Carlin once graced the most active list playing 200-250 games a year, hitting his stride in the 80s. His last tournament was the 2014 Texas State Championship and he ended at his rating floor of 2200. In his heyday he scored a number of scalps. Here is one of his wins against GM Larry Christiansen. Notes are by Carlin.
The legendary Arthur Bisguier wrote about this game in the June 1986 Chess Life:
Carlin's victory over Christiansen had a poignant sidelight. Although the organizers provided clocks for use on the top boards, Carlin insisted on using his own. Naturally, a tournament director asked why he was being so stubborn. Carlin replied that the clock in question had been given to him by a lower-rated friend who had subsequently died. He wanted to honor this friend by using this clock while playing a world-class opponent. Carlin was permitted to use his own clock, and the Louisianan showed his gratitude in striking fashion.
(Note: Baez tells me that Carlin was also known as "Mr. C" by his students in Plano, Texas and they adored him. The chess community is planning a memorial. Further details are forthcoming.)