Chicago tops Detroit in the "City Showdown"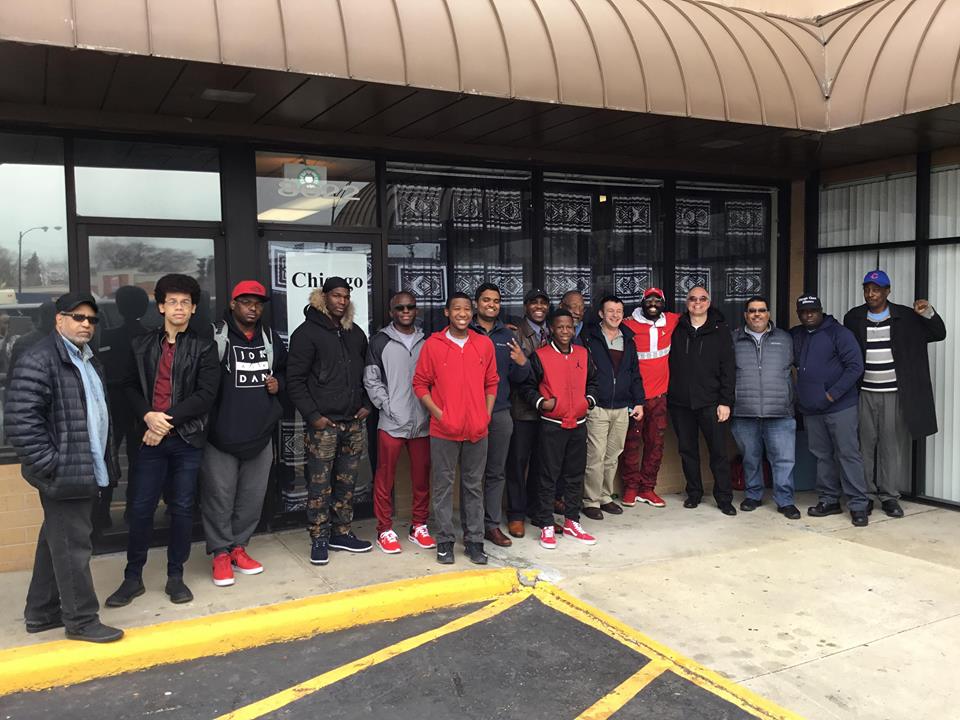 Chicago Chess Blitzers heading to Detroit
You knew it was going to be a "Thriller" in Motown. Chicago Chess Blitzers (CCB) drove four hours to take on sibling city in a blitz battle. The match had seen a buildup of trash-talking with Detroiters posting choice words in social media. On Saturday, April 21st, CCB met at the Chicago Chess Club to make the trek eastward. An hour out, CCB went on Facebook Live to report their pending arrival.
Detroit area players have become known more for scholastic activity in recent years due to the work of several local coaches. However, there is parallel community of blitz players wanting to take up the challenge. CCB arrived at approximately 5:15pm and after 30 minutes of reviewing rules and regulations the match began. There was great spirit and many reunions.
John Brooks and Tom Murphy recounted stories going back 30 years.
The first few rounds were relatively equal with Detroit pulled ahead +3 after after taking the second round 16.5-13.5. Chicago took the third round 16.5-13.5 to level the score again. After Chicago went up +2 in the 4th round, Detroit roared back to win round five by +4.
IM Angelo Young led CCB to a big victory against Cleveland, but was not in top form during the match. That honor went to Gopal Menon (26/28) dropped his only game of the match. Here he wins a game in a time scramble against the over-achieving Irv Thompson.
Irv Thompson (15.5/28) got a number of scalps…
…but not this one! Gopal (26/28) prevailed and only dropped one game.
IM Angelo Young (17/28) squares off against FM Jimmy Canty (19.5/28)
IM Atulya Shetty (right) led the charge for Detroit with 23.5/28
while NM Bill Calton got 15/28
The turning point came when Chicago blasted Detroit 19-11 in round six reclaiming the lead 93-87. IM Arjun Vishnuvard was on form and had only given up three draws in 12 games. After a mid-match break, Chicago continued to widen the lead which would balloon to 165.5-134.5 after round ten.
At this point, fatigue started to set in and bystanders at the tournament were saying the players looked a bit tired. Detroit legendary blitzer John Brooks was heard saying that he wish he had given a better performance. At 72, the local favorite could not string together many wins, but he seemed to command respect from several of the CCB players who were familiar with his blitz exploits.
Chicago took the next three rounds by another 14 points. One of the matches was Daniel X Jones vs. Jimmy Canty who played a cage match in Chicago last summer. The first game was in the Exchange Caro-Kann and the second Jones' "Bird's Opening." Take a look!
The match was very spirited but unfortunately, the last and 15th round was unable to be held due to the lateness of the hour, but there was surprisingly several blitz matches. Tom Murphy played John Brooks a single blitz game and there was money flowing on the table. Two blitz gladiators going toe-to-toe was a sight to see. There are rumblings about a cage match between the two.
The one issue that could be improved is the time lapse in between rounds. The match had already started more than an hour late (due to a delay in Chicago). In addition, taking 10-15 minutes to set the pairings each round will result in another two hours of added time in a 15-round match. There was a minor issue with clocks being floating around and the tournament director was shouting out the pairings instead of posting which is difficult to do for 15 boards.
Typically in a round robin the pairings can be generated with 1:15, 2:14, 3:13 format such that every player knows who they are playing well in advance. There were also inaccuracies in the scoring. For example, Michael Vilenchuk was reported as winning his 11th round match against Greg Harris 2-0, but on the chart provided after the match, the score is presented as 1-1.
Detroit Destroyers came to play! After months of back-and-forth banter,
another Detroit-Chicago battle in the books!
Photos by Nathan Kelly
Nevertheless, the organizers Dee Wildman and Nathan Kelly were successful at staging an exciting match and Detroit pulled it off. There will be more action during the Chicago Open. Nathan Kelly is making plans for the next match as the CCB looks for its next adventure. He has a number of ideas which may include matches against GMs. There are also a number of cage matches in the works. Who's next?
"Best in the Midwest" Blitz Battle
Detroit Destroyers vs. Chicago Chess Blitzers


#
Player
ELO
Team

Flag

pts./28

1
Gopal Menon
2322
CHI

26.0

2
IM Atulya Shetty
2485
DET

23.5

3
IM Vishnuvard Arjun
2254
CHI

23.5

4
FM Mark Heimann
2464
DET

22.5

5
Daniel X Jones
2161
CHI

21.5

6
Aderemi Adekola
2085
CHI

21.5

7
Michael Auger
2235
CHI

20.5

8
FM Jimmy Canty
2297
DET

19.5

9
Michael Vilenchuk
2334
CHI

17.0

10
David Franklin
2160
CHI

17.0

11
IM Angelo Young
2425
CHI

17.0

12
Irv Thompson
1758
DET

15.5

13
Bill Calton
2330
DET

15.0

14
Aakaash Meduri
2168
CHI

15.0

15
Thomas Murphy
2075
CHI

15.0

16
Mickey Maloy
2094
DET

13.0

17
Justin Brown
2039
DET

12.0

18
Dritan Zekaj
2149
CHI

11.5

19
Aaron Daniel
2124
DET

11.0

20
John Brooks
1807
DET

10.5

21
Nelson Marcelino
2085
DET

10.0

22
Bryan Wilson
1875
DET

10.0

23
Steffen Klug
2101
DET

9.0

24
Gwayne Lambert
1900
CHI

9.0

25
Gregory Harris
2016
DET

8.5

26
Tim Donnahue
1949
CHI

8.0

27
Kameron Tolliver
2015
DET

7.0

28
Joseph Gadson
2007
DET

5.5

29
Manis Davidovich
2200
DET

4.5

30
Ernest Jones
1645
CHI

3.5

Score: Chicago 232 – Detroit 188