Hope Arthurine Anderson: Jamaican Legend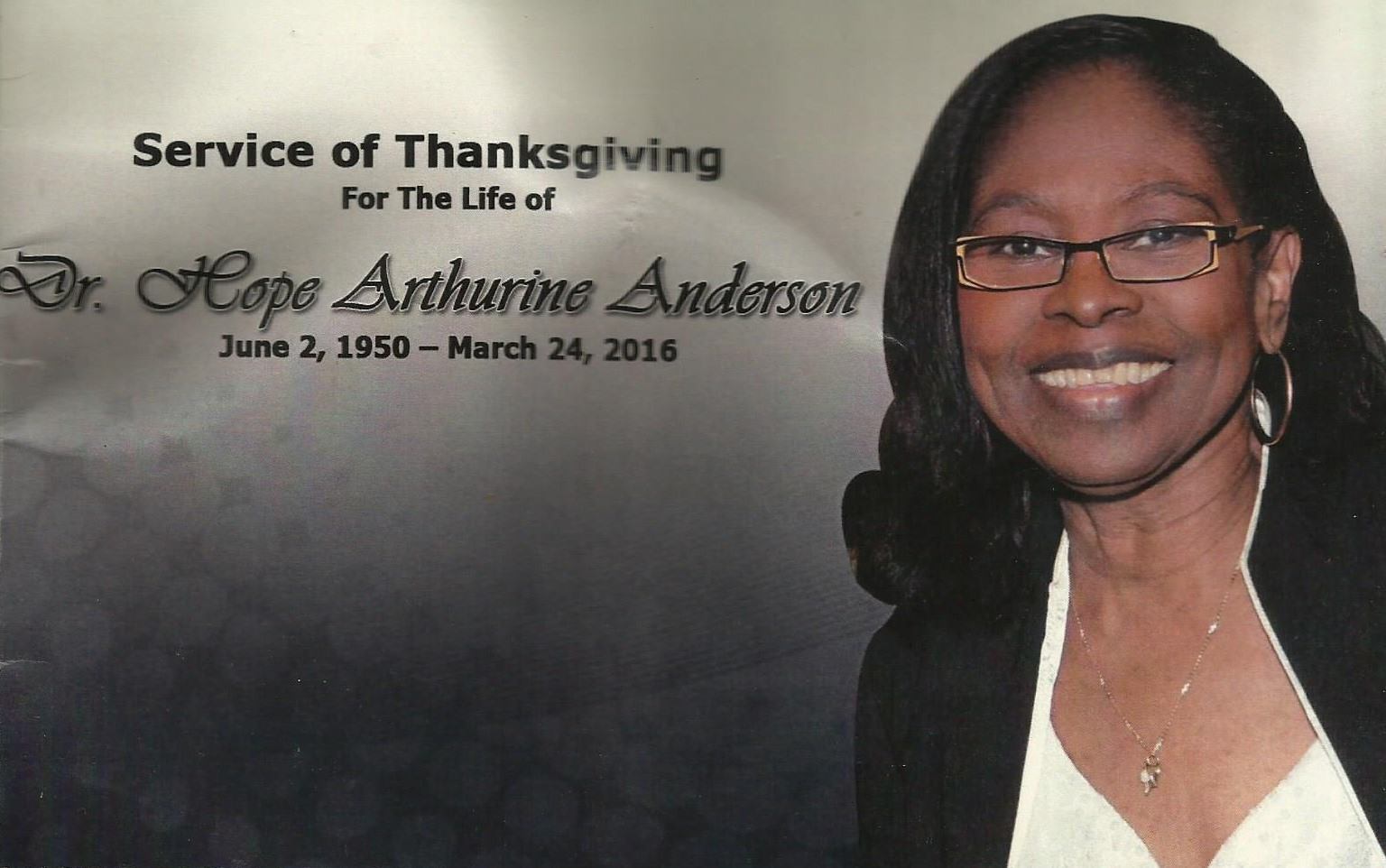 IN THE BEGINNING…
On March 24, 2016 one of the brightest of Jamaican lights was extinguished when Hope Arthurine Anderson, escorted by Caissa, went to meet her Maker and the chess gods. Many, including members of the Jamaican Chess fraternity, mourned the passing of this outstanding Caribbean woman, a veritable gem of a human being.
Hope was born on June 2, 1950 in Port Antonio, Portland, that pristine of Jamaican parishes which has been haven to many celebrities such as movie star Errol Flynn after whom a famous marina there is named. She was the sixth child of Arthur Anderson, a policeman, and his wife Iris, a seamstress. She had six brothers (Lascelles, Lloyd, Roy, Winston, Donald and Karl) and one sister (Grace) who, incidentally, died on the 13th day of August 2016. These children were to distinguish themselves in various fields of endeavour including Business, Law and Medicine.
Hope's secondary school education was at Titchfield High and Excelsior High schools, two of Jamaica's well-known crucibles of erudition, where her prowess at mathematics astounded her teachers. Perhaps this ability or aptitude was to serve her well in her Chess "career".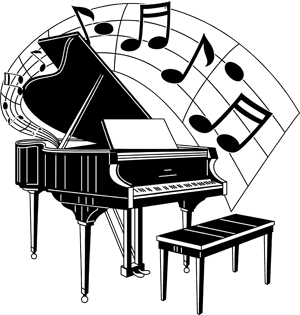 She was from a family of musicians and distinguished herself in this area of the Arts. After formal studies in Voice and with the guidance of Pauline Forrest-Watson (an outstanding Jamaican Soprano), Hope passed Grade 7 in Voice as a Mezzo-Soprano, with merit, in the Royal School of Music examinations. She was an accomplished piano player and often played the organ at her church.
Obviously a gifted, multifaceted person Hope was involved in various aspects of life. For instance, she was a High School teacher (Mathematics and Chemistry); she successfully pursued a Masters Degree in Computer Based Management Information Systems; she was deeply involved in the Caribbean College of Family Physicians becoming Regional Secretary in 2003; and she was an Associate Lecturer in the Department of Community Health & Psychiatry at the University of the West Indies.
She had a profound love for people and, consequently, did significant charity work through Kiwanis and provided voluntary service at health clinics for several churches across Jamaica. This aspect of her personality was a major reason she became a medical doctor. In fact, as her sister Grace said in the "Remembrance" at her funeral, Hope was a "…thorough conscientious and caring medical professional who sought at all times to give quality care to her patients."
Hope (the third female from the left in the group on the left) "kibitzing" in the 1980s in Jamaica. To her right is Christine Bennett and the man to her left (in the dark glasses) is the late Humphrey "The Omega Man" Gayle!
FIRST JAMAICA WOMEN'S CHESS CHAMPION!
Hope took to Chess relatively early and eventually became a solid, well-rounded player. An early member of the Jamaica Chess Federation (JCF), she was to give great service to this institution in various capacities including as a secretary and being team doctor on trips abroad.
Although a medical practitioner by profession, so profound was her dominance over her female counterparts that, in stark contrast to the dictates of the Hippocratic Oath, she did serious damage to life and limb on the Chess battlefield inflicting numerous, painful defeats upon her opponents! Like Star Trek's Starship Enterprise, she went where no other Jamaican female Chess player had gone before…
Hope won the first six (6) Jamaica Women's Championship titles – having created history in becoming Jamaica's first National Women's Champion in 1973. She registered further victories in 1976, 1982, 1983, 1984 and 1985. Although her streak was audaciously broken by Claire Clarke in 1986, Hope reclaimed the throne in 1987 notching her seventh victory with ooooomph!
One of her games from 1987, a good year for her, is presented here with analysis – a 64-move win in the United General Classic against Christine Bennett, one of the best Jamaican female players at the time.
BATTLING THE MEN!
Hope more than held her own against male opposition long before the famous Hungarian Polgar sisters (Susan, Sophia and Judit) made it popular for women to play against men. In fact, one of her (analysed) games accompanying this article is her bruising battle against the future master Devlin Sinclair in the 1989 Jamaica (Absolute) Championship.
THE CHESS OLYMPIAN
Her undoubted class as a chess player, her esprit de corps, leadership skills, sense of humour, humility, equanimity of mind, dignified bearing, calming presence, indefatigable spirit and many other qualities inevitably led her along the path of representing her country in the zenith of international team chess competition– the World Chess Olympiad.
She cemented her place in the pantheon of Jamaica's sporting legends in 1984 when, as National Women's champion, she led Jamaica's women as they debuted at the Chess Olympiad in Thessaloniki, Greece.
There was a feeling of inevitability about this landmark sojourn which Hope was to replicate via more Olympiad outings in Dubai, United Arab Emirates (1986); Thessaloniki (1988); and her last venture – Novi Sad (1990 – in the former Yugoslavia).
Hope (centre facing camera) playing board 2 for Jamaica at the 1986 Dubai Olympiad. To her right is Claire Clarke (bd. 1) and to her left Melanie Powell, the reserve (bd.3)
Blast from the past in Jamaica's daily newspaper! The Jamaican delegation to the 1988 Olympiad in Thessaloniki, Greece. Hope is second from left in the front
Although she "parked her pawns" after her last competitive JCF event in December, 1996, she remained an inspiration and role model to many chess players, especially females. The current successful crop of Jamaican female chess players, doubtlessly, have stood on her shoulders. These include WIM Deborah Richards-Porter, ten-time Jamaican Women's Champion; first Woman International Master in the English-speaking Caribbean and the first player from the English-speaking Caribbean to win a Sub-Zonals event (in Barbados, 2016); and other Jamaican Women Champions such as the young phenom CM Rachel Miller, WCM Ariel Barrett and the reigning women's champion WCM Annesha Smith, respectively.
Her last "duties" for the JCF were at the JCF's inaugural Chess Hall of Fame Awards held on September 26, 2014 at the Pegasus Hotel in Kingston, Jamaica where she assisted with the presentation of prizes.
Frederick Cameron (former president of the JCF); Dr. Hope Anderson and Ian Wilkinson QC at the JCF's inaugural Hall of Fame Awards Ceremony held on September 26, 2014.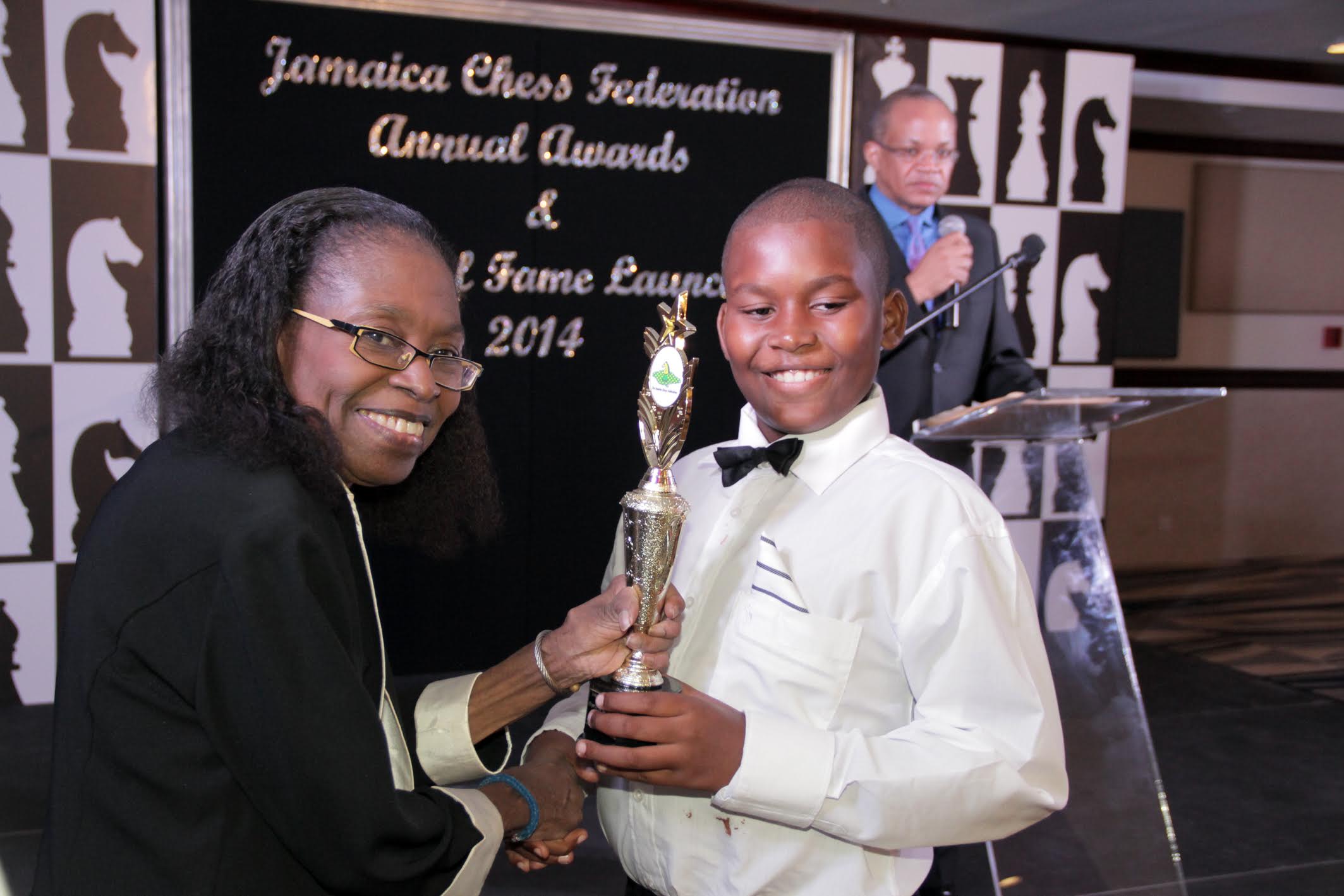 Hope making a presentation to Lontae Walker at the JCF's inaugural Chess Hall of Fame Awards on September 26, 2014 in Kingston, Jamaica.
FANTASTIC "SEND-OFF"!
Her funeral was held on April 6, 2016 at the East Queen Street Baptist Church in downtown, Kingston, Jamaica and was well-attended by hundreds of persons from all walks of life and various professions. Of course, many members of the Chess fraternity attended including the author, the President of the JCF; Frederick Cameron one of the founding members of the JCF and a former JCF president; Claire Clarke-Grant and Melanie Powell-Reece, Hope's former Olympiad teammates; Listra Clemetson, a member of the JCF Executive Council and the Chairperson of the JCF's Women's Chess Committee; Maxine Brown a member of the JCF Executive Council and the Chairperson of the Public Relations Committee; Candidate Master Dr. Kevin Brown, a surgeon and former Chess Olympian and Richard Lim a chess player, photographer and videographer.
In tribute to Hope, her brother Justice Roy Anderson, a retired Supreme Court Judge and accomplished singer, gave moving renditions of the songs "The Strength of the Lord" and "The Holy City", while her brothers Winston and Karl touched the congregation with the popular – "His Eye is on the Sparrow".
Retired Supreme Court Judge Roy Anderson (in wheelchair) paid a tribute to his sister by singing "The strength of the Lord" and "The Holy City"
Hope's brothers Karl Anderson (L), the youngest of the siblings, and Winston Anderson singing "His Eye is on the Sparrow"
Other tributes included a beautiful poem ("To Hope") written by her brother Professor Lascelles Anderson; a sentimental presentation by her close friend Dr. Peggy Myers-Morgan; and, of course, the JCF's "Chess" tribute highlighting her historic achievements. Her sister Grace gave a fantastic "Remembrance" and the officiating ministers Bishop Burchell Taylor and the Reverend Roy Henry stirring sermons.
Professor Emeritus Lascelles Anderson (former Director of the Carter Center, University of Illinois), the eldest of the siblings and the author of the poem "To Hope"
ACHIEVING GREAT THINGS IN SPITE OF THE ODDS
Her accomplishments on the chess stage were nothing short of remarkable having regard, inter alia, to her obligations to her family, the many professional responsibilities she had to discharge and the serious physical challenge she had to endure due to an illness which, in her inimitable fashion, she kept to herself and which she fought doggedly in the style of her many chess defences.
Having made her transition, she will now be enjoying many games with Jamaican titans such as Enos Grant (the founding father of the JCF in 1969 and its first President); John Powell (Jamaica's only Chess Olympiad male medalist); William Roper (the JCF's first Secretary and first Senior Master); Alfred Thompson (Jamaica's first National Champion); Orrin Tonsingh (former Jamaica Absolute Champion); and Humphrey Gayle (former Chess Olympian and the self-styled "Omega Man").
She has joined the illustrious company of former world champions such as Vera Menchik, Jose Capablanca, Bobby Fischer and Mikhail Tal who went ahead of her to set up the chess pieces and tables!
Hope Anderson was an outstanding teacher, medical doctor, musician, philanthropist, pioneering chess player par excellence, chess administrator, chess coach and mentor. Jamaica, the region and the chess world in general is indebted to her for her immortal contribution to chess and its glorious history.
Ian G. Wilkinson QC
President, Jamaica Chess Federation
Photographs courtesy of Richard Lim and the Jamaica Chess Federation
* * *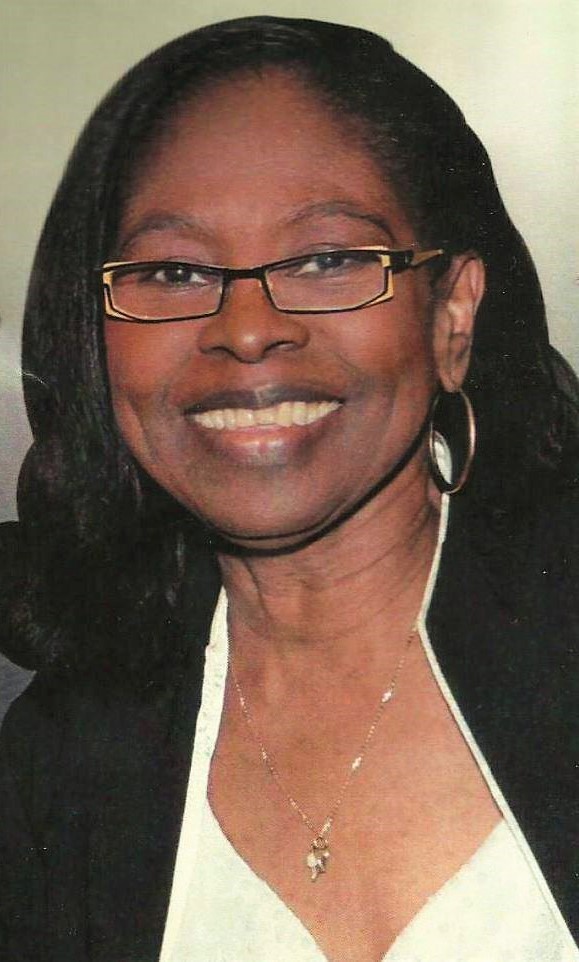 Dr. Hope Arthurine Anderson
2 June 1950 – 24 March 2016