Ray "Dragon" Robinson passes away
Ray "Dragon" Robinson
February 22, 1959 – December 18, 2016
Ray Robinson at the 2006 World Open.
Photo by Daaim Shabazz
Ray "Dragon" Robinson of Philadelphia was a man of many names, full of passion and excelled in chess, air hockey and pool. In addition to his chess exploits, he competed in air hockey tournaments on the east coast and was a noted player in those circles. More on chess in a minute.
Dragon, who was 57, suffered two strokes at his residence on December 3rd and after two weeks of fighting valiantly for his life, passed this past Sunday at Penn Presbyterian Medical Center while surrounded by family and loved ones.
Andrew Yevish, a fellow air hockey enthusiast reflected,
Dragon was always a great competitor, but he also was very encouraging to everyone he was competing with. He was a fatherly/brotherly figure who often served as the "glue" in our East Coast Air Hockey community. I can't even recount all the times when he would listen and offer advice on my love life or some other problem. He always had a unique perspective, and always was a calming force whose laid back approach to life served us as a reminder not to take the problems too seriously… to go with the flow.
A 1978 graduate of John Bartram High School, he was one of Philly's toughest chess competitors and constant fixture on the chess scene. His dedication spanned four decades and his passion for chess was on full display until his final days. Dragon earned his National Master title in 1992 and was active in the U.S. Chess Federation (USCF) since the 1970s. His last post on Facebook was September 13th when he posted,
Congrats to team U.S.A. for winning the chess olympiad!!!!!!!!!
Bartram High was led by David Moore (who also became a Master) and Barry Burton in the early 70s, but after a lull in activity, the Bartram team was rejuvenated years later. Dragon had learned chess during his years at Bartram High and played behind Norman "Pete" Rogers on board two. Both went on to become National Masters and Pete later earned the FIDE Master (FM) title. Both Dragon and Pete were friendly rivals to Wilbert Paige and Glenn Bady at West Philadelphia High School, but would become part of a close-knit fraternity of Black USCF Masters and Experts in the city. Philadelphia was also basking in the chess success of Roberts Vaux High School.
Ray "Dragon" Robinson

Bartram High School Chess Club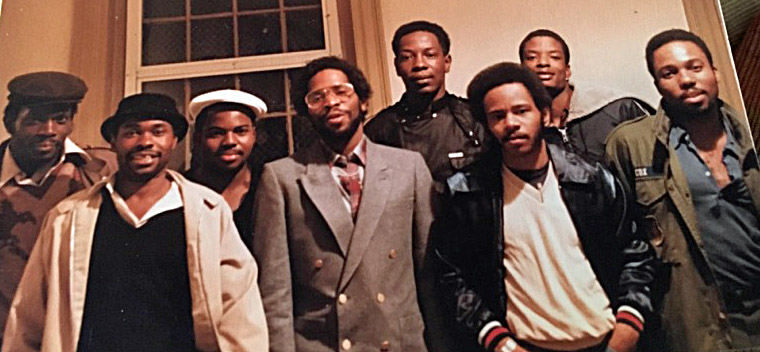 Left to Right: Robert Gist, unknown, Raymond Robinson, Norman Rogers, Wilbert Paige, Joel Barringer, Melvin Carter and Bruce Cox.
Photos courtesy of Norman "Pete" Rogers
Rob Gist remembers that Dragon, Paige and Bady would play the Sicilian Dragon, an opening that was fashionable in the 70s and 80s. Robinson took the name "Dragon" as a tribute to his favorite defense. Gist told The Chess Drum that this competitive spirit led the Philly group to travel to New York for sparring matches with Ernest Colding and other area Masters. Then there were challenges to Baltimore chess players.
Here Dragon played faced Dr. Kimani Stancil with his pet opening during a Baltimore-Philly match.
foreground: Glenn Bady (Philly) vs. FM William Morrison (Baltimore);
background: Ray Robinson (Philly) vs. Dr. Kimani Stancil (Baltimore).
Photo by Michael Williams
Dragon was known to be a very active person in his younger years and according to Gist, he was always involved in some athletic activity including street football. Unfortunately, he was struck by a car while in Middle School and injuries to his hip caused him to walk with a limp. This did not prevent him from continuing his athletic interests. In 1989, he had begun taking gigs around the city as a disk jockey and continued working various events for 30 years. He went by the DJ name "Sugar Bear" perhaps with a reference to his physical appearance. Some say it was due to his kind heart.
Philadelphia team after the Philly vs. Baltimore match in 2008.
Photo by Michael Williams
Dragon was a stout man, yet simple man with an affinity for his favorite well-done burger on a toasted bun with only black pepper… nothing else. Gist, who lived in Dragon's house for the last 17 months, mentioned that he suffered a number of health challenges including an increasing debilitation with his hip. He had begun using a cane. Dragon suffered a stroke in 2008, but kept forging ahead and gleefully celebrated his 50th birthday the next year. Despite his limited mobility and now resorting to crutches, he remained active. Gist had mentioned to Dragon that he was concerned about his weight gain, but Dragon joked that he couldn't resort to eating that "rabbit food."
Being that the World Open was a Philadelphia icon, Dragon was a regular fixture at the tournament. He was often seen in the skittles room enjoying a game of blitz and engaging in friendly banter. At the 2016 World Open, he played in no less than six side events! His last tournament was in October at the Masterminds National and he ended at his USCF rating floor of 2000. His peak rating was in the proximity of 2200-2250 and was certainly a model to help create a cadre of strong players in the Philly area.
Dragon (left) in the skittles room at the 2016 World Open.
Photo by Daaim Shabazz
According to Pete Rogers, Dragon had spent Thanksgiving at his house along with other chess players. On Saturday, December 3rd longtime friend Rodney "Storm" Bardwell talked to him at around 12:12pm. At 3:46pm, his roommate Rob Gist came back to the house to find Dragon on the floor on his right side. His eyes were moving, but he was otherwise unresponsive. His dominant left-hand was on the table as if trying to pull himself up.
Gist called 911 and Dragon was rushed to Penn Presbyterian Hospital. A CAT scan revealed that he had suffered two consecutive strokes afflicting both sides of his brain. Dragon continued his fight and bedside vigils were held by family and his chess friends over the next couple of weeks. Despite his fight, the prognosis was grim and Dragon passed away quietly in the company of loved ones on Sunday, December 18th. The news sent a shock wave through the chess and air hockey communities.
Funeral arrangements are pending.