HHCF's new book… "Bobby, Bruce & Bam"
FOR IMMEDIATE RELEASE
PR Contact: Crystal Silva
contact@hiphopchessfederation.org
888-588-4418
Bobby Bruce & Bam: The Secrets of Hip-Hop Chess Frame Impact of Bobby Fischer, Bruce Lee and
Afrika Bambaataa in a New Light
Innovative Book Connects Rap and Chess to
Stop Violence and Improve Education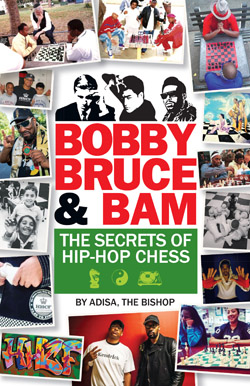 Oakland, CA 3/9/16- Three Lions Press is proud to announce the release of a new book, Bobby Bruce & Bam: The Secrets of Hip-Hop Chess written by Adisa Banjoko, aka The Bishop. This extraordinary book outlines how the of rise of Bobby Fischer, Bruce Lee and Afrika Bambaataa unintentionally converged and influences Hip-Hop, chess and martial arts in America in unexpected ways. It includes a workbook teaching the first 12 lessons people can use to embrace chess as a life strategy tool for school and business.
The recently launched website www.bobbybruceandbam.com features a 29 page sampler of excerpts. Bobby Bruce & Bam: The Secrets of Hip-Hop Chess will be released April 10, 2016 in both digital and print formats. The book serves as a disruptive blueprint that helps urban kids shift their approach to education, entrepreneurship, and life's possibilities.
Adisa Banjoko, aka The Bishop is a respected disruptor in the space of education innovation. Adisa began his journalism career while still a high school student interviewing Eazy E shortly before the formation of NWA. Adisa went on to become one of the first west coast writers for The Source, RapPages and VIBE among others. He broke some of the first profiles on artists like Tupac Shakur, Del and Hieroglyphics, Master P and many others in the rise of west coast rap in the early 1990s'. Adisa Banjoko is a powerful speaker who has lectured at many universities across the country including Harvard, Lehigh, Oberlin College, UC Berkeley and others. His ideas on chess, rap and martial arts have been seen in Forbes, Good Morning America, Black Enterprise, Ebony and the cover of Chess Life Magazine.
"This book is the product of more than ten years of research and direct experience helping kids escape the violence of the streets" said Adisa Banjoko. I have helped teens graduate and live better lives using chess strategies fused with Hip-Hop. The connections in this book are very real and they work. The fusion gives teachers new tools to take STEM and STEAM to a higher level. My goal is the help the children in cities like Oakland, St. Louis, Baltimore, New York, Boston and Atlanta use chess as a tool for self discovery and improvement. "
In April of 1998 he released an article profiling the legendary Gracie family for RapPages magazine. Not long after he penned an article on Ralph Gracie and MMA for Maxim Magazine. He has written extensively about Brazilian Jiu-Jitsu, yoga, meditation and Eastern philosophy for the last 20 years. He is a purple belt in Brazilian jiu-jitsu and currently teaches chess and jiu-jitsu classes at HHCF HQ.
In 2006 after visiting incarcerated youth in San Francisco he created the Hip-Hop Chess Federation (HHCF). The HHCF is a 501c3 non-profit that fuses music, chess and martial arts, to promote unity, strategy and nonviolence. in 2015, the HHCF was invited to teach the staff at the World Chess Hall of Fame in St. Louis on the connections between Hip-Hop and chess. The result was the Living Like Kings exhibit (which broke attendance records surpassing Bobby Fischer's). He and RZA of Wu-Tang Clan (who now serves on HHCF's Board) spoke to high school youth and incarcerated youth in St. Louis during all off the rage and chaos after the death of Mike Brown. Their efforts illustrated a nonviolent narrative largely overlooked by both mainstream and Hip-Hop media.
L-R: RZA (Wu-Tang Clan), IM Emory Tate, Gumby (Heroes Martial Arts), Adisa Banjoko (HHCF) and Rugged Monk (Black Knights).
Bobby Bruce & Bam: The Secrets of Hip-Hop Chess outline how this unique fusion came to pass and the lives Adisa Banjoko has been able to change through it. The book highlights his his ideas while in teaching kids in St. Louis with Wu-Tang Clan's RZA, his experiences fighting inner city school violence in The Bay Area and how rap music celebrate chess more than any other form of music on the planet.
Brian Coleman, author of Check the Technique: Liner Notes for Hip-Hop Junkies stated,
"Adisa Banjoko writes with the same fire, intelligence and even-keeled wisdom that fans see in person, whether in a room full of Ph.D-holding scholars, or an auditorium filled with wide-eyed teens. His perspective is unique, essential and continually engaging, and listeners, readers and friends all benefit from each word he puts to paper. "Bobby Bruce & Bam" is a deep read, but it steers purposefully away from coded academic language, presenting its points in clear, powerful tracts. No matter what gets you to the book (Hip-Hop, Chess or Martial Arts), you will walk away a better person as a result of diving in."
Download the PDF sampler for
"Bobby Bruce & Bam: The Secrets of Hip-Hop Chess"
now at www.bobbybruceandbam.com!

# # #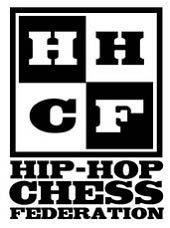 About HHCF: The Hip-Hop Chess Federation is the world's first nonprofit (501c3) to fuse music, chess and martial arts to promote unity, strategy and nonviolence. They host lectures, panels, and celebrity chess events to help at-risk, gang-impacted and gang intentional youth make better decisions in life. The HHCF has been featured on Good Morning America, Forbes, Chess Life, VIBE and Rolling Stone.
Visit www.BishopChronicles.com today and LISTEN to some of the coolest interviews in entertainment, business strategy and technology on the net.
Connect with me on www.linkedin.com/in/abanjoko.