A stunning venue for Millionaire Monday…
…designed by Eric Lee, award-winning designer… and Amy Lee's brother!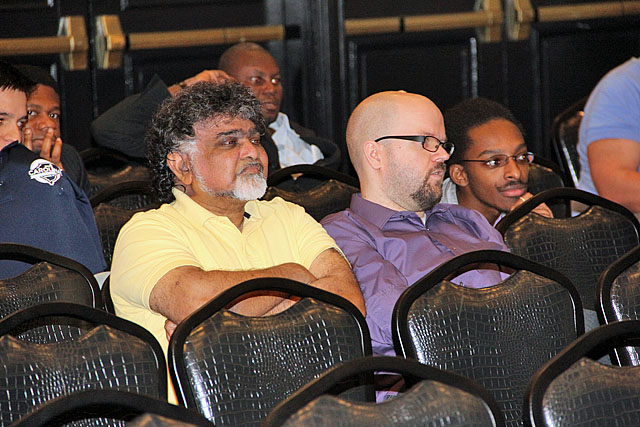 FM Sunil Weeramantry and NM Kris Littlejohn have an interest in a particular player. Having eliminated Wesley So on his own, Hikaru Nakamura was the favorite going into Millionaire Monday. Dominique Myers (right) also looks on. Photos by Daaim Shabazz.
The stage was set… literally. The beautiful room for Millionaire Monday with its purple accented wowed all who stepped inside the room. Designed by Eric Lee, it was a fitting environment for what has become a truly unique experience. with World Champions looking on, the stage was set for players from each of the five sections to engage in "Millionaire Monday".
While most of the attention was on the top section, Millionaire Open has been innovative in also providing coverage to the lower sections. This is winning move sense these players have supported the chess foundation for many years without such attention. Robert Hess covered the play-by-play of the lower sections with just as much gusto as the top section. So much excitement was built, that fans chimed in.
The #millionairechess & #MillionaireMonday format is simply awesome! I am going to have to go next year! .@HighStakesChess

— Claudia Munoz (@chesscampeona) October 13, 2015
The top section would be there the attention would lie for fans around the world. The four participants were Hikaru Nakamura, Yu Yangyi, Le Quang Liem and Aleksandr Lenderman. It would first be Nakamura-Yu and Le-Lenderman.The winners of these two matches would then move onto the final. In Nakamura-Yu, Nakamura essayed the Berlin Defense in the first game and drew comfortably. Yu held easily in a Sicilian Rossolimo before getting his chance in game three.
Not Nakamura, but Ted Castro (1941) had the tournament of his life scoring 6/7 in under-2200 and ended the tournament adding a whopping 132 rating points.
In another Berlin Defense, Nakamura ended up falling behind. White missed a chance to invade the 7th rank with 25.Red3! Rxd3 26.Rxd3. After missing a golden opportunity, the game was quickly drawn. Nakamura admitted that he stood worse, but held going into his white game.
In this game, the American champion turned up the heat with a devastating 1.e4 c5 2.Nf3 e6 3.g3!? A bit of tongue in cheek here, but Nakamura turned a positional opening into a weapon when black went into a type of Sveshnikov. The black structure was weakened and Nakamura exploited with ruthless efficiency and convert the ending.
In Le-Lenderman, the Vietnamese player jumped out to a 1-0 lead with a smooth win out of a Nimzo-Indian. In the second game, Lenderman tried to mix things up with 8.g4!? getting a central majority. It almost worked as white built up tremendous pressure. In a critical moment, white missed the decisive 32.Nf5! After that, black mopped up the central pawns and the material deficit was too much for Lenderman and he resigned.
While the Open tournament was still happening…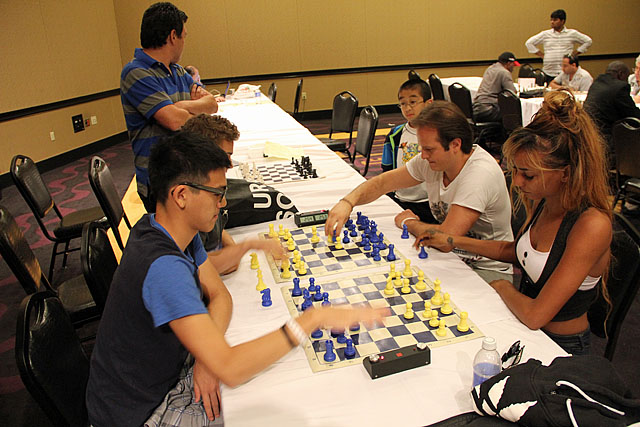 … and others were playing bughouse…
…a crowd assembled for the finale.
So the stage was set for the final with Nakamura meeting Le for the overall $100,000 prize. They would adjourn and at 17:00hrs begin the epic battle of four games. Le has been in the best form thus far, but Nakamura remains battle tough and got here by the most tortuous path. They would start out with the two 25+5 games and then 15+5 followed by blitz and then Armageddon.
Tie-Break Playoff
Semi Finals
* * *
The highly-anticipated final match for $100,000 kicked off with the Webster University contingent hoping to repeat the success of last year when both Wesley So and Ray Robson made it to the finals. The Nakamura fan base is rather large so the lines had been drawn in the sand. Le Quang Liem asked what he would do if he won the $100,000 and he modestly said he would take his teammates and coaches out to dinner.
Nakamura uncorked 26.Nxd5! for a decisive edge. The tactical motif along the b1-h7 diagonal was also good after 29.a6!
In the first game, Nakamura got a strong position after 19.e4 and black never quite equalized. There were some nice tactical resources stemming from a battery on the b1-h7 diagonal. So after 26.Nxd5! white was completely winning. Again on 29.a6 the pawn is immune due to 27.Qd3! Nakamura simply ushered the a-pawn home and collected the point. The American star only needed a draw to close the deal on the $100,000.
In the second game, Le had his chances. He seemed to have a grip on the queenside and his white bishop was ensconced on d6, but time was not his friend. Nakamura stated that after 23…e5! he felt relieved. In fact, in the final position black had solved his problems and was slightly better. However a draw was agreed and Nakamura was declared the winner of the 2015 Millionaire Chess Open!
Finals
OPEN
Under-2550
Closing Ceremony
Nakamura receives $100,000 check!
Proud parents: Carol and Sunil Weeramantry
Ashley presenting Nakamura the MC champion's trophy
by Purling London.
Nakamura was very gracious in his praise for Maurice and Amy.
All photos by Daaim Shabazz.

Official Site: https://millionairechess.com/
Photos: https://www.flickr.com/photos/
hashtag: #MC2
Twitter: @highstakeschess
Drum Coverage: https://www.thechessdrum.net/
Leave a Reply!