2015 Millionaire Chess Open (Day #4)

Controversy grips final round!
It all started off normally and then…
…a three-fold occurrence happens at move nine!
Luke McShane sits pondering the situation…
…while Hikaru Nakamura paces the floor waiting on the ruling.
What would a tournament be without a good controversy? Well… the Millionaire Chess Open had a few including a touch-move incident, but the one that caught headlines was during the McShane-Nakamura game. The game went 1. e4 c5 2. Nf3 d6 3. d4 cxd4 4. Nxd4 Nf6 5. Nc3 a6 6. Be3 Ng4 7. Bc1 Nf6 8.Be3 Ng4 9. Bc1. Immediately, arbiters stepped in to invoke the tournament rule which reads,
NO EARLY DRAW RULE

The No Early Draw Rule implemented in the Open section of the Millionaire Chess Open is based on a simple concept: fans wish to see real chess games. We, the organizers, believe that the true spirit of chess competition is well served when this principle is adhered to. Anything else makes a travesty of our wonderful game, and completely disrespects the viewing public. With those considerations in mind, we require that players sign off on the following rules in order to play in this event. Our promise is that these dictums will be applied in a fair and consistent manner, with the stamp of the leadership of Millionaire Chess as well as the many decades of experience of our tournament directing staff.

The organizers understand that there are situations that occur in which a draw has to be agreed to before move 30. These situations are rare but they do occur, and if we determine that a serious effort was made in playing the game, we do have the authority to allow a draw. We will not be forcing a player to walk into checkmate or lose a pawn to avoid a draw. However understand that these situations are very rare, and should not occur often.
The penalties for breaking the following rules may be:

Forfeiture of game
Offending player will be ineligible to win a prize
Players may be banned from playing in future events
Nakamura was overheard saying, "What Maurice said was completely wrong." What did he mean? According to FIDE,
9.2: The game is drawn, upon a correct claim by a player having the move, when the same position for at least the third time (not necessarily by a repetition of moves):

is about to appear, if he first writes his move, which cannot be changed, on his scoresheet and declares to the arbiter his intention to make this move, or has just appeared, and the player claiming the draw has the move.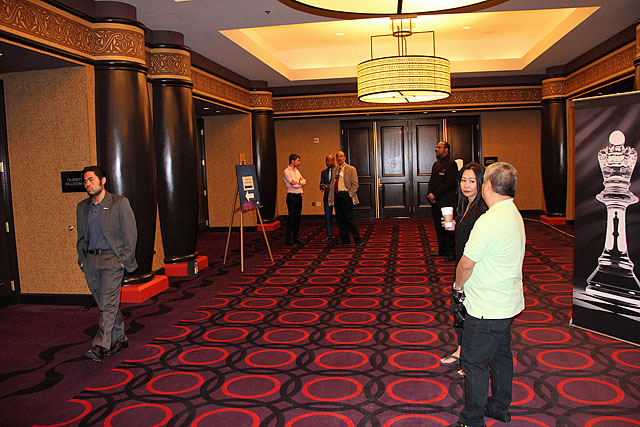 The incident turned into a 97-minute wait with calls put into FIDE arbiters around the world. The conclusion? Both players were within their right to the three-fold occurrence. Photos by Daaim Shabazz.
As it turns out, frantic calls and tense moments resulted in the draw being upheld as FM Sunil Weeramantry could be seen lobbying for his stepson. There was also threats that Nakamura would forfeit his remaining games. There were even calls being put into lawyers. Ashley initially tried to convince the players to play the game, but Nakamura later commented on a similar situation against GM Boris Gelfand where he lost after agreeing to play on. Amy Lee could be seen with a somewhat befuddled look on her face. It had been yet another setback. Nevertheless, not all agreed. GM David Smerdon wrote and op/ed piece titled, "Nakamura and McShane's big mistake" therein stated,
Finally, as it turned out, almost the maximum number of players on 4.5 points who could get to a tie-break with 5.5 points did so, while really made Hikaru's and Luke's decision look silly – but they couldn't have known that when they took the draw. So I relaxed this assumption a bit so that a normal number (five out of eight potentials) reached the 'tie-break score' of 5.5.
What he is referring to is the fact that nine players had to battle in the tiebreaks to make one spot! In fact, both players could have been eliminated had Wesley So and/or Evgeny Bareev won their games. Of course both drew creating the ten-player juggernaut (GM Gil Popilski declined his invitation since as a sub-2550 player he was automatically seeded into Millionaire Monday). It was a tortuous path, but Nakamura had cited feeling unwell and McShane had played two grueling games in the two games a day format.
"If we're ever going to be a televisual game we cannot have games like this…I consider it a stain on our game." – @MauriceAshley #MC2

— Millionaire Chess (@HighStakesChess) October 11, 2015
Referring to what he describing as being a "stain on our game," Ashley stated he would take the case up with FIDE on a possible rule change. The idea that a nine-move result has to be explained to sponsors or the audience is somewhat of a conundrum. While the result is perfectly within the laws of chess (FIDE rules supercedes MC's), it presents a situation that organizers have tried to address.
The McShane-Nakamura Controversy
TIEBREAKER
So all of the sections would have a tiebreaker to determine who would make it to "Millionaire Monday". Le Quang Liem, Aleksandr Lenderman and Yu Yangyi were already through. There were some hiccups with the pairings as the format was in question. It would be two round robins of five and four players which means that one player has an advantage of playing one less game. As it were, the group of four had to play a tiebreak after Nakamura and Kamsky both tied at the end of the three games. Sunil Weeramantry thought it should have been a nine-player round robin.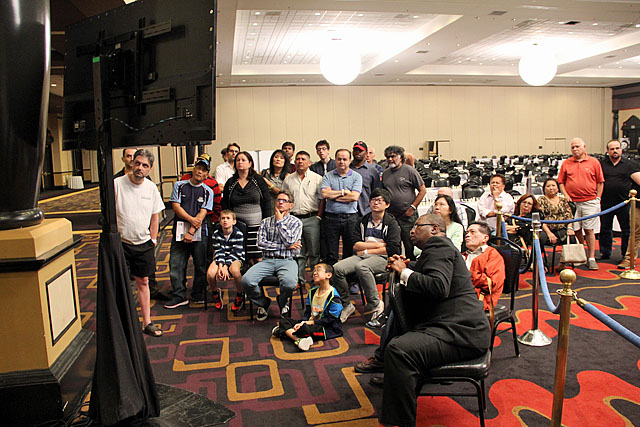 Some familiar faces watching the action.
Wesley So was focused on defending his crown and went through.
Nakamura-Kamsky played a thrilling game only to meet again for the tiebreaker. Kamsky saved a position in the round robin a piece down and was tied with Nakamura 2.5/3. However, he was unable to solve Nakamura in the second tiebreak. Nakamura would have to earn the $100,000 the hard way. Samuel Sevian and Holden Hernandez battle it out in the under-2550 playoff.
Nakamura and Kamsky played another playoff after tying the round robin with 2.5/3… Bareev losing all of his games and Sergei Azarov winning the one against Bareev. Nakamura won the two-game mini-match to advance to the finals. In the other round robin, Wesley So went through with 3.5/4. He would play Nakamura to determine the final qualifier for Millionaire Monday. Would So have a chance to defend his title?
GROUP ONE
GROUP TWO
The format was that the two players would play a three-game match. Why three? No one seems to know, but after two tame draws Nakamura asserted his will with a deft piece sack paralyzing So's forces. So tried sacrificing a rook but he was still being mated on the h-file. Nakamura is through and the defending champion would then go to finish two rounds in the open schedule.
TIEBREAK FINAL
* * *
Replay of Round #7
Official Site: https://millionairechess.com/
Photos: https://www.flickr.com/photos/
hashtag: #MC2
Twitter: @highstakeschess
Drum Coverage: https://www.thechessdrum.net/