Movie "PAWN SACRIFICE"… fair to Fischer?
Fischer was so defiant of presuming to do what the movie aspires to do. Tobey and I sat there and looked through every picture from every interview he ever did, read everything he ever said, but in the end, you finally have to trust a certain amount of your own instinct. It's not the truth-it's the truth as you choose to describe it. Inevitably there is some sort of bias, and it helps you shape certain things to serve a story.
This quote was attributed to Director Edward Zwick in a review of movie "Pawn Sacrifice" in America's Chess Life magazine. Perhaps there is a lesson in this quote. Of course, one cannot expect to capture a figure such as Bobby Fischer (Tobey McGuire) in a couple of hours. As done with all films, there were researchers and consultants, but most of the film had to race through the details of Fischer's life leading up to the World Championship match with Boris Spassky (Liev Schrieber).
Zwick, whose "Blood Diamond" is one of my favorites, attempted to paint a picture that was compelling, yet in his quote above, he admits that perhaps there is some inherent bias in the movie. If you did not know anything about chess or Fischer, then you may have walked away from the movie believing that chess had a propensity to cause its enthusiasts to go insane. Even the debonair and composed Spassky would come unraveled in the movie. At the end of the movie, Zwick decided to use the footage of an unkempt Fischer emerging from jail in 2005 as his final selling point.
There are plethora of books pertaining to Fischer notably his 60 Best Games, Karsten Muller's anthology of games, "Bobby Fischer Goes to War" by David Edmonds and John Eidinow along with Frank Brady's "Endgame". Each piece has its own angle and for this movie, the vast body of literature played a role in the screenplay. However, it appeared that the primary hypothesis was drawn quickly in the movie that Fischer was mentally damaged… even as a child. If you use that premise to make a movie, the outcome leaves the viewer with little to the imagination. In my view, the movie shows a very limited profile of Robert James Fischer. Most of the scenes in the 117-minute movie dealt with Fischer's sanity and that was the only contribution the movie seemed to make.
The movie begins by showing the formation of young Bobby in the household of his mother Regina Fischer (Robin Weigert), an avowed Communist and one on the FBI watch list. The 900-page dossier ultimately produced on her activities lead to surveillance of her son. It would lead to a mistrust that Fischer carried throughout his life… both of his reckless mother and of political organizations. This suspicion and skepticism were taught by his anti-destablishment mother, but the movie goes to great length to imply that perhaps Fischer was imagining the surveillance and was somehow paranoid of being watched. Of course, it was in fact true that Fischer and his mother were being targeted by intelligence agencies. There a famous case of FBI surveillance when he traveled to Cuba in 1966.
A teenage Bobby Fischer…
whose impact was understated in Pawn Sacrifice.
Young Fischer can be seen rising, but the film did not capture the focus and doggedly studious attitude managed by his mentor Jack Collins. In the film, young Bobby (Aiden Lovekamp) appeared aloof and disinterested as he mowed down unsuspecting adults in New York clubs and parks. Yet in the movie "Bobby Fischer Against the World," he was described as "mannerable" young boy. Of course, Fischer's work ethic was prodigious and he constantly sought out the best competition. When he won the U.S. Junior Championship at 13, he had only begun to start his ascent. He won the U.S. championship at 14 which captured headlines. When asked how he made so much progress, he famously said, "When I was eleven, one day I just got good."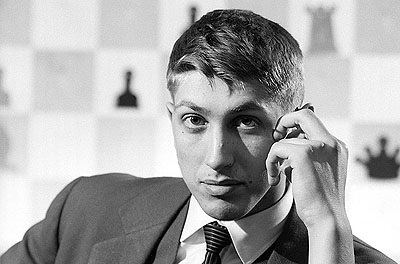 Fischer gave chess a new look and the world noticed!
While the movie mentions his exploits such as his youngest GM accolade, the film fast forwards through a number of years when Fischer began to suspect a conspiracy that the Soviets were pre-arranging games and discussing them while in progress. This was made to be a conspiracy theory but later found to be true. After his hiatus, he returned with a vengeance, and the movie again fast-forwarded through the most brilliant run in chess history onto the championship match in Reykjavik, Iceland. During this time, Fischer established a taste for tailored suits and raised their level of professionalism. Perhaps Maguire's stature was not fit for Fischer's statuesque, 6'2″ athletic frame (1.88 meters), and his dashing suits, but one can tell that the actor had studied Fischer's poses and mannerisms carefully.
Robert James Fischer (right) on the move against Boris Spassky
in their pivotal 1972 match in Reykjavik, Iceland.
The Fischer-Spassky match followed the events rather closely… the complaints, the conditions, the suspense. Were his demands unreasonable? Perhaps some, but having a crowd of people only a few feet from you in a championship match would be unheard of today. While Fischer's hyperacusis was never confirmed, it was amplified as one of his major idiosyncrasies. It was presented as paranoia in the movie as Fischer reacted to every cough or sound in the room. The issue with the quietude of the room, the lighting and the cameras are all very basic conditions met today. Ironically the movie made him to be a money grubber trying to exact maximum financial rewards. The truth was that he was aiming at principle, albeit awkwardly. He turned down millions of dollars of endorsements simply because he didn't believe in the products.
Fischer made objectionable statements and may have had social inadequacies, but in most post-championship literature, there is absolutely no effort ever made to examine any his statements about American foreign policy and history, the Middle East conflict and his infamous 9/11 comments. If he was insane, then the theory goes that NONE of his statements could possibly be credible. Yet he is not alone in his acerbic views on American history, politics and world affairs. Either authorities believed he was insane and that he was not responsible for his views or that he was not insane and were waiting to punish him for his political and religious statements. You cannot have it both ways.
Fischer endured yet another questionable arrest over a passport dispute in Japan. After nine months in a Japanese jail, he climbed out of an Iceland plane in a haggardly appearance and sporting a scraggly beard. It is an image that the media shows to reinforce the look of a madman. However, it also fit in with the movie's hypothesis. Of course, the documentary "Bobby Fischer against the World" was made in the same spirit, but did a better job of highlighting his contributions to chess. What the movie got right was the tension of the moment, the board angles and capturing the range of emotions of different characters. Paul Marshall was a bit more irascible in "Bobby Fischer Goes to War" and Father William Lombardy's seemingly contradictory behavior added a bit of intrigue.
While Fischer would never play elite chess again after the famous match, his star shone brilliantly and had caused a gain in chess as a sport to be respected, to be enjoyed and to be admired by millions. No other player since Fischer has created the same international fervor. Even today, Fischer remains as arguably the most recognizable name in chess. He died in 2008 in Iceland of kidney failure where he was laid to rest as a Catholic.
The movie is interesting, the cinematography and acting was splendid. Admittedly, the movie does not claim to be a documentary. In my view, the movie is fraught with what seems to be an overemphasis of one side of Bobby Fischer… ending with his 1992 troubles and his detainment in Japan. The focus on Fischer's irregularities seemed to spoil the curiosity that would normally be built in the viewer's mind as the movie unfolded. Although Fischer was never diagnosed with any mental malady, most of the commentary on his psyche has been culled from a new language of psychology. The same language that brought ADHD and Asperger's Syndrome (autism). When asked about this in an interview with Crave, Zwick gave a rationale of his focus.
The phrases "paranoid" and "delusional." Those existed in the late-1960s and early '70s. Those phrases were around. We didn't talk about the spectrum. We didn't talk about bi-polar. We didn't talk about those things. We certainly didn't talk about medication, except of a very tough and cruel kind. To me, the attempt is to tell two stories in tandem. As one describes the rise to victory, one is also describing the falling apart that's going to lead to the end. If we had not done that, and you had only tried to present this triumphant march to the world championship, it would have been utterly fatuous. Because in some sense, you were dying that which came after. So it was our job not just to describe the triumph of what happened, but to dramatize what was the seeds of tragedy. And, by the end, you had to feel it was both. That was the challenge of the storytelling.
On the left, Bobby Fischer photo taken after nine months of Japanese detention. The movie presented this as the last impression of Fischer… a ghastly image of him. On the right, Bobby Fischer two weeks after his release in Iceland. Photos from ChessBase.com.
If one doubts that Fischer was "imbalanced," the movie certainly painted a strong hypothesis of Fischer's instability. Unfortunately, the movie buried his true impact on the sport and professional conditions. There was no happiness shown in Fischer's life. It seems that most biographers these days are emphasizing his post-1972 years more than his rise to the championship and his multifaceted life. It perhaps was a missed opportunity to allow people to decide on where to place him in history. Could one really be objective after viewing the movie?
"Pawn Sacrifice" is gripping and entertaining, but it rushes through details and its ending is anti-climactic. It is the story as Zwick decided to tell it. When reviewing a movie, you cannot merely look at the entertainment value, but also must assess its impact on the subject. Unfortunately, this movie will not endear people to chess and chess players. According to his film philosophy, "It's not the truth-it's the truth as you choose to describe it. Inevitably there is some sort of bias, and it helps you shape certain things to serve a story."
Indeed.
Official Site: https://www.bleeckerstreetmedia.com/#!pawn-sacrifice/c11le