Nakamura visits Detroit City CC
Detroit is known for many things… cars, music, sports and increasingly chess. On the weekend of August 21st, Hikaru Nakamura visited the Detroit City Chess Club (DCCC) and was welcomed by the community at-large. Kevin Fite who organized the visit hosted the four-time U.S. Champion and world's #2 player, his fiance Maria DeRosa and FM Sunil Weeramantry, Nakamura's stepfather. The world #2 player has been increasing his public appeal as he is poised to compete for the world title.
GM Hikaru Nakamura with fiance WFM Maria DeRosa
and stepfather FM Sunil Weeramantry.
Photo by Kwabena Shabu.
Fite took his guests to the oldest Italian restaurant in Detroit called Roma Cafe and then to Belle Isle which is a five-mile island ensconced on the Detroit River between U.S. and Canada. Being a spokesperson for Red Bull one knows that Nakamura would be willing to embark on adventure So while on the island, he and his fiance rode down the "Giant Slide," one of the main attractions on the island. The ride was introduced in 1967 and was reopened last year after a period of inactivity.
Who said GMs can't have fun?
What would a trip to Detroit by without a trip to Motown Records, the iconic label that spawned off a classic era of R&B music during the 50s and 60s. While most will recognize Motown music, it is not often that people will get the opportunity to visit the place where a musical revolution was started. Nakamura actually sported a Motown baseball cap at the Sinquefield Cup!
It was then on to Comerica Park where the Detroit Tigers played the Texas Rangers. Nakamura and DeRosa were presented with authentic Major League Baseball jerseys and the organization recognized Nakamura on the big screen over center field. Fortunately, Detroit sent everyone home happy after a 4-0 victory. While the couple were enjoying the game Sunil was at work doing what he does best.
It's a good thing the Tigers weren't playing the New York Yankees!
While they were enjoying the game, His father Simul was giving a 3 hour lecture across town to a couple dozen chess enthusiast at All The Kings Men in Roseville, MI. Two people approached me after the lecture and said that was the best chess lecture they had every heard. After the ballgame and lecture, everyone came together had dinner at the popular nightspot the Punchbowl Social.
Of course the Detroit media were out in full force beginning on Friday morning which included TV and radio with one being international. Lunch at iconic Sweetwater Tavern in downtown Detroit is reputed the best wings in world! Since Nakamura was once in a wing-eating contest, he may have had a bit of nostalgia.
After lunch Nakamura was taken to play 50 of the Detroit City Chess Club scholastic players. Perhaps he was pleasantly surprised when he got a rip-roaring, two-minute ovation after he was introduced. While the DCCC has invited other chess luminaries, Nakamura is the highest profile chess player to visit the city.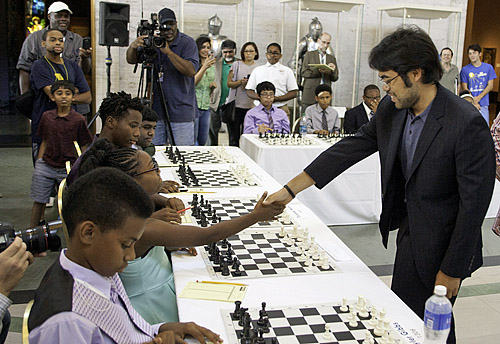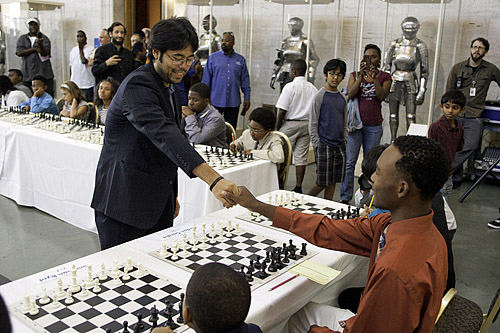 Nakamura didn't know Lake Michigan is full of sharks and was bitten!
Photos by Kwabena Shabu (unless stated otherwise).
According to a news report by modeldmedia, Fite made a wager with Nakamura that he could not beat his students in under three hours. In fact, the simul lasted more than four hours and the four-time champion was nicked for a draw and a loss. The player who defeated Nakamura was Bryan Wilson, Jr., an 8th grader from University Prep Science & Math Middle School. By his father's count, "has won every state title there is."
Fite told The Chess Drum,
With dozens of cameras and cell phone lights clicking and dozen's of curious on-lookers that match began. Detroit was abuzz for days leading up to this wonderful event and of course it was totally electrifying the day of the event. Nakamura's visit not only bought out the kids, parents and coaches but also tapped Detroit area's talent by having NM John Brooks, former K12 U.S Champion and University of Michigan sophomore IM Atulya Shetty and other talent in attendance.
Nakamura with his Motown baseball cap at the Sinquefield Cup.
Photo by Lennart Ootes.
Detroit City Chess Club: https://youngdetroitthinkers.org/chess/