The 2015 Sinquefield Cup was held was great fanfare from August 22nd until September 3rd. The excitement built from a gradual crescendo when ten of the top players from around the world set upon St. Louis, Missouri to compete one of the strongest round robins in history. The Chess Drum would be "in the building". However after 14 years of covering national and international events, this would perhaps be the strongest international event I have covered.
Anish Giri, Hikaru Nakamura, Veselin Topalov and Fabiano Caruana joust a bit during the opening ceremonies. Photo by Austin Fuller.
I have seen all of these players at the five Olympiad I have covered, but to see them all in one place was special. Watching the first five rounds of the tournament from home was a treat. Internet coverage is so much better these days and with the social networking function, information is widely available.
When I arrived in St. Louis, I did not see any sign at the airport that this event was taking place. Despite having have the top six chess players of the world in the city, eight of top 10 and ten of top 25, chess has not commanded such a media presence. It seems to be at the fringes and highlighted only when networks want a "story"… usually some 5-year old they brand the next Bobby Fischer.
Fans were here to see elite chess in a place dubbed
the "chess capital of America".
Photo by Austin Fuller.
The story line centered around the three players hoisting the U.S. banner in Hikaru Nakamura, Fabiano Caruana and Wesley So. Caruana won the tournament last year (representing Italy), but of course World Champion Magnus Carlsen would be on hand to try to reclaim the title he won in the inaugural tournament in 2013. Millions of fans would be tuning in on various media platforms including chess24.com which carried the games with live daily broadcasts.
The most difficult thing about covering such an event is that a journalist has to figure out what they can accomplish. With me only spending a weekend in St. Louis, it would be difficult to get the attention of the players amidst the crush of fans and the other obligations they may have had. If given a choice, it is always optimal for a journalist to make the closing ceremonies instead of the opening ceremonies. Players are calm, relaxed and have interesting perspectives.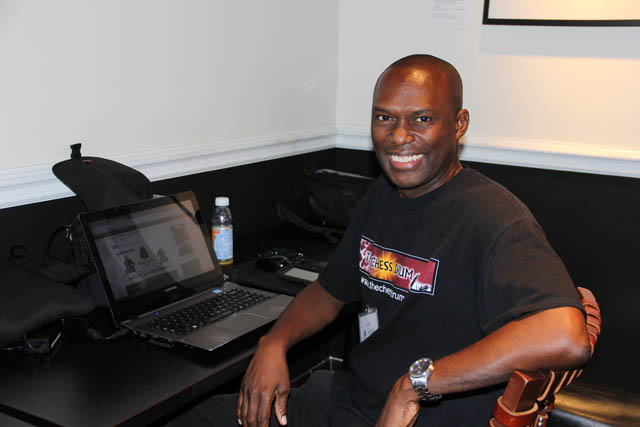 In the pressroom!
Unfortunately, the chess media was scarce. Apart from me, Mike Klein (chess.com), Lennart Ootes, Cathy Rogers (Australia), Steve Abrahams (chesskid.com) and a couple of other photojournalists, the press corps was relatively thin. GM Ioan-Cristian Cirrilla of Romania joined the press room later. CCSCSL and Alejandro Ramirez did a great job and on-the-ground coverage and the commentary team of Jennifer Shahade, Yasser Seirawan and Maurice Ashley was superb.
By the time I arrived in St. Louis, checked into my hotel and drove down Maryland Avenue, three games had already finished. It was at the end of the 5th round with only Caruana-Topalov and Carlsen-So remaining. It is so much different seeing the players in person and the energy is electric! Both of the games were intense and the crowd was on edge. In the end, both Caruana and Carlsen won the battles. It was at this point that Carlsen moved into first place, replacing Topalov.
Carlsen made a run, but it would not be enough.
All photos by Daaim Shabazz (unless otherwise stated).
There were a number of people milling on the first floor including Alexander Grischuk. In fact, I saw IM Lawerence Trent and asked him if he was commentating. He told me he is acting as Caruana's manager! I later learned that Rustam Kasimdzhanov was acting as the trainer for Caruana. The former FIDE world champion is from Uzbekistan, but is based in Germany. There is no official information on why Caruana and Vladimir Chuchelov are no longer working together. So Caruana has a new management team, new federation and new home. We will see how long his adjustment period will last.
CLICK to see larger images. Hover to get descriptions.
After the round, I took my usual trip to the Lebanese restaurant (Central Café and Bakery, 331 N Euclid Avenue) which has been remodeled. The food is delicious and I got the Mediterranean platter which has hummus, baba ghanouj, grape leaves, falafel and tabbouleh! You have to try this restaurant if you're ever in Central West End St. Louis. I got back to my room and enjoyed it immensely.
Fortunately for me, the next day was the rest day and I got a chance to catch up on my reports, visit the Chess Hall of Fame museum and possibly eat at Kingside diner. I had been contacted by Nicole Halpin to visit the World War II exhibit and found that there were two additional exhibits by Marcel Dzama and Jon Crumiller. Although I missed Crumiller's guest appearance and lecture, I was told six of the players attended. The museum has been a very interesting fixture in the chess community in the Central West End area.
Dzama's "Mischief makes a Move" exhibit had a bit more abstraction… a bit bizarre and had a "viewer discretion" upon entry. There were some very interesting mask and sculptured pieces in the collection. Perhaps some of the most compelling pieces were drawings that included a bit of gore and "adult" themes.
Dzama stated that his motivation came from Marcel Duchamp. Crumiller's collection had intricate ivory sets that are purely shown for exquisite craftsmanship. As I went through the exhibit, I was wondering about his stance on ivory poaching. On cue, there was a video where he resolutely condemned the practice.
I do have an interest in military history and own many of the movies with "Saving Private Ryan" being a favorite of mine. The World War II exhibit had some interesting pieces including an amazing chess set that was hand-carved and owned by a prisoner-of-war (POW). The prisoner somehow lost track of this set and after 70 years was reunited with it!
CLICK to see larger images. Hover to get descriptions.
All exhibition photos available here!
All photos by Daaim Shabazz.
Given the images of war, it was surprising to see the type of items that POWs got. It also became apparent that the memorable red and black chessboard that many of us learned how to play on may have been the work of Coca-Cola who sent sets to boost the morale of the soldiers. It is well-known that at the time, the German POWs were treated better than the Blacks who served in the American military. Perhaps it was appropriate that photos of the famed Tuskegee Airmen were in the collection. This group played a key role in turning the tide against the Germans with their adept combat flying.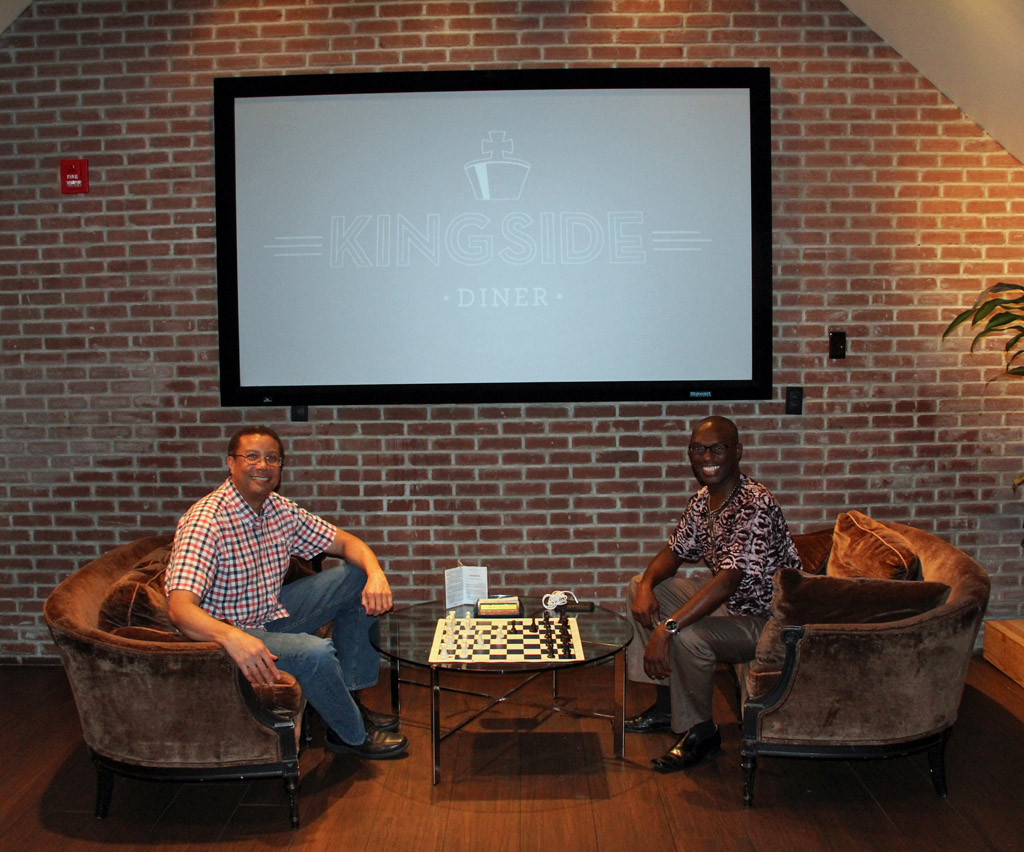 At Kingside diner with Rodney Thomas, an IBM executive
who is President of the University of Texas-Dallas Advisory Board.
I got a text from Rodney Thomas of Dallas who has arrived and we ended up eating at the Kingside Diner that evening. It had been remodeled from its origins as "Lester's" with the bar having been moved from the center of the room to the right side. It was apparent that the bar was being de-emphasized for greater dining space. The menu had decent variety. I had the kale salad in a vinaigrette and a vegetable tofu wrap. Not bad! Rodney had a black bean burger that came with fries. Pretty good food for thought… pun intended!
After the rest day on Friday, the rounds were scheduled to start at 1:00pm Central Time. The fans and the photographers were waiting to get shots of the players as they walked toward the club. One scene that was particularly enjoyed was the procession of chess players from the Chase Park Plaza hotel. Many photographers stayed by the front door of the club, but I like getting some close-up shots of the players in stride to capture their anticipation and confidence.
Fabiano Caruana and his new second, GM Rustam Kasimdzhanov.
Magnus Carlsen leading entourage of GM Peter Heine-Nielsen and his
manager/father Henrik Carlsen.
Newlyweds Sopiko Guramashvili and Anish Giri
walking hand-in-hand toward the club.
Levon Aronian bringing cheer to the moment.
So for the next two rounds I nestled into the press room at Kingside and witnessed the electric atmosphere around the club and was able to witness some key moments before I had to leave town. One of my favorite memories was Nakamura's scintillating win over Wesley So. The scene around the club was frenetic as the attack unfolded. The game had a range of emotions with Nakamura prowling like a lion around the board and So looking as if he was gazelle looking for an opening to escape. The finish was picturesque as So showed enough class to allow a storybook checkmate.
Nakamura on the prowl! Can Wesley So escape? #thechessdrum #SinquefieldCup @CCSCSL pic.twitter.com/qsJfDaSLL9

— Daaim Shabazz (@thechessdrum) August 29, 2015
Nakamura mates So after a stunning attacking game! https://t.co/tpNBuBGkT5 #c24live #SinquefieldCup pic.twitter.com/mfpsmnu0sF

— chess24.com (@chess24com) August 29, 2015
One of the other good things about traveling to such an event the chess personalities you meet from around the country… fans, journalists, photographers, organizers and players. I was able to see National Master George Umezinwa for the first time in 25 years. Along with another Chicago area master Kurt Stein, we reminisced about Chicago tournaments and the old days. It was also good to see George play some of the locals in blitz. Brought back good memories!
George Umezinwa and Maurice Ashley
Me with George Umezinwa and Maurice Ashley. Both knew about The Chess Drum idea 11 years before it was launched.
I had a compelling conversation with Dirk jan ten Guezendam of the famed New in Chess (NIC) magazine. We discussed kasparovchess.com, a site with a meteoric rise and precipitous fall. I shared with Dirk that the kasparovchess.com stories on Amon Simutowe (written by Mark Rubery) were very inspirational.
In the early days of The Chess Drum, Simutowe would be my main subject. He went on to become the first Grandmaster of sub-Saharan Africa… with no trainer! I offered that there were so many wonderful human interest stories that go untold. As I prepared to leave St. Louis, he rushed to catch me to tell me to consider making contributions of these "untold stories". Most certainly.
There are also some things that fans cannot see unless your at the site. I feel that everyone should experience one of these tournaments in person. Outside the club… the buzzing of the crowd, the staccato of the chess clocks being punched, the bursts of laughter and general happy mood of the crowd and players. Inside the club… the intellectualism and the hushed tones discussing variations. There is a aura of mystique surrounding these games.
My favorite moments… simply being in St. Louis! Besides the fact that I have a 100-year old great aunt across the bridge in E. St. Louis, I get a chance to witness history in the making. The scene is always so electric and like the two previous Sinquefield Cups (2013, 2014), this one had the makings of something special. While covering events live is much more challenging, there is nothing like being close to the excitement and seeing the players interact with the public.
See you next year!
This is my great aunt, Mattie Malone of East St. Louis, Illinois.
She mothered 12 children will be 101 November 28th.
All photos by Daaim Shabazz.
3 Responses to "Reflections of 2015 Sinquefield Cup"
Nice reminiscence, and congrats to your great aunt! That's impressive.

on 10 Sep 2015 at 1:22 pm

2

Dee J

Great article on the coverage….also great to see George Umezinwa…haven't seen him since the 80's. I assume he still gives out "thrashing" on the board.

on 11 Sep 2015 at 12:42 pm

3

Ian Wilkinson (JAMAICA)

Excellent work Daaim. Expected nothing less! Keep the drum "beating"!
Leave a Reply!