GM Kenny Solomon honored!
GM Kenny Solomon being feted by CHESSA and Western Cape authority.
Photo by Mitchell Plains Chess.
Kenny Solomon has appeared on The Chess Drum almost since its inception and it goes without saying that his talents have been known for quite some time. Having first gotten exposed to U.S. players in 2001 at both the World Open and Wilbert Paige Memorial tournaments, Solomon had already been on the international circuit developing his fighting style. In both of the American tournaments he made quite an impression and seemed to be brimming with confidence. For example, in the Wilbert Paige tournament his nine games averaged 62 moves! From that point on, there was talk about the potential he possessed.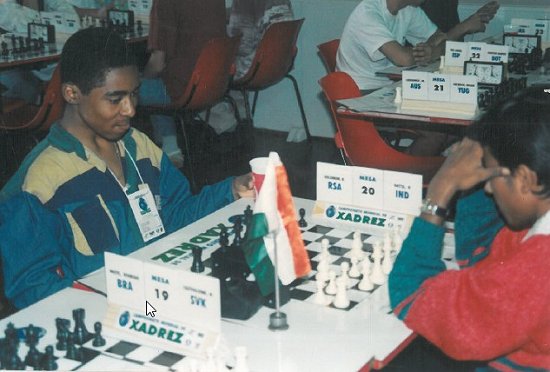 Kenny Solomon playing India's Prasenjit Dutta at the World under-16, Brazil.
Photo courtesy of Kenny Solomon.
Kenny Solomon at 2008 Chess Olympiad in Dresden, Germany.
Photo by Daaim Shabazz.
The road would not be an easy one for Solomon as he had few opportunities to hone his craft. However, the few opportunities he had were taken with great vigor. He had begun representing South Africa in youth events shortly after sanctions were lifted. Nelson Mandela's assumption of leadership after the first democratic elections was a watershed moment for the country and may have ignited a sense of purpose in a chess community dogged by previous divisions.
---
It wont be long before Kenneth becomes Grandmaster.
~William Charles Solomon
---
In fact, the Solomon family had already nurtured Graham and Maxwell's interest in chess, but soon his younger brother was in tow. From hardscrabble streets of Mitchell Plains, young Kenny was inspired by brother Maxwell's participation on the South African Olympiad team. It would be in this very tournament some twenty years later that Solomon would earn a double norm to go along with his first GM norm in Italy. He only needed 50 points to complete the GM qualifications.
Solomon with students in front of the Parliament building.
Kenny enjoys the excitement that chess brings.
Photos by Mitchell Plains Chess.
Points were hard to come by and he went through tough times. It seemed deja vu since Amon Simutowe went through the same trials after earning his requisite GM norms. The required 2500 rating is a hurdle that is difficult to jump. In an interview conducted by Nathan Geffen, Kenny reflected:
"I think initially I put too much pressure on myself and it affected my performance. Then I made some changes to my game which demanded most of my time as I wanted to improve in the long term. I knew that despite the negative results I was improving and deepening my understanding of the game."
He reoriented himself and scored a couple of creditable results in Pretoria and Cape Town as a tune-up for the Olympiad in Tromso, Norway. However, it wouldn't be until the African Individual Chess Championships in Namibia did he finally achieve his goal. By virtue of a FIDE ruling he achieved the title for winning the continental championship and thus forgoes the 2500 Elo requirement. However, Solomon is also determined to meet this goal (once only 39 points shy). He has thanked so many along the way befitting of his humble demeanor and hopes to use this profile to establish a school for the harvesting of future talent.
A simul at his home chess club!
Photos by Mitchell Plains Chess.
Solomon's accomplishment is particularly important for the chess community and will of course bring more positive attention. It goes without saying that one Grandmster can set off an entire revolution as has been seen in India by Viswanathan Anand. There are countless examples among unheralded chess nations that have produced one GM (i.e, Morocco, Zambia, Costa Rica, Venezuela). What Olympiad medals (now geared toward professional players) used to accomplish, GM titles may accomplish in the future.
Congratulations Kenny!
Nathan Geffen, "South Africa: Role Models and Perseverance – How Kenny Solomon Became South Africa's First Grandmaster," 18 January 2015.
Nathan Geffen, "Kenny Solomon – the chess star from Mitchell's Plain" 17 October 2012.