Millionaire Chess #2 opens January 1st!!
After the organizational success of the inaugural Millionaire Chess Open this past October, there was a question whether this "experiment" would be repeated, but Amy Lee had already stated in unequivocal terms that she was in this venture for the long haul… as an investment. On many websites including a 2770-comment thread on chess.com, there was vigorous debate on the tournament. Pains were taken by a couple of antagonists to prove that the entire venture was bad for chess. One of these cynics even traveled to Las Vegas to see if the tournament was real!
Certainly… MC#1 was real and The Chess Drum made sure that the chess world knew about it with more than 20 articles including a reflections piece. Those who attended seemed to enjoy the experience, but of course there was some criticism about the format and the layout of the tournament. Many of these comments have been taken into consideration and a new prize structure along with other changes will make this an improved offering. The "satellite" tournaments have been added (one was held in St. Louis) to attract more "buy-in" for the franchise's concept of "high-stakes chess". Can Maurice Ashley generate enough interest with these enhancements? Will MC#2 get 700 players? 1000? 1500?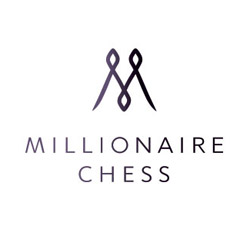 The first day of registration will commence on tomorrow on New Year's day and it will be interesting to see what the initial response will be. The MC franchise will have a great deal to build off of and Wesley So's victory may motivate other top names to join the fray.
Since MC#1, there were interviews done of the winners and there was a number of life-changing events including Wesley So who has decided to forgo his studies at Webster University and focus on chess 100%. He has moved to Kansas and will begin his quest at the Tata Steel tournament in the Netherlands representing his new federation.
What will the year 2015 bring for chess? Will it bring hopes that chess will take another major step? Will it begin to attract attention that it rightfully deserves? Will it remain mired in limbo as an increasingly online and youth-dominated activity? Will is gain its first major corporate sponsor? This year will be critical as chess is slowly shifting in its character and its balance of power. Should be exciting!
CONTACT: MILLIONAIRE CHESS
email address: contact@millionairechess.com
official website: https://millionairechess.com/ REGISTER HERE!
Twitter: https://twitter.com/HighStakesChess
Facebook: https://www.facebook.com/millionairechess
YouTube: https://www.youtube.com/MillionaireChess
Drum Coverage of MC#1: https://www.thechessdrum.net/