African Chess: 2014 in Perspective
Watching China and India receiving the gold and bronze medals at the 2014 Chess Olympiad was quite a testament and affirmation to the globalization of chess. It was the first men's medal for a team from Asia and Cuba also made a good showing. This is certainly a good sign that chess is in a growth stage and should put the world on notice that the balance of power in chess is slowing shifting. This is a revelation since Europe has been the center of power since the 15th century.
While the Euro-American bloc is still the most prevalent, the cries of joy and relief that Ni Hua wailed after getting his Olympiad medal could be felt throughout the world. Of course those countries where chess is still trying to gain a foothold are seeing this as perhaps an example of what developing nations can accomplish.
Egypt's Samy Shoker is one of Africa's latest GMs. Mohamed Haddouche of Algeria was also recently conferred. Shoker is now taking advanced studies in linguistics at Texas Tech University in the U.S. Photo by Daniel Skog.
African teams were well-represented in Norway.
Mariano Tesoura De Maia of Mozambique on the move.
Photo by chess24.com.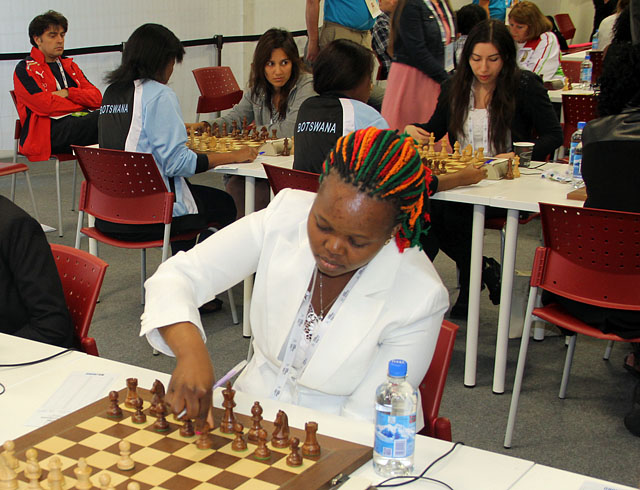 Constance Mbatha showing her Zambian national pride at Tromso Olympiad.
Photo by Daaim Shabazz, The Chess Drum.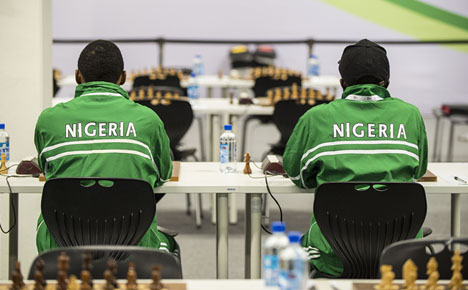 NIGERIA!
Photo by David Llada.
Bassem Amin (seated center) won the Africa 4.2 Subzonal.
Photo by Hesham Elgendy.
Francis Andanquah of Ghana won the Africa 4.4 Subzonal held in Yaounde, Cameroon and then competed in the African Championships in Windhoek, Namibia. Here he is in action against Joao Simoes of Angola. Photo by Namibian Chess Federation.
In this past year, we have seen the Asian region reap success by the aforementioned medals and the individual success of players such as Yu Yangyi, Ding Liren, Wesley So and Le Quang Liem. Of course, Viswanathan Anand's success speaks for itself. Cuba has also received immense support and is a top-20 chess nation. However, the African continent is still waiting for such a renaissance. There are encouraging signs.
During the year 2014, African became a central focus in the Presidential election. This year's election featureed the incumbent Kirsan Ilyumzhinov and challenger Garry Kasparov. Both made forays into Africa realizing that it would be an important region as far as the growth markets were concerned. In what would become a very contentious election campaign, both candidates visited the continent several times.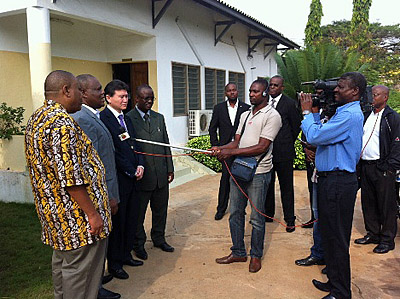 In this photo, FIDE President Kirsan Ilyumzhinov
answered the journalists' questions in Togo.
Photo by fide.com.
Kasparov was royally welcomed in the Ivory Coast.
The country fielded a team at the 2014 Chess Olympiad.
Photo by kasparov2014.com.
Lately, FIDE benefited by the induction of several federations. A record 42 out of 54 African nations had registered for the Tromso Olympiad (including eight proxies). Kasparov was asked about his reflection of the campaign and he stated that one thing was that he has now "discovered Africa". While FIDE's Ilyumzhiov won another term, it will be interesting to see what developments are afoot on the continent.
2014 Chess Olympiad (Tromso, Norway)
Photos by Daaim Shabazz.
"GENS UNA SUMUS"
CLICK to see larger images. Hover to get descriptions.
Recently there has been a very strong push in francophone Africa as Ivory Coast, Burkina Faso, Togo, Senegal, Mali, Cameroon, Gabon have relatively young chess communities. Where chess has been a mainstay in Anglophone Africa and even Lusophone (Mozambique and Angola), the latest push gave Africa a sizable contingent by which to wield tremendous leverage.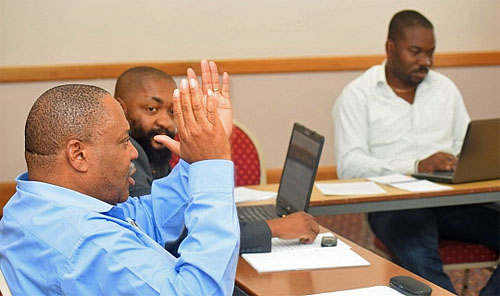 ACC President Lewis Ncube, Commission Chairman, Namibian Chess Federation President Otto Nakapunda and ACC Secretary General and Togolese Chess Federation President Fumey Enyonam Sewa. Lewis has announced the launching of the African Grand Prix. Photo by Oliver Shalala.
The progress has been slow, but the continent has held all of its major championships including the recently-ended African Individual Championships (Winhoek, Namibia), African Juniors (Luanda, Angola) and African Youth (Tunis, Tunisia). Former FIDE Vice President and current African continental President Lewis Ncube has put in place his African Grand Prix with plans to host six tournaments around the continent. The overall winner will qualify for the 2017 Chess World Cup to be held in Tbilisi, Georgia.
2014 African Junior Championships (Luanda, Angola)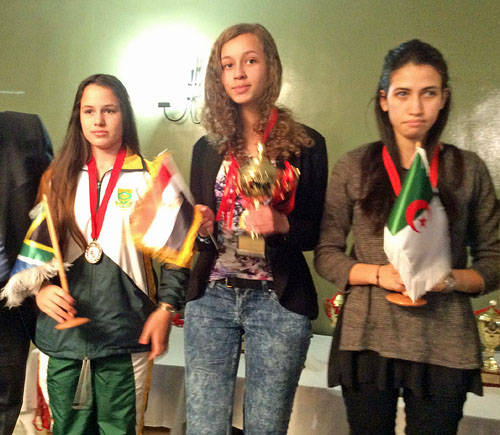 Medalists at 2014 African Youth in Monastir, Tunisia… Nikki February (South Africa) earned the bronze medal, Amina Sherif (Egypt) took the gold and Dina Abdi Zineb (Algeria) won silver. Photo courtesy of Amina Sherif.
One of Africa's top players GM Ahmed Adly (left) battling against Nigeria's John Fawole during the African Individual Chess Championships in Namibia. Photo by Namibian Chess Federation.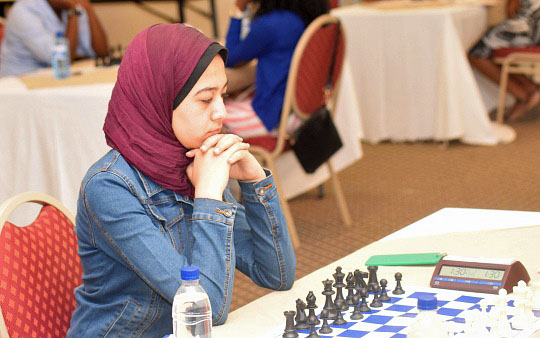 Egypt's Wafa Shrook won the individual championship in Namibia and will represent Egypt in the World Women's Championship next March. Photo by Namibian Chess Federation.
Kenny Solomon (right) emerged as the continental champion yet is still seeking conferral of GM title. Photo by Namibian Chess Federation.
It is with great hope that politics will not create any rifts as was seen in the African Congress at the Tromso Olympiad. There were tense moments in the proceedings, but at the same time, Africa has shown it has tremendous potential. Hopefully, the continent and its African Chess Confederation will put together a plan to host tournaments that will attract strong players from around the world.
It will afford Africans and chance at top flight competition so they do not have to incur exorbitant expenses. Besides they will no longer have to save their upsets for the Olympiad. Some GMs and IMs have already learned the hard way that Africans are often underrated, but may want the challenge… and a wonderful tourist experience.
Although South Africa lost the 2018 Olympiad bid to the Republic of Georgia, the continent is a very easy sell with so many attractions and endearing qualities. Several guests of Africa such as Nigel Short and Alina L'Ami can attest to this. Both have been to African multiple times and were at the 2013 Tanzania Open last year for the country's first international tournament. They were not yet a member of FIDE, but it was a rousing success. A year after, they have since joined the family of chess nations. Such events show the potential of the continent.
It's time for an African Renaissance!