2014 Chess Olympiad: Closing Ceremonies
Thursday, 14 August 2014
Ni Hua jumps in jubilation
after China wins gold.
All photos by Daaim Shabazz.
The 41st Chess Olympiad was eventful for a number of reasons. The contentious campaign leading up to the Presidential election held the entire event in suspense. The presence of campaign slogans were everywhere including the omnipresent posters of Garry Kasparov around the Olympiad village. However, Kirsan Ilyumzhinov certainly had his footprint stamped throughout the Olympiad environment.
Tromso, Norway was a place that had high hopes to hold an Olympiad in the home of the World Champion, Magnus Carlsen. Of course, for many there was many forgettable moments at the Olympiad including each time one had to go shopping in Norway. Prices for everything were exorbitant. Minor items like a candy bar and bottles of water could cost US$5.00. A sandwich could run $8.00-$12.00 easily. While this was a utter forgettable experience, this would be a most memorable Olympiad for Asia.
In the open section, both China (gold) and India (bronze) had memorable results as both would win their first Olympiad team medals. Both federations had scored creditable results in previous Olympiad (China as high as 2nd in 2006 and India as high as 6th in 2004). The remarkable fact of these feats was the fact that both China and India were missing top players.
The Chinese were very jubilant when receiving medals, especially Ni Hua who got redemption from 2005 World Team when he blundered away a chance for Chinese gold to Russia. Ni Hua was inconsolably sad after that event, so it is fitting that he was inconsolably happy in this event. He announced at the press conference that this would be his last Olympiad.
Chinese players took turns letting out primal screams to the amusement of the audience.
"Threepeat" for the Russian women!
While the top European teams were at full strength, China was missing Wang Hao, Bu Xiangzhi and Li Chao while India was missing Viswanathan Anand and Pentala Harikrishna and Surya Ganguly. The "Rise of Asia" has been brewing for decades with the dominance of Chinese women and the emergence of Humpy Koneru. For the men, Anand has set off a wave of interest in the country and also inspired throughout the developing world. During the medal ceremonies, China were enthusiastically congratulated by India as if they were teammates!
The closing ceremonies will be letting down the Olympiad career on a number of luminaries such as Judit Polgar who announced her retirement from professional play and others such as Vladimir Kramnik and Gata Kamsky may have seen their last Olympiad. It is interesting that Eugenio Torre is still going strong and completed his 22nd Olympiad. Unfortunately, there was no mention of this, but this is a remarkable feat.
This tournament marks the end of a wonderful career by Judit Polgar (front right), the strongest women ever to play chess.
Despite the breakthrough of Asia and to a less extent Latin America, Europe still made an impact. The traditional powers were represented in the top 20 teams. Teams like Russia (who seemed embarrassed to win Category A), Azerbaijan, Ukraine, Armenia are amongst the teams accounting for much of the success in team championships in the past 20 years. However, new candidates such as Cuba (7th), Egypt (23rd), Argentina (18th) and Peru (19th) broke the top 20. Egypt won category prizes in both open and women. It is apparent that the balance of power is slightly shifting. On the women's side, not much has changed. The top five are the usual suspects to win the gold medal… Russia, China, Ukraine, Georgia and Armenia.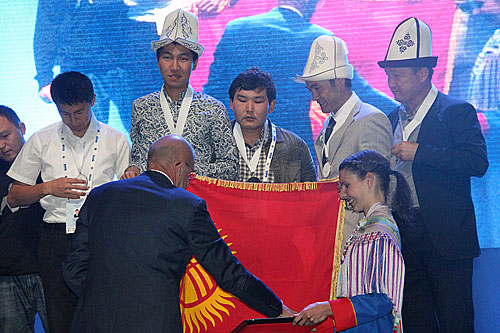 Players from Kyrgyzstan got a roar of applause. They clearly had the best head wear of any of the men.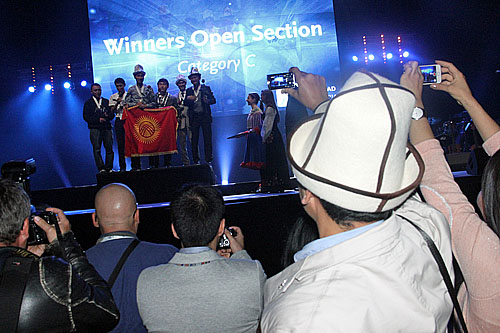 The woolen hat is known as "kalpak" and is worn as a symbol of Kyrgyz pride.
Egypt was glad to have the services of GM Ahmed Adly (center),
who has three more months of military service.
The Egyptian women also did very well by winning Category C.
Team Prizes
Category A
(Men: Russia; Women: Georgia)
Category B
(Men: Egypt; Women: Mongolia)
Category C
(Men: Kyrgyzstan; Women: Egypt)
Category D
(Men: Sri Lanka; Women: Tajikistan)
Category E
(Men: Pakistan; Women: Thailand)
There were also great individual performances with American GM Samuel Shankland's 9/10 being near the top. For someone who considered quitting chess a couple years back, a great result in his Olympiad debut. Yu Yangyi had 9.5/11 and an stratospheric 2912 performance. He and Ding Liren represent the future of Chinese chess. Sweden's Pia Cramling had the highest win percentage of the tournament with 10/11. However this was only good for a bronze medal.
A recent economics graduate, GM Sam Shankland (center) had a career result.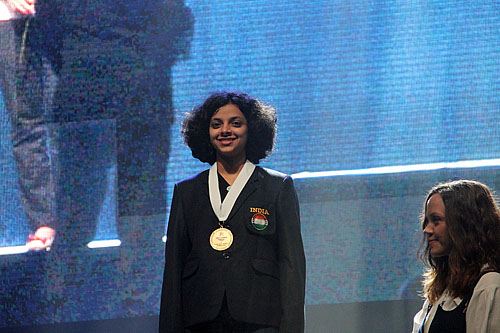 WGM Padmini Rout, the Indian star with her trademark wealth of hair,
had a wonderful performance with 7.5/8.
GM Alexandra Kosteniuk keeps winning medals.
While these accomplishments bring happiness to nations, the Olympiad had experienced some sad moments as two players died at the end of the event. Kurt Meier was playing against Rwanda's Alain Niyibizi when he apparently suffered a seizure and fell unconscious. All attempts to revive him were unsuccessful and he was later pronounced dead at the hospital.
Final position in Meier-Niyibizi.
(after 65…Kc5)
It was recorded that he won his last game, but it is unclear whether his opponent had willingly conceded in a drawn position. The officials score for Meier was 6.5/11. Alisher Anarkulov from Uzbekistan was found dead in his hotel room from unknown causes. He played for the International Chess Committee of the Deaf and was on 5/10. A moment of silence was given prior to the beginning of the program.
The 2016 Chess Olympiad will be held in Baku, Azerbaijan and the 2018 Chess Olympiad will be held in Batumi, Georgia. Both places have hosted premier international chess events, but there is now a question on whether other regions of the world are being neglected of a privilege to hold the biennial event. Only two Olympiad have been held outside of the European region (1986 Dubai, UAE and 1992 Manila, the Philippines). Turkey has a dual Europe/Mideast identity and while they have hosted in 2000 and 2012, they are looking to bid once again. Perhaps in the near future, an Olympiad will be held in Africa.
All photos by Daaim Shabazz, The Chess Drum.
9 Responses to "2014 Chess Olympiad: Closing Ceremonies"
on 17 Aug 2014 at 7:52 pm

1

cleveland

Great article Daaim! has or will the US ever host this event??

The U.S. has never hosted an Olympiad.

on 19 Aug 2014 at 7:32 pm

3

Goodhumor

Why not?

Typically, a national federation hosts the event, with significant government support and/or private financing. USCF can't afford to host an event on the scale of the Olympiad, and you have a better chance of Congress passing single-payer health care for all legal and illegal residents of the US than you have of getting millions in government funding for a chess tournament here. As for private financing, it would take either (1) a few very deep-pocketed private sponsors or (2) years of fundraising to put together the necessary funds.

Complicating matters further is that FIDE has been tying a World Cup event to Olympiad bids recently. So, to put on both, you'd need approximately $4-$5 million. (The Tromso Olympiad had a total budget of 27 million kroner, which is about $4.5 million US.)

This doesn't even begin to address the political issues a US bid would probably face. Given the ardent support the USCF has thrown to the last several opponents of Ilyumzhinov & Co., not to mention its full participation against FIDE in the CAS hearings a few years ago, it's not hard to see how a US bid that didn't just blow everyone else out of the water might not meet with FIDE's favor.

None of this means that it's impossible to get an Olympiad in the US. It just means that it would be really hard and would take a long time. You have to start lining up a bid at least 5 years before you intend to hold it, and approval typically happens 4 years before the scheduled event. Truthfully, it's probably not worth the effort, IMHO (though if I ever become a billionaire – riiiiiiiiight – I could see myself donating money to bring one to either St. Louis or Pittsburgh).

on 25 Aug 2014 at 12:15 pm

5

cleveland

Thanks Boyd. In my community we built a $20+ million glass bottom foot bridge so that people would come. I have to think that corporate sponsors are out there. Regarding the political issues, I would like to think the USCF could be the innovators. It might be really hard but we teach kids that chess is hard until you make the first move then game on. Would the formation of a USCF "ad hoc" committee to explore the possibility be appropriate? It is no surprise as to what a few forward thinking individuals can accomplished.
Game On!

We had an ad hoc committee about six years ago after the Dresden Olympiad. There was a discussion among a number of people… USCF people, organizers, TDs and journalists. We discussed a number of issues such as budget, possible venues and sponsorship. I suggested Orlando as the venue (amongst other suggestions), but the main issue was funding. It's not an easy task to raise money for an Chess Olympiad. People still don't "get" chess.

I understand that the main issue in the U.S. may be the visa issue.

on 26 Aug 2014 at 3:30 pm

8

cleveland

Daaim, could you explain why "visas" could be an issue? Or why a chess Olympiad would be different than other international competitions?
thanks

Visa is not the only reason, but there is always the issue of people overstaying visas and melting away. America is considered the land of opportunity for many and defections would be an issue. Even in Norway several members of the Burundi team disappeared. Getting a visa for travel to the U.S. would not be a cinch for many African countries.
Leave a Reply!