WCC2014-8: Draw! Zzzzzzzzzz!
Today's eighth game for the World Chess Championship was perhaps the most uneventful encounter with only a few moments of tension. However it wasn't the draw that was necessarily evoking boredom. It was the posture of world champion Magnus Carlsen sleeping at the board that was captured in countless photos and viewed by millions on various media. Carlsen was seen in various degrees of inattention which included slumping with his eyes closed and his hand propping his head up at an angle.
World Chess Championship: 'Sleeping' Magnus Carlsen Denies Viswanathan Anand a Win https://t.co/YViO4rwwxc #CarlsenAnand

— Carlsen – Anand 2014 (@anandcarlsen14) November 18, 2014
Photos by Vladimir Barsky and video captures at sochi2014.fide.com.
There were some remarks of condemnation on social networks (primarily chess.com) calling the posture "disrespectful to Anand," "classless" and "inappropriate". Some even used expletives. Of course one can argue whether or not his untoward posture at the board was a horrible image for millions of viewers (including potential sponsors). Many of us have seen politicians fall asleep during important deliberations and even the occasional chess player sleeping during the round. However, to see the world chess champion falling asleep at the board during the world championship may be unprecedented. It certainly did not help the global image of chess as a watchable and potentially exciting event.
When discussing this match, many looked at the physical fitness as one of the elements that would yield an advantage to Carlsen… especially after a 6-1/2, 122-move game the previous day. However, Anand looked fit as a fiddle and Carlsen looked a physical wreck at the board. Perhaps there was a bit too much made of the age difference and fitness regiment since conventional wisdom is not holding up here. Carlsen seemed to be in poor physical shape early in the early part of the game. At the press conference, a few reporters were persistent in asking about his sluggishness. Following were some of the questions about his physical condition.
Question #1: Magnus, it seemed that you fall (sic) asleep at the start of the game. Were you tired after yesterday's game?
Magnus: I was not in the best of shape to start, but felt that I managed to be fresher as the game progressed.

Question #2: Magnus, how do you feel the short game will affect you going into the rest day and the rest of the games?
Magnus: It was a good result for me… for sure. Obviously as the match prgresses the free days become more valuable.

Question #3: You said you were not in the best of shape in the beginning. Can you elaborate?
Magnus: No.

Question #4: Does it worry you that you were not in the best of shape?
Magnus: As I said, felt better as the game progressed… and was a good result for me and now I have a free day so I'm not too worried,

Question #5: So you don't think it will be a problem in the games to come?
Magnus: I hope not.
He did not reveal why he he appeared sluggish at the board, but reports state that he got up at 9am to prepare with his team. He did not want to reveal whether it was a health issue or whether the was simply off of his normal routine somehow the previous night. Fortunately, for him the draw was quick and he benefited from a rather straightforward game without mind-dizzying complications. The draw was indeed a "good result".
Anand's ending had an interesting precedent…
Hammer-Zoler at 30th Andorra Open (2012).
The game was another Queen's Gambit Declined which has become a theme in this match. It was dubbed by Nigel Short as a "condom variation" which you use once and throw away. When informed at the press conference at the new name, Carlsen was asked if he will reuse it. He said, "We'll see." Of course this game has a few twists with Carlsen's 10…Be7!? and Anand's Bf1-c4-a2-b1 with a battery on b1-h7 diagonal. However, the attack could never yield an substantive attack and the game entered a rather level ending.
Jon Ludwig Hammer admitted that he won an ending almost identical. While the similarities are shocking there were some differences, most notably the strength of the defending player! It is uncertain whether Anand knew of this example.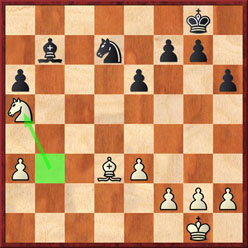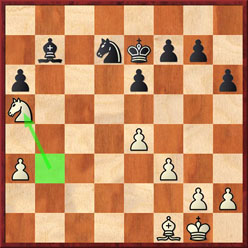 Anand-Carlsen (diagram #1) bore a striking resemblance to an ending played by Carlsen's second! Notice the similarities! It had the same piece and pawn composition, but in Hammer-Zoler (diagram #2), white was able to win despite black's king being already centralized. The final zugzwang maneuver was instructive.
Hammer tweeted a link to this referenced game…
This ending is not without dangers! I actually won it once: https://t.co/A90eacUgDC

— Jon Ludvig Hammer (@gmjlh) November 18, 2014
The ensuing four-game mini-match may be one the most important in Anand's long career. Since we are on the subject of sleep, Carlsen will be careful not wake a "sleeping giant" or a sleeping tiger. Stay tuned!
Video by GM Daniel King.