Reflections of 2014 Sinquefield Cup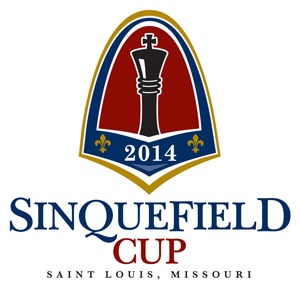 Like everyone else I waited in great anticipation for the 2014 Sinquefield Cup… since the first one ended! The excitement was so high in last year's successful inaugural event that fans were in awe of the names being bandied about. The field this year could not have been much better and it was a collective performance that will be remembered for a long time.
The tournament with the highest average rating in history (2802) would feature the top three players in Magnus Carlsen, Levon Aronian and Fabiano Caruana. It also featured the #5 and #8 players in Veselin Topalov and Hikaru Nakamura, respectively. Throw in Maxime Vachier-Lagrave, the "Grandmaster with the two names" at #9 in the world and you have a historic tournament in the making. However the field itself would not be the most amazing thing to happen.
We knew this tournament would be special because of its billing and the fact that it was being held at the premier chess club in America. What we didn't know is that there would be a history-making performance. If someone would have predicted a player would win seven games in a row, it would most likely have been Carlsen.
One of the anticipated matches was Nakamura vs. Carlsen. Game was drawn.
All photos by Daaim Shabazz.
To the shock of many, it was the American of Italian ancestry who was grabbing news headlines. As I watched the streak unfold from my home, what was amazing was the crescendo of excitement both in St. Louis and among the fans worldwide. For most, it was almost as if they had discovered a shining star!
As each day rolled by, I wondered whether Caruana would be able to keep the streak going until I got there. By the time he lapped the field and won his fifth game in a row, many started talking about all-time great performances and whether he could go 10-0. They then begin to project whether he could catch Carlsen in the ELO race to 2900. Unfortunately, I got there a day later than anticipated and missed his last win before he finally drew with Carlsen.
I have arrived in St. Louis! The famous Gateway Arch was opened in 1965 and remains as the most recognizable icon of St. Louis. Beautiful hibiscus flowers were in full bloom. The Water Tower Inn at St. Louis University was a short drive to the venue.
When I got there I checked into the Water Tower Inn at St. Louis University and then drove over to the venue just as the games were ending. Nakamura and Topalov were still gripped in a fierce battle. To my chagrin, Caruana's winning streak had been broken and I had just caught him leaving the playing hall. With the draw, Caruana had clinched the tournament, but maintained his modesty.

Video by uschesschamps.com.
I decided to take a peek at the Fischer exhibit before returning to see the end of the remaining games. After a long fight, Nakamura had lost to Topalov. It was heart-breaking to watch Nakamura bolt out of the chess club in clear frustration with his fiance Maria DeRosa and a dejected Sunil Weeramantry following. I ran into Rodney Thomas who flew in from Dallas, Texas to witness the event. Thomas is on the advisory board of the famed University of Texas-Dallas chess program. I asked him to go with me to a Lebanese restaurant around the corner. He agreed and we happened to run into Maurice Ashley who had just wrapped up his coverage.
Rodney Thomas speaking with GM Maurice Ashley.
On the next day, I was able to visit the Fischer exhibit more thoroughly, a fascinating collection of documents once owned by Robert James Fischer. What is intriguing is not only the photographs and personal effects of the 11th World Champion, but his scrawlings on the margins of his study materials. His meticulously organized opening manuals that he composed and indexed were impressed and gave a glimpse of the mind of an elite Grandmaster in the pre-computer era. There was even an authentic table from the home of Jack Collins, Fischer's first coach. It was on this table that a future world champion was groomed.
A Memorable Life: A Glimpse into the Complex Mind of Bobby Fischer.
Photos by Daaim Shabazz.
It was time to start the round and it would be my first photos of the tournament. I had covered the event last year and it was a photographer's bonanza. With more firepower this year, I wasn't able to discern if there were more fans in attendance. However, there were certainly lots of incentives with live analysis and room stocked with plenty of delicious foods. The press room was a bit cozy and I nestled a spot next to Cathy Rogers (wife of GM Ian Rogers), with whom I have shared working space at many events including the recent Olympiad in Tromso, Norway. We were given a spot at Lester's instead of the downstairs location at the chess venue. Also present was Mike Klein and Danny Rensch from chess.com and a duo from channel 2 in Norway.
WIM Sabrina Chevannes and FM Alisa Melekhina were reporting for ChessBase. Photo by Daaim Shabazz.
As the beginning of the round approached, journalists left and positioned themselves outside the club to capture the procession of players approaching the St. Louis Chess Club from the Chase Plaza Hotel. It was likened to the Hollywood red carpet spectacle as a crush of spectators waited on the players to approach down Maryland Avenue. Upstairs, a mob of fans was already positioned behind the ropes and the photographers took their positions. I brushed shoulders with Lennart Ootes as well as Dirk jan ten Guezendem (New in Chess) and Sabrina Chevannes (ChessBase), all shuffling around the playing pit to take photos. It was a rather raucous experience for a chess journalist.
The unique thing about this year was the reception of players. After the obligatory player interviews, fans literally mobbed the players for autographs and "selfies" which they graciously consented. It was good to see Caruana get such a homecoming reception. His clinching of the tournament against Carlsen perhaps cemented his place as a championship contender. He went from 2800 to 2830 in a single tournament! It was the stuff of legends and I was glad to be a part of it.
While I did not secure a personal interview with him, plenty was said in his interviews with Ashley. He seemed to be living a dream… eyes as big as saucers. It was quite an experience to see it unfold. This was the 4th event I covered at the St. Louis Chess Club. All have been grand. It appears that there may be a tradition started, but how can you top this act? This was the strongest tournament in history. Rex Sinquefield is saying that next year's tournament may expand to eight players. That would be 14 rounds of chess.
I have been to the St. Louis Chess Club on a few other occasions to cover two U.S. Championships (2009 and 2013), last year's Sinquefield Cup and another visit to the World Chess Hall of Fame. The good thing about visiting St. Louis is I'm always able to go across the bridge to E. St. Louis, Illinois to visit my great aunt. She will be 100 in November, so I will return and check out Adisa Banjoko's Hip-Hop and Chess exhibit. The Sinquefield Cup is a jewel and hopefully it will be better next year.
The ten best memories were…
The Bobby Fischer exhibit was one that made an impression on me. To see the meticulous nature of his preparation shows that he was a forerunner of using databases and would have been a beast with the tools available now. Impressive exhibit! Photo by Daaim Shabazz.
…the Bobby Fischer exhibit. Of course Fischer is an iconic figure in American chess and most of us have enjoyed his spectacular games. However, to see the inner working of a brilliant chess mind was something to behold. Amazing to see the original mockups of his Best Games collection which was actually 52 memorable games instead of the now famous 60 Memorable Games. Of course there was memorabilia from the immortal Fischer-Spassky match and several interviews of Fischer at different stages in life including the famous "I've Got a Secret" appearance as a 15-year old and the Dick Cavett interview. I was also able to enjoy the exhibit with Angelo Armistead, an old friend from Chicago who drove down with his wife to attend the Sinquefield Cup.

Angelo Armistead (right) excitedly speaking with Yasser Seirawan and his wife Yvette Seirawan. He immensely enjoyed the experience and described it as being "a kid in a candy store."

…staying at the Water Tower Inn. A pleasant surprise if you don't mind the short drive. At $70/night, I found it to be adequate. Being a professor, I like the fact that it was in the middle of St. Louis University's campus. While the parking lot was uncovered, the crisp air and the sight of the hibiscus in full bloom were pleasing enough. I enjoyed driving through the campus and seeing the daily energy of the students trekking across campus. The hotel was about a 10 minutes drive from the Central West End era.

…procession of Hikaru Nakamura and his fiance, Maria De Rosa. Nothing else needs to be said.

…successfully solving a computer problem. Each and every major tournament, I seem to have computer issues. I remember covering the Chess Olympiad in Istanbul, Turkey and my keyboard malfunctioning. I had to use a USB keyboard with a Turkish configuration. This time a simple mistake of leaving the charger for my laptop at home turned into a nightmare. I discovered I left my charger while in the Atlanta airport where they now have FREE wi-fi access!! I walked down to Brookstone and they had a universal charger for $149.99. Pricey. I thought I'd wait until I get to St. Louis. After arriving in St. Louis, I go to Office Depot to buy a universal charger. When I get to the press room, I found that none of the plugs fit my Samsung. Not so universal after all.

Finding another charger took a wild ride… literally!

I went back to Office Depot, returned the item for a refund and then went to Micro Center, a retail computer outlet. One of the workers there tried a kit and none of the plugs worked. Foiled. By the time I get to Best Buy, it was closed. The next day I call around including the Samsung 800 number. They reported no local Samsung repair shops. I go to the Brookstone in the mall with the intention of springing $150 for the charger I saw in the airport… no luck. I try Best Buy again shortly after they opened. They had the same product I bought at Office Depot. Foiled again. I even considered buying a computer at Best Buy! With options running out, I go back to Micro Center. If I couldn't find a solution, I would have to talk to Mike Wilmering about borrowing a computer. Otherwise, there is no reason for me to have traveled to Sinquefield without a computer. I go back to Micro Center and talk to a couple of guys. We went to the same section. He fumbled around and found a universal kit that worked!! Cost me $50.00. I wasted a day's time, but at least I could use my computer.

…watching Caruana deal with the crush of fans and admirers. It's not every tournament that you get a chance to brush against history. Winning seven games in a row at the strongest tournament in history was quite ride for the 22-year old. This was his first tournament in the U.S. for eight years and what a homecoming it would be.

FM Mike Klein of chess.com interview Caruana while Lennart Ootes captures a head shot.

As the excitement hit a fever pitch, Caruana got more and more attention. He seemed overwhelmed by all the attention, but kept a very humble demeanor. While never receiving the attention of peers such as Carlsen, Sergey Karjakin and Teimour Radjabov, he more than made up for it at this tournament!

…the enthusiasm of Maurice Ashley. The Internet makes real-time chess so accessible. No longer do we have to wait for the Informant for recent games or for magazines whose games are often months old. You can get real-time action and exciting commentary. GM Maurice Ashley is one of the top chess commentators in the world and it is easy to see his enthusiasm. His ability to pull up old games and relate them to live positions was impressive. Some of the games were not easy to assess. The minor piece romp of Maxime Vachier-Lagrave was one of my favorites. You could tell Ashley enjoyed this as well as the performance of "Brooklynite" Caruana.

…sightings of visiting players. Of course, GM Ray Robson and GM Wesley So were seen, but GM Kayden Troff, who hails from Utah, was also spotted. People came from long distances. There was a report of a man from Las Vegas who heard the broadcast and in his excitement, booked a ticket to St. Louis. I did not meet this man, but this type of excitement is a positive sign for chess in the U.S. I have already mentioned my scholastic chess friend Angelo Armistead. I remember us playing in the same tournaments at Chicago Chess Center on 2666 N. Halsted. We also played a the Proviso West Scholastic tournaments. What great times in Chicago chess! I also met Sunil Weeramantry's mother and sister who were in from Sri Lanka for Asuka Nakamura's wedding. Weeramantry is the stepfather of Asuka (pronounced ah-ska) and of course, Hikaru Nakamura.

Sunil Weeramantry with his sister and mother. 🙂

…eating exploration. OK… not much on this front. I did not bring my NutriBullet blender because I'm tired of my luggage being checked because of the large motor in its base. Did not get to try any new restaurants this time. However, I did enjoy the meal at the Lebanese restaurant! Here was my meal!

Tabouli, baba ghanouj and falafel… very tasty!!
There was pita bread too!

…being present during history. I often hear players speak in awe of the players that we write about. Journalists may take it for granted that we get to be on the front lines of the action of major events. While we may have gotten past the awe stage, we were all in awe of Caruana's performance. More or less, we engage in a rather thankless task and are often huddled in crowded rooms competing for desk space and power outlets. Even worse, we are having to string wires across the floor in poorly connected rooms such as the Istanbul Olympiad. Dreadful. There is always something to learn in the press room. All in all, it is a labor of love and few can understand the pressures of getting stories out, but it has always been my contention to build markers in history so that they can be recalled. Google becomes very important!

My great-aunt will be 100 in November!
Photo by Daaim Shabazz.

…Visiting with my Great-Aunt Mattie Malone. This was the highlight of my trip of course. 🙂 My great-aunt will turn 100 in November and she has lived most of her years in E. St. Louis, Illinois, a short drive across the St. Louis bridge. She was glad to see me, but at this point, I have to remind her of how I'm related to her. One once she knows I'm her older brother's grandson, she locks in. While her short-term memory is not the strongest, she will begin spouting off dates and names with astounding clarity. My cousin showed me her diplomas from elementary and high school. Amazing to see documents nearly 100 years old. I'm always ready with my recorder and something to write with. I'll be back to visit the Chess/Hip-Hop exhibit as well.
OK… so not all was good at the Sinquefield. I hated seeing Nakamura struggle with his form. His result prompted the following tweet…
At long last it is over. One of the longest and toughest months ever for me with many moments that will last for a lifetime.

— Hikaru Nakamura (@GMHikaru) September 20, 2014
There are many things one can say here, but a poor tournament performance is not uncommon amongst the elite. Saving the position against Caruana was a vindication that there are often lessons in life that one must take before ascending to another level of personal fulfillment. Nakamura is not the 10-year old rambunctious boy we saw running around in American tournaments. He is now 26-year old, top-ten player who cut his teeth in the mosh pits of Swiss tournaments and marathon blitz battles on the ICC. He will refuel, reload and ready himself for the next battle. Meanwhile Sinquefield 2015 is already in the works!
See you there next year! 😎
All photos by Daaim Shabazz unless otherwise stated.
More can be found at The Chess Drum (Facebook).