2014 Sinquefield Cup: Round #6
2014 Sinquefield Cup
August 27th – September 7th, 2014 (St. Louis, USA)
Round #6 – Tuesday, 2 September 2014

1
Caruana, F

ITA

1-0

Topalov, V

BUL
2
Carlsen, M

NOR

½-½

Vachier-Lagrave

FRA
3
Aronian, L

ARM

½-½
Nakamura, H

USA

Official Site
Fabiano Caruana on a Fischeresque 6-0 blitz…
history books being rewritten.
Let's start this article with the interview of Fabiano Caruana…
So… another wonderful result by the soft-spoken and polite "Fab Fabiano" who is winning fans by the thousands. Having closed the game in such dashing style, he will have to get a personality to market his ferocity. Here was my suggestion…
@FabianoCaruana on 6/6… being so ferocious, yet polite and humble is too unusual. He should grow dreadlocks! #sinqcup

— Daaim Shabazz (@thechessdrum) September 2, 2014
Dreadlocks??? Uh no, but certainly if Caruana doesn't want to wear the mane of a lion he is certainly playing like one. His victory over Veselin Topalov was one for the ages… a crushing attack against a Sicilian king stuck in the center of the board. Carlsen commented that Topalov had played "horribly" but Topalov had stated that Caruana simply made no mistakes.
In this Sicilian Taimanov, white had ill-intent from the beginning with a rather crude 10.e5 Nd7 11.Qg4 and the game got cooking quickly after 11…Kf8 12.Na4. Qa5 13.Re2 h5 14.Qf4 g5!? 15.Bd2! where 15…gxf4 16.Bxa5 is equal. Topalov went for 15…Qc7 and relied on his fence of pawns to shield the king. However, white played 19.c4 creating weaknesses in the black camp.
It still appeared that black was safe until Caruana threw the shocking 24.Bxe6! on the board. Commentator Maurice Ashley was using all types of colorful language to describe the mauling that was to come including "Brooklyn beatdown". Here are some of the images of the moment…
Tension is rising…
What happens on Bxe6? Will he play it?
He played it!!!
Caruana waiting in the wings after delivering the devastating blow.
This was after 28.e6! Ugh!
MVL paying respects…both to Caruana's play and Topalov's king!
Topalov resigns and was gracious in the post-game interview.
So after the crushing attack, cheers erupted around the Internet here are a few.
Caruana not happy only with the winner's trophy. He also wanted the brilliancy prize! Topalov the fighter always a good opponent for those!

— Garry Kasparov (@Kasparov63) September 2, 2014
#FabiJokes After Fabiano was born in 1992, Fischer stopped playing Chess! #WhyILoveChess #NotAJoke #Fact #SuperHuman

— Asim Pereira (@asimpereira) September 3, 2014
#sinqcup @FabianoCaruana Just flawless chess. An honour to see you in action sir. All those bullet games we played have clearly helped!

— Lawrence Trent (@LawrenceTrentIM) September 2, 2014
I'm so glad Fabiano won again today. I didn't want my cooking for lunch yesterday to be the cause to end his streak 🙂 #SinqCup

— Susan Polgar (@SusanPolgar) September 2, 2014
OK… so this is not commentary on the game, but you will be seeing lots of analysis soon.
Yes… there were two other games played today… both drawn in brutal battles. Carlsen-MVL was one of those games that Carlsen usually pulls out of his magical hat, but the game steered into an opposite-colored bishop ending with black posting a blockade. Here was his impressions…
Videos by uschesschamps.com.
In the last game to finish, Nakamura-Aronian played a Berlin and entered a rather staid position. Commentator Yasser Seirawan was critical of white's 20.Qe1 as was Stockfish which expected a trade of rooks and 21.Bd2. In this position, Ashley commented on Aronian's 25…Ne6?! as inferior to 25…Na5. The point is that white does not have 26.b4! Despite the passed d-pawn for black, white surrounded and gathered it and the position lost air quickly. Both players amicably analyzed afterwards.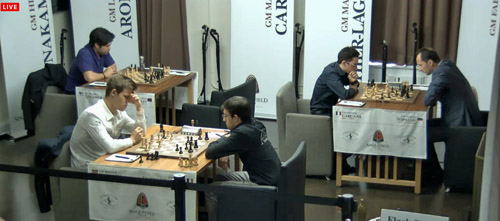 Four more rounds remaining!
Photos by uschesschamps.com.
Standings after Round 6
1st: Fabiano Caruana, 6; 2nd: Magnus Carlsen, 3; 4th-5th: Veselin Topalov, Maxime Vachier-Lagrave, 2.5; 5th-6th: Hikaru Nakamura, Levon Aronian, 2.