The Legacy of the "Black Knight"
Those who live in the DMV (DC, Maryland, Virginia) area will know the lure of chess in the parks. These places are known for their grittiness and hard-scrabble activities give a forum to many creative personalities… one of which is chess. Washington, DC is known as the nation's capitol, but for chess players, Dupont Circle is the watering hole for chess players. There have been a number of players who have passed through this park, but one of the names often mentioned is that of "Black Knight".
James "Black Knight" Taylor began playing chess during the turbulent 60s and adopted the nickname because none of the books he read as a teenager featured any Black players. Born in Roanoke, Virginia, but raised in Richmond, he started playing chess in the 60s before going on to serve in the Vietnam War and earning four Bronze Stars for valor.
James "Black Knight" Taylor teaching his passion in the DC inner city.
After returning to the U.S., he settled in Washington, DC in 1981 and with him he brought a love of chess. This is where he became the 1st Black player to win the DC Amateur Championship and where his legend was born. With this victory came a reputation that was honed in Dupont Circle, a famous park that attracts chess players… and hustlers.
During this time, he set out on a mission… a mission to bring his love for chess to those who would not ordinarily have the interest or the confidence to learn the game. Taylor decided to share his passion for the game by opening up a "Chess University" to teach the game to children in impoverished areas.
The scene at the famous Dupont Circle, Washington, DC.
"Black Knight" at Chess University International in Washington, DC and…
… with the irrepressible and legendary, Emory Tate!

A face wizened with life's battles, but impressed with his inward smiles, Taylor's generosity was commended by Howard University and many players around him. "He didn't get much help," said his long-time friend Charles Smith. Smith, now in Alabama running "Magic City Chess", glowed when speaking of Taylor and his Chess University project. The pride Taylor had in his Chess University was apparent and he came to the 2004 World Open with t-shirts. It is part of this altruism that warms the heart.
When Tuduetso Sabure of Botswana became the first Black woman to earn the Women's Grandmaster title, he began communicating with her, sending donations, books and other materials to Botswana to further her pursuits. Sabure no longer on the tournament circuit, but Taylor's efforts were appreciated.
"Black Knight" at African-American Civil War Memorial
"THE SPIRIT OF FREEDOM"
Washington, DC.
Engaging in blitz battle!
Black Knight wants to be remembered as one who gave for the advancement of chess in the Black community. He has lived through the struggles of being a "street master" in a literal sense when he trod on the hard-scrabble streets of DC trying to spread his knowledge of the game. Sometimes it was a lonely and thankless pursuit, but he soldiered on.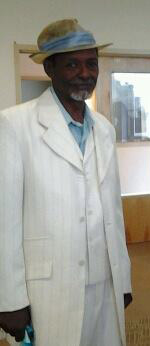 Recently, Taylor has been suffering from failing health from the effects of terminal cancer. At the time of this writing he is at the McGuire Veteran's Administration Medical Center in Richmond, Virginia ((804) 675-5000 ext. 6110) being treated, but the prognosis is grim. From henceforth, each day for him will be a blessing.
While talking to him he asked me about the recent Tate-Ashley game and reminisced on old times. He also mentioned that he had never been the subject of an interview. Well… The Chess Drum was able to do an interview with Black Knight. Stay tuned!
(Update 8-8-2014: It is my sincere regret to inform the chess community and particularly The Chess Drum audience that James "Black Knight" Taylor passed away at 11:20am. I received the initial message from his close friend Charles Smith and it was confirmed by his niece Pam McFarlane.)
(Update 8-7-2014: Called but no answer.)
(Update 8-5-2014: Talked to Black Knight today. I was glad he received a package I sent. Found out it was sitting at the nurse's station for several days. It featured a Chess Drum t-shirt and a Wilbert Paige booklet. He speaks above a whisper and it has become hard to hear him. There are times when he musters up the energy to say the words he intends. He ended the conversation by saying "Thank you" twice.)
(Update 8-4-2014: Called him from the rest stop on my way back from Orlando. Told him I had scored 6/9 and he seemed very happy. On two attempts I could not make out a question. He then made a strong effort to enunciate very clearly. "Were you the brother with the highest score?" 🙂 Still looking for the package I overnighted him last week.)
(Update 8-2-2014: Spoke with him briefly before I went in to play my game and told him he was in my thoughts.)
(Update 7-31-2014: Spoke with Black Knight with his good friend Charles Smith. He sounded a bit weakened, but at times he made an effort to speak louder. It was the effort of a fighter.)
(Update 7-30-2014: Called Black Knight before my game at the U.S. Open and also had his good friend Charles Smith in on the call. Voice was above a whisper. Nate Speight paid him a visit and later told me that his voice is going in and out, but that he was coherent.)
(Update 7-28-2014: Talked to Black Knight today. Did not talk long because he was being treated.)
(Update 7-27-2014: Talked to Black Knight for about 15 minutes. Still alert. He is receiving calls and visits. One of the chess players helped him get his cell phone turned back on. He will be able to access the internet and read these comments… hopefully. I have told him about the well-wishes.)
(Update 7-26-2014: Talked to Black Knight for about 20-30 minutes. He was a bit more subdued and said he was doing "the best he could do". Nate Speight and a friend of his Ernest visited and they actually played a game which made Black Knight very happy. They had a good talk which was recorded and Ernest videotaped them playing chess. He also got the spaghetti he requested a day earlier. He also spoke of a phone call he got from Lawrence and said it was a wonderful conversation (see Lawrence comment below). He also received a printed copy of this article. I did an interview, but some of it was hard to make out. On certain subjects he would get excited.)
(Update 7-25-2014: Called him today while Nate Speight was visiting. He is a chess player who read this article and is based in Richmond. He decided to visit and brought him a chess set and some fresh juices! :-))
(Update 7-24-2014: Feeling better. We had an 40-minute chat about his life and he told me about all the people that inspired him in chess. He will have some chess visitors on Saturday and said he wants to play some games.)
(Update 7-23-2014: Spoke with Black Knight today and the doctors said his condition is worsening, but he is still coherent and mind is keen. Amazed at how many articles he recalls from The Chess Drum. I'm calling every day.)